Samsung's Freestyle Reimagines Video Projection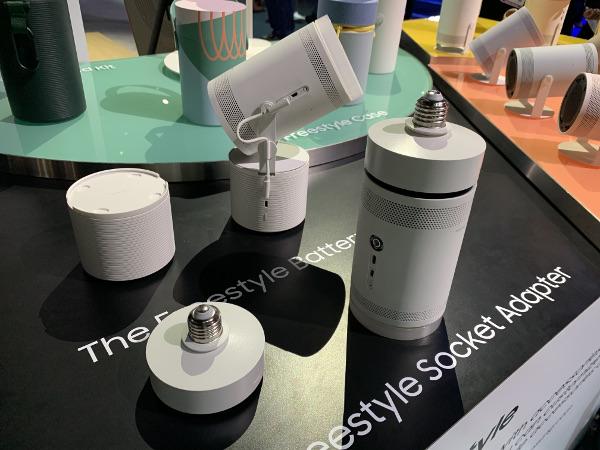 We love finding products that are unusual or, even better, unique or trailblazing. Samsung's Freestyle fits the bill in the way it reimagines and expands on the notion of video projection. The curious device looks like a freestanding light can you might pick up at Home Depot — which it is — but it's also a "point-and-play" video projector and smart speaker, all rolled in one.
Clever — not to mention compact and versatile. It's not cheap at 900 bucks but, then again, look what it can do.
As a mini DLP projector, the Freestyle can project 1080p high-definition images up to 100 inches (diagonal) almost anywhere with minimal setup. The light source is a 20,000-hour LED lamp with a rated brightness of 550 nits and you can rotate the can 180 degrees, making it possible to project video onto a wall, ceiling, floor, table — whatever. A distance of 2.6 feet from the projection surface gets you a 30-inch "screen;" moving it 9 feet away bumps image size up to 100 inches.
With the stand, the Freestyle is only 6.8 inches long (the can itself is just over 5 inches long) and weighs less than 2 pounds, making it easy to tote. And setup is super simple thanks to auto keystone correction and auto leveling, which automatically adjust the image so it's proportional regardless of the projection angle. Auto focus finishes the job, ensuring a clear image. The projector even supports HDR10 and HLG high dynamic range (HDR).
Adding to its amazing utility, the Freestyle boasts Samsung smart TV features, including direct access to popular video streaming services, web browsing, and the ability to mirror or cast video with Android and iOS devices. You can also optimize video quality to compensate for wall color and lighting conditions using the smart calibration feature available through Samsung's SmartThings app and adjust picture color and brightness on your phone. The projector is even equipped with a micro HDMI port that supports eARC (enhanced Audio Return Channel) functionality.
Sound is delivered through a speaker/passive radiator built into back of the cylinder, designed to radiate sound 360 degrees and double as a Bixby/Alexa-capable smart speaker with far-field voice control.
The Freestyle can be powered using a USB or traditional power cable, through a standard E26 light socket using a socket adapter (included), or via an external battery pack (not included) for untethered use indoors or outdoors. When it's not being used to stream TV/movies or music, pop on the translucent lens cap and the Freestyle provides mood lighting — or visual effects synced to music you're using it as a speaker.
The Freestyle is available for pre-order on samsung.com.