Samsung DVD-V2500 DVD Player/VCR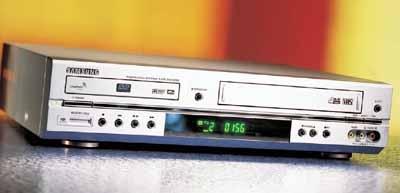 Most of the Samsung DVD players we've tested have had something "different" about them. There were, for example, a couple of models with Nuon game-playing capability, and the last one we looked at could reproduce still pictures stored on Memory Stick flash-memory cards. The DVD-V2500 tested here also displays still pictures, but it drops Nuon-a system that seems dead in the water anyway-and adds instead an entire VHS Hi-Fi VCR. Talk about one-stop shopping! The single box is easy to hook up. The DVD player has a component-video output switchable between interlaced and progressive-scan operation as well as optical and coaxial digital audio outputs for feeding multichannel soundtracks out to a receiver for decoding (analog audio is provided only in stereo). Other DVD features include a typical virtual surround sound mode as well as a zoom function and a related Screen Fit mode to eliminate the black bars in letterboxed presentations. The VCR provides only manually set timer-recording (there's no VCR Plus+), and it can play (but can't record) tapes in the S-VHS format. All VCR signals, however, even from S-VHS tapes, emerge from the single composite-video output, which is shared with the DVD player. So while you might get slightly better resolution from S-VHS tapes, they may at times still be beset with various interference effects from combining color and brightness components of the signal for the composite-video output. The VCR has two composite-video/stereo-audio line inputs, including one on the front panel, as well as one stereo output. When you switch between DVD and VCR operation, via a pair of front-panel or remote-control buttons, you are primarily selecting what the single set of transport controls (stop, play, fast scan) will operate. You cannot control both machines simultaneously. What you can do in the way of simultaneous operation is load a DVD while you are recording a videotape. The system will automatically play the DVD while continuing to record. The DVD signal will appear at all the video outputs (including the shared composite-video output). The DVD-V2500 is
not
a gift from the gods to would-be pirates. That's because there's no way-believe me, I tried-to directly copy from a disc in the DVD drawer to the tape deck sitting only inches away. There are no menu options or remote-control buttons that provide this function. The VHS recorder responds to Macrovision copy protection, which is active on video signals from nearly all commercial DVDs, so you can't use the VCR's external input (composite-video only) to dub movies. And because of how the video outputs are switched on and off, looping the single composite-video output to the VHS composite input to dub DVDs isn't feasible. So you can't even use the DVD-V2500 to make tape copies of a DVD you've created on a computer's DVD-R drive. To do that, you'd have to play your home-grown masterpiece on an external DVD player connected to the VCR inputs. But let's talk about what the DVD-V2500
can
do. Its still-picture playback from either Memory Stick or CD-ROM media has significantly more features than similar picture-viewing functions I've encountered in other DVD players. In addition to the fairly common rotate and zoom controls, you also get four "filters" (black-and-white, sepia, image-negative, and color-negative), balancing for the red, green, and blue components in an image, and three levels of picture softening, the most intense of which "creates an impressionist painting effect," according to the manual. Fair enough, I guess, but Monet it ain't.

Fast Facts
KEY FEATURES• Plays DVD-Video discs, video-format DVD-R/RWs, DVD+RWs, CD-R/RWs and Memory Sticks with MP3 files or JPEG pictures, VHS and S-VHS videocassettes • Records VHS tapes • Progressive-scan component output INPUTS/OUTPUTS DVD player: component-video (switchable between interlaced and progressive-scan), S-video, coaxial and optical digital audio, stereo analog audio outputs VCR only: two composite-video inputs with stereo audio, one stereo audio output Shared: composite-video output DIMENSIONS 17 inches wide, 4 inches high, 13 inches deep WEIGHT 8 3/4 pounds PRICE $250 MANUFACTURER Samsung Electronics America, Dept. S&V, 105 Challenger Rd., Ridgefield Park, NJ 07660; www.samsungusa.com; 800-726-7864 HIGH POINTS• Excellent progressive-scan • DVD performance. • Easy to use. • Inexpensive. LOW POINTS • Can't directly copy unprotected • DVDs to VHS. • JPEG picture playback limited to small files.
High-resolution images taken with my 5-megapixel digital still camera looked much less detailed, even on a widescreen HDTV monitor, than when displayed on a computer monitor or when printed out on a good photo printer, even with softening turned off. Operation with photos taken by, say, a 3-megapixel camera should proceed quite a bit more smoothly. Given the resolution of a typical TV to which the player might be connected, shots made by 2-megapixel cameras will provide a still better match to the Samsung's slide-show capabilities. More problematic, particularly for images taken with a high-res camera, is that a picture can take more than 30 seconds to load from a Memory Stick, making a slide show of such images seem even more interminable than usual. And the DVD-V2500 can't handle very large and complex images-JPEGs with file sizes of 1.5 megabytes or higher. The star performer here was the player's progressive-scan DVD output, which was extremely good overall-superior, in fact, to what we've seen with some recent DVD-only players costing considerably more. There seems to be no correlation between progressive-scan quality and player price-some of the most expensive players are the worst offenders when it comes to such things as the "chroma-upsampling bug" or the presence of flickering effects on moving line- or grid patterns, none of which occurred here.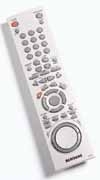 Disney's animated
Lilo and Stich
, for example, provides many opportunities for a progressive-scan system to go wrong, especially with the highly saturated colors in the opening outer-space segment (the beginning up to Chapter 5). There were no fringes around areas of intense color like those that can occur with players that have chroma-upsampling problems. Gridlike patterns (which are sprinkled around the first
Toy Story
movie) likewise didn't produce moiré or flickering effects on the progressive output, both of which we've observed with some other players. For its progressive-scan performance alone, I'm comfortable recommending the Samsung DVD-V2500. Add to that the bonuses of a serviceable VCR, considerable ease of use aided by a well-arranged remote control, and a very reasonable price, and you have a winner that can hold its own in comparison with some of the best DVD-only players on the market. What a pleasant surprise.
Click here for "in the lab" (pdf)