Samsung BD-P1000 Blu-ray Disc Player
The battle is starting to heat up. HD DVD has been out for just two months. Two weeks ago Samsung launched its first Blu-ray player, the BD-P1000 ($1,000), the subject of this report.

The player is certainly a vital link in the introduction of any new format. In our 1997 coverage of the DVD launch (then under the Stereophile Guide to Home Theater banner), we had several different players from different sources on hand simultaneously. But in the case of Blu-ray, more players will trickle out starting in early fall. Samsung has released its Blu-ray spinner at least two months ahead of everyone else—for now it's the Lone Ranger on the blu side of the format war.
I won't be discussing the technical details of Blu-ray in this piece. For more on how Blu-ray and HD DVD bring high-definition to a DVD-like optical disc, go here.
First Reports
HD DVD, in spite of its clunky failings in the operation of its player (though there are a few different models out there, they are all essentially the same Toshiba design), has been a smashing success in the all-important video and audio departments. We couldn't have hoped for better.
I won't beat around the bush here. Many reports from the field have expressed disappointment with what is being seen from Blu-ray in these early days. Ultimate AV's technical editor, Shane Buettner gives his thoughts on the launch, and what he is seeing from the format so far, in the July UAV eNewsletter, which goes out to subscribers this Tuesday, July 18th. (If you haven't signed up, go here to do so. You'll get it every month, and it's free). My take is a bit different than his, but it was not arrived at easily. After two months of hanging around in the other camp of this gradually building format war, my first reaction to Blu-ray was, "Where is their ammunition?"
When a new video format hits the market, however, there are more variables involved in what shows up on our screens and what comes from our speakers than the format itself. Can what we're seeing and hearing be a credit to (or blamed on) the player? With one player, it's hard to tell.
The software is an even more complicated issue. It includes the quality of the original photography, the film to high-def master, and the compression to HD video (including the video encoding scheme). Last but not least are the technical capabilities of the format itself. So if you're looking for a "the war is over, XXX has won" you won't read it here. With just one player, a dozen or so titles, and little in the way of test patterns native to the format, definitive conclusions will have to come later. What I will report on here is simply what I've seen and heard to date. Anything stated on the "why" side of the ledger remains strictly speculation.
Addendum:
After this review was completed and ready for publication, I had the opportunity to view a side-by-side comparison of the Samsung BD-P1000 player with a pre-production sample of the upcoming Pioneer Blu-ray player. The demonstration was held at Pioneer's U.S. headquarters in Long Beach, California, and used two identical samples of Pioneer's new PRO-FHD1, 50" (diagonal) 1080p plasma displays. Both players were set for a 1080p/60 output. Rather than delay this review for a re-write (the review still accurately reflects my personal experiences with the Samsung in my own system on a much larger screen), I have appended a discussion of this later experience at the end of the review, immediately prior to the conclusions. The impressions I received during that demonstration, however, are reflected in the conclusions, as well as in the Samsung's Highs and Lows as I see them.
The Data Points
Sony (the 2,000-pound canary in the Blu-ray universe) has chosen to use the traditional MPEG-2 video compression algorithm (codec) for its early titles, though it's claimed to be at a much higher data rate than is possible on standard definition DVD. The number Sony has stated is, typically, 20Mbps average, with minimums around 15Mbps and maximums around 35Mbps (with occasional spikes to 40Mbps). They argue emphatically for the superiority of MPEG-2 at these high data rates, but we don't know the circumstances under which that determination was made.
MPEG-2 has also been used for the few titles available so far from other studios. It's a known quantity codec that uses well-established encoding and authoring software and hardware. It's also operated by technicians adept in its application. All high-definition broadcasts, to date, use MPEG-2 (though DirecTV and DISH are moving to the newer and more efficient MPEG-4/Advanced Video Codec (AVC) for at least some content).
MPEG-2, while well entrenched, is also very data-intensive. No problem, argues Sony, since Blu-ray has a data capacity of 50GB—far higher than 30GB bit bucket of dual-layer HD DVD. But 50GB requires a dual-layer Blu-ray disc, which was not ready in time for the format launch. So the capacity of Blu-ray is currently limited to 25GB. Does the data-hogging MPEG-2 put a squeeze on image quality with a 25GB disc, even though the discs released so far use most of their capacity for the movie itself, with (generally) very skimpy extra features? Sony insists that this is not an issue.
We'll soon find out. Two dual-layer titles are expected next month, Blackhawk Down and one other to be named later. Not that this will necessarily provide a useful data point; Blackhawk Down, as I recall (I haven't watched it in a few years), has highly stylized and often very grainy photography that could easily be confused with player/video transfer/format problems.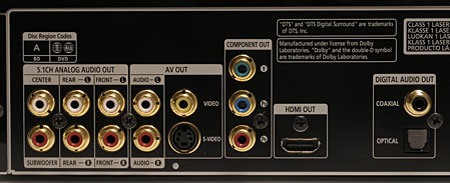 All of the Sony and MGM releases so far include uncompressed PCM 5.1-channel audio tracks in addition to plain vanilla Dolby Digital (and sometimes DTS). Uncompressed multichannel PCM is an attractive option for audio-conscious home theater fans, but it does take up a lot of data space. For a 50GB disc, no problem. For 25GB, it could be. None of the Blu-ray releases so far include any of the new audio formats from Dolby Digital or DTS (Dolby Digital Plus, Dolby TrueHD, DTS-HD and DTS-HD Master Audio). And neither the Samsung nor any of the other first-generation BD players announced to date are able to decode these new formats at full resolution even if they were present. Dolby TrueHD and DTS-HD Master Audio are both lossless codecs, and in theory are capable of the same quality as uncompressed PCM but are more efficient in their use of data space. Samsung's website mentions Dolby Digital Plus under the player's features, but the term appears nowhere I could see in the owner's manual, either in the text or specifications. (Both the Dolby and DTS formats have the capability of carrying an embedded stream that's backward compatible with all existing decoders for each respective format, but the bitrates are limited to 640kbps for Dolby Digital and 1.5Mbps for DTS- Tech Ed.)
Is what we're seeing from Blu-ray discs to date simply an accurate representation of the source material? This is certainly possible, and short of direct access to the uncompressed video masters, it will be impossible to tell for sure. It would help if there were releases of the same film on both Blu-ray and HD DVD, but that hasn't happened yet. Warner, however, supports both formats, so we expect to see duplications when the first batch of Warner Blu-ray titles hits the streets. In fact, in a recent announcement of its first Blu-ray titles, two such duplicates were listed, Training Day and Rumor Has It. Warner has produced some of the best-looking HD DVD titles to date, so the comparison should be worth the wait.
The display also plays an important role in how any disc looks. While Blu-ray discussions are spreading like kudzu across Internet discussion groups, it isn't always clear what display is being used, how revealing it is, or how well it was set up.
Snooping Around the Samsung
Unlike all the other Samsung optical disc players I've seen in the past, the expensive, upscale BD-P1000 comes decked out in a glossy black tux trimmed with blue lighting. It's attractive enough, but the gloss finish is a major fingerprint magnet and the blue lights can't be dimmed. They can be a little distracting in a darkened home theater.
Despite its upmarket duds, the BD-P1000 doesn't, for me, give off genuine high-end vibes. Sort of like a nice, unassuming guy trying too hard to make a good first impression. To coin a timely metaphor, it's Jimmy Olsen dressed up for the prom.
Still, there's nothing wrong with that if it helps keep down the cost. The BD-P1000 will be tied with the Sony (when it arrives in October) as the least expensive Blu-ray player available. While it's hardly cheap, we often forget that the first VCRs, the first CD players, and the first DVD players were even pricier, particularly when inflation is taken into consideration. And there are claims that the first HD DVD players are being sold at a substantial loss ($200 per player by some accounts) to get the jump on Blu-ray.
The front panel of the player presents a sleek face, with the basic operating controls- fast forward and reverse, play/pause, and stop- located on a single circular control. If you select an output format in setup that is not supported by your display, the screen goes blank, but pushing and holding the fast forward button in that situation defaults the player to 720p for HDMI. For reasons that will become clear later, I was unable to confirm what this procedure does in component.
The text window displays not only the usual time and track information, but the playback resolution (if 720p or 1080i/p) and type of source as well. Around back are the video outputs, coaxial and Toslink digital audio outputs, separate two- and 5.1-channel analog audio outputs, and an exhaust port for a (relatively quiet) fan.
The remote is respectable without being special in any way. It may also be programmed (via the usual codes) to operate a television (volume and channel selection). At this price, however, the lack of backlighting is disappointing for those of us who spend a lot of time in the dark feeling around for the right button.
The Samsung's operation is very straightforward; if you can operate any ordinary DVD player, you should have no difficulty here. It includes all the features you expect in any disc player, including search, repeat play, audio, subtitle, language, angle, and a bookmark function for annotating up to 10 scenes (the bookmarks are erased when you eject the disc). There's also resume play (after stop), a feature missing for HD DVDs played back on the first HD DVD players.
The BD-P1000 will play back all the common varieties of optical discs. Pre-recorded Blu-ray discs (BD-ROMs) are, of course, a first priority, recorded in HD at either 1920x1080 or 1280x720 (or even lower, standard resolution, as with some special features). They may use any of the three video codecs supported by the format: MPEG-2, VC-1, MPEG-4/Advanced Video Codec (AVC).