Samsung BD-D6700 Blu-ray 3D Player Page 2
The BD-D6700 doesn't offer some of the more advanced video setup features that other players provide. There are no options for changing the color space output or setting the digital levels for the gray scale. Thankfully, the player doesn't clip any of the intended video signals and preserves below-black and above-white information in the video signal. Like most players, the Samsung supports Deep Color. You can toggle this to Off or Auto, although there are still no consumer sources that use this format. You can also select the output resolution all the way to full 1080p, including 1080p/24 playback.

The BD-D6700 offers full support for Blu-ray 3D playback. In the setup menu, you'll find some basic setup options for 3D, including whether you want the player to support 3D or have any 3D content converted to 2D. There's also a screen size selector that goes up to 116 inches. I've never really figured out this feature on any of my players. When I've changed the setting to different sizes, I've never seen any real effect on the 3D performance.
The player can process all of the latest formats and convert them to multichannel PCM for playback on older AVRs. This works via the HDMI output for multichannel or through the analog stereo outputs. The BDD6700 also provides a bitstream output, which lets your AVR or surround processor do the decoding work. If your AVR doesn't support the latest formats, the player can re-encode the audio as either DTS or Dolby Digital.
A Good Pic and a Small Glitch
While the studios release most movies day and date on Bluray, there are still those of us with massive collections of DVDs lying around. I've personally gone on a strict diet of high definition when it comes to prerecorded media, but many people still watch a lot of DVDs and standard-definition material, so for them, SD playback quality is of interest.
First, I was pleased to learn that the BD-D6700 does an outstanding job with its high-definition video-processing duties. The player breezed through all of our Video Test Bench tests. It even bested some special tests that aren't included in our benchmark that I use to determine how good a player is compared to the top-of-the-line video processors and players. I felt certain the player must be using a respected thirdparty video processor, but I was told later that it was Samsung's technology. In any event, it did a superb job with all of my personal high-definition tests. If you throw any kind of HD material at the BD-D6700, it'll look great.
Given this outstanding performance with high def, I was puzzled to find that the unit initially did very poorly with standard-definition content, failing even our basic 3:2 film deinterlacing test. After some investigation, Samsung discovered that the cause was an odd firmware bug (which we verified) that prevented the player from detecting a 3:2 film cadence if the Progressive setting inside the menu was first set to its default Auto, then set manually to Video, then reset to the Auto position­. At that point, the unit stayed locked in Video mode and wouldn't recognize film-based content unless the power was cycled. Once we learned to reset it this way, it passed all of our SD bench tests with flying colors. As we went to press, Samsung sent us its firmware revision, and we're told that it should be formally released by the time you read this.
One of the cooler features this player adds is the ability to convert 2D material to 3D. With only a handful of Blu-ray 3D titles available and the more popular titles hung up in exclusive packaging hell, the software available to consumers is pretty limited. The BD-D6700 tries to help out by giving you the option of using advanced video processing to convert your 2D Blu-ray and DVD library to 3D. Although I've seen plenty of examples at trade shows, this was the first time I've had the chance to use this type of feature in my own home theater.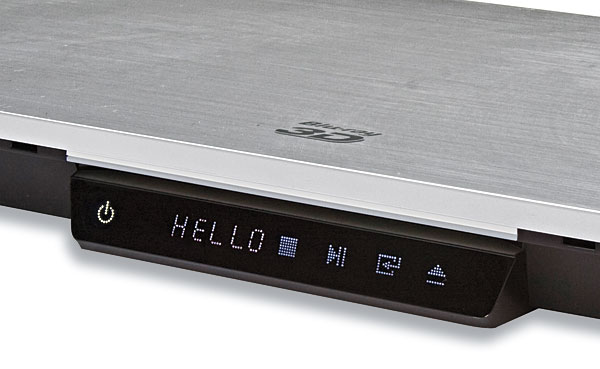 The BD-D6700's remote has a button that quickly turns this feature on and off. Once you've engaged the feature, the player outputs anything you're playing as 3D so long as your display supports 3D playback. The remote's Tools button also brings up a control for 3D depth, which offers ten steps for tailoring how aggressive you want the 3D conversion to be.
The 2D-to-3D feature offered a convincing degree of depth, but not on a par with what you'll see from a true Blu-ray 3D Disc. When I turned up the 3D Depth control, it did change the amount of depth, but I never saw any extension of the image into the room. The control also added sub-tle distortions, including minor warping that gave the image some weird stretch artifacts near the bottom. I guess if you just have to have 3D, this is better than nothing, but I didn't find the feature that engrossing with most of the material I looked at.
All the Content You Could Ever Need
While this player's principal function is Blu-ray playback, there's no ignoring the multitude of options it adds for getting media into your home. Convergence has become a big part of the electronics industry, and it seems like you can't find a display, player, or A/V receiver that doesn't include a plethora of streaming options.
LATEST VIDEO