BenQ HT4050 3D DLP Projector Review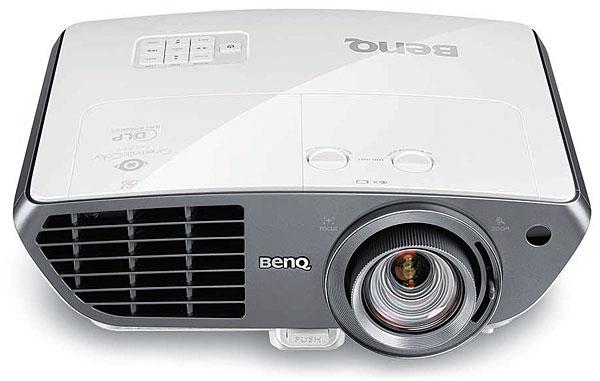 PRICE
$1,399
AT A GLANCE
Plus
Excellent, Rec. 709 color palette for long-term, fuss-free accuracy
High-grade optics provide edge-to-edge sharpness
Precision calibration controls for hobbyists; ISF modes for the pros
Minus
Short throw ratio and limited vertical offset require careful planning for permanent installation
Not stealth fighter quiet (but not "arrest me!" loud, either)
3D glasses optional
THE VERDICT
At $1,399, you'll have a better chance of finding Waldo than another projector that equals the HT4050's package of color accuracy, image clarity, and overall fidelity.
Beginning in 2009 and yearly thereafter, Taiwan-based BenQ Corporation has claimed the distinction of being the best-selling brand for DLP projectors worldwide. While models designated for the business and education markets bolster the overall sales figure, the company has enjoyed a strong presence in consumer home theater as well. BenQ aims to retain that No. 1 status, aided by their new HT series of home theater machines, which includes our review unit, the range-topping HT4050. Stocking the projector with an assortment of finely honed features, BenQ promises the performance level found in more costly models while targeting an appealing price point. Will the HT4050 deliver winning image fidelity and a winning sales formula for BenQ? Let's find out.
Overview
Proportionately compact at 13 x 4.7 x 9.7 inches, the mostly gloss white HT4050 is trimmed by a dark gray front fascia with connecting accent panels that wrap around to the rear input panel. For tabletop use, a central front bar support descends by way of a release button, locking at the desired height as the two thumbscrew rear feet permit tri-planar balancing of the 9.24-pound unit.
The rear panel has two HDMI inputs (one MHL compatible), which can be complemented by a wireless HDMI interface kit (WDP01) featuring a dual-HDMI input transmitter with a specified range of 100 feet (structure-dependent) and a receiver powered by the projector's USB Type A (5-volt/1.5-amp) jack. An HDMI jumper between the receiver and one of the HDMI jacks on the projector completes the wireless connection, which is said to have less than 1-millisecond latency. (This kit wasn't sent for testing.) Legacy analog component and composite video inputs mate with analog stereo and audio in/out minijacks, and there's an analog PC input via a D-sub 15-pin connector. Rounding out the connections are a DC 12-volt trigger, a 3D sync port for use with active-shutter 3D RF glasses, an RS-232 DB-9 pin connector for automation, and a USB type B jack used as a service access portal.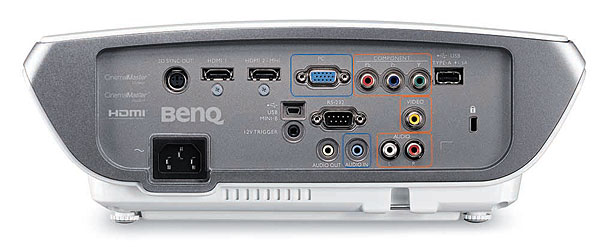 Along with the projector's 1080p resolution and 3D capabilities, BenQ boasts of the immaculate attention paid during design to create a package that not only can accurately produce the international Rec. 709 HD color standard but can also retain long-term color stability with a sharp, detailed image. During assembly, every machine is said to receive precision, hands-on adjustment at multiple points in the manufacturing process, ensuring strict adherence to Rec. 709 and excellent out-of-the-box performance.
BenQ calls its suite of advanced audio and (mostly) video processing features CinemaMaster. The video controls include Motion Enhancer, Flesh Tone, Color Enhancer, and Pixel Enhancer. Motion Enhancer inserts up to 36 interpolated frames in between sequences for smooth, fluid motion with 60-frames-per-second video. It defaults to off for all picture modes, but with judicial use, it was beneficial in eliminating motion artifacts (see more below). Flesh Tone comes out of the box set to zero and is intended to bring about more natural skintones in high ambient light conditions. As I moved through settings 1 through 5 (on my Stewart Filmscreen StudioTek 130 screen, with the lights on), Flesh Tone incrementally added warm, reddish enhancement to faces and made blue shades brighter, ultimately adding a "glow" to faces. I left it off. Likewise, Color Enhancer primarily accented middle tones, creating a sunburn look on faces when ramped up. I also left it at its default setting of zero.
Pixel Enhancer was chameleon-like within its range of 0 to 15 (8 being the factory setting). Using the internally generated test pattern (a white grid upon a black background used for sizing the image to the screen), I found that lowering it to 0 noticeably darkened the grid's lines. Turning to the Weather Channel in HD and taking the control to 15 added "ringing" (fuzziness to text and small details). I left it at its default setting. I also tried out the Noise Reduction feature, which has a range of 0 to 31 and defaults in all picture modes to 7. At any setting, even resorting to the Weather Channel in SD resolution to see if small text and map relief features would soften or hard edges appear, I could detect no discernible difference and left it at its default.
There isn't much magic that CinemaMaster's audio features will perform using the internal, 10-watt amplified speakers. Five preconfigured sound profiles plus a User mode with a five-band EQ won't prompt the folks at Dolby to take a glance over their Atmos shoulder. Sampling its usefulness, my viewing room effectively filled with intelligible sound, showing no sign of strain. If you need movie sound in a pinch, it shouldn't offend too badly.
Precise video adjustment is possible with a full color management system (CMS), high and low color temperature (white balance) fine tuning, and ISFccc Day/Night modes (code-enabled by a professional calibrator).
BenQ's HT projectors feature Texas Instruments' BrilliantColor technology, which uses a six-segment color wheel that includes only two each of the traditional primary colors red, green, and blue. This is preferred to the approach sometimes taken that might integrate the secondary colors of cyan, magenta, and yellow to help reproduce those tones or white/clear segments intended to boost the brightness of white. Nonetheless, the color wheel produces the full Rec. 709 color gamut, utilizing custom segment angles, specific coatings, and some optimized software. When Brilliant Color (BenQ's menu labeling) is selected, there's an appealing boost to color brightness whose effect is to exude a sense of texture, such as adding extra depth in a fabric or making a metal surface seem hewn rather than plated.
The above would all be for naught if the light exiting the projector couldn't make a clear, detailed image. BenQ engineers selected high-grade, pure glass elements within the light engine and an all-glass cinema-grade projection lens with proprietary low-dispersion lens coatings to minimize chromatic aberrations (impurities in lens glass that suggest misconvergence with fine-line patterns that should otherwise appear to be white).
Setup
Despite my presumption of the HT4050's prefix to mean home theater, the throw ratio of 1.15:1 to 1.86:1 tethers the projector far closer to the screen than desired for use in a dedicated home theater space, or even for a dual-purpose environment. Although the projector might be ideal for occasional use on a coffee table, shining images on the living room wall, the restrictive specs here require careful consideration in planning a permanent location. For comparison, an Epson PowerLite Home Cinema 3500 projector I keep around for testing ambient-light-rejecting screens sits atop a tall equipment rack behind my sofa. It was some 5 feet behind the BenQ, which I placed in front of the sofa on a makeshift stand. Both projectors were sized to the same screen, with the Epson capable of going back a bit farther in position if needed, while the BenQ was at maximum distance. Why worry, you ask? Were the BenQ ceiling mounted, I'd find its landing spot inside my upper field of vision, with its not too generous 12.5 percent Vertical offset tugging it down into the room, so it sat close to the top of the reflective viewing surface. Although the machine runs quietly even with Normal mode selected for lamp power, if you are at higher altitudes (above 5,000 feet), the fans rotate at faster speeds, which you'll likely notice. (Fan noise is rated from 29 decibels in Economic to 33 dB in Normal.)