Toshiba Symbio BDX6400 3D Blu-ray Player


PRICE $350
AT A GLANCE
Plus
Good video performance
Unique ergonomics
Vertical or horizontal placement
Minus
No front-panel display
Sluggish YouTube access
THE VERDICT
Its video performance, 4K upconversion, and atypical form factor may well attract buyers, while its slight edge enhancement and mixed performance on some Internet sites may not. But it's clear that this Toshiba is not your father's disc player.
It's getting harder these days for a manufacturer to build and sell a high-end Blu-ray player simply as a Blu-ray player. The market is saturated, and the latecomers, who finally realize that DVD is not high definition and a Blu-ray Disc offers the best quality video currently available to the consumer, seem content to pop for the $49.99 Blu-ray special on aisle 5.
Toshiba's answer to this is its Symbio designs—smart Blu-ray players that can access the Internet via a wired or wireless connection to download content, browse the Web, and play audio, video, and photos from your home network. Such features are by no means unique now—in fact, they tend to appear in most players. But throw in 4K upscaling and a little high-tech industrial design, and you've got a machine that does stand out a bit from the crowd.
Description
The only visible feature on the front of the Symbio BDX6400 is its disc-loading slot. There are no other visible controls apart from the power switch on top (or on the side—the player may be placed either horizontally or, with the provided stand, vertically). There is no front-panel display. There are eject and pause/play controls to the right of the slot, but they're invisible unless illuminated by a finger touch. Around back is the input for the wall-wart DC power supply, one each HDMI, USB, and coaxial digital audio connections, and a LAN port. There are no analog audio outputs, nor any video outputs other than HDMI.
The Symbio will play CDs, standard-definition DVDs, Blu-rays, and 3D Blu-rays. It will not play either DVD-Audio recordings or the SACD layer of hybrid SACD discs.
The remote control's non-illuminated, gray-labeled buttons are difficult to navigate in a dark or dimly lit room. The OSC (On Screen Control) button can be used to access not only information you'd normally see in the front display window of most disc players (chapter, time, etc.) but other features as well, including audio or video bitrate, secondary audio or video, Instant Search (30 seconds forward), and Instant Replay (10 seconds backward). There are also remote apps available for using your smartphone as a remote (not tested).
The Toshiba, like many other players these days, is also said to be compatible with Deep Color and xvColor (x.v.YCC). But no consumer sources or displays we know of currently use Deep Color, and the only sources that use xvColor are a limited range of Blu-ray Discs from Sony that also require a set specifically designed to make use of this feature (to our knowledge, that currently includes only a few Sony sets).
If you have a 4K—Ultra HD—set, the player can upconvert 1080p HD discs to a 4K pixel resolution (4K in the consumer world is actually 3.8K—3840 x 2160). The player will not upconvert other resolutions, including 480i SD or 720p HD, to 4K. The upconversion in the player for all sources lower than 1080p is limited to a maximum of 1080p, even if you set the display resolution for 4K upconversion.
Internet and Network Functionality
Since most modern TVs above the entry price level have Internet capabilities, putting them in source devices, including disc players, may appear superfluous at first. But there are many video displays—all the projectors we know of, cheaper HDTVs, and older premium flat screens—that don't offer Internet access. No Pioneer Kuro plasma ever made, for example, had Internet features, but you don't see Kuro owners lining up to dump their sets.
Choose Portal on the Toshiba's opening splash screen (or push the Home button on the remote), and the Internet access page comes into view. The number of downloading and streaming sites you'll see there is more limited out of the box than what you'll get from most premium flat-screen sets. But they include the most popular sites: YouTube, Netflix, Vudu, Hulu Plus, CinemaNow, Picasa, and Pandora. One obvious omission: Amazon Instant Video. But there's space reserved on the page for possible future additions.
I connected the Symbio to my Internet router via a wired Ethernet link (a wireless setup didn't function well in my situation, which reflects more on my home network than on the Toshiba). The HD trailers I viewed on Vudu ranged from respectable to good—though the same trailers looked a shade sharper when accessed directly from the Smart TV portal on the Samsung UN65F9000 Ultra HD set I used for all of the video tests and viewing in this report. But YouTube on the Toshiba was an ergonomic flop; it was so slow in responding to commands as to be virtually unusable. On the Samsung, it was lightning fast.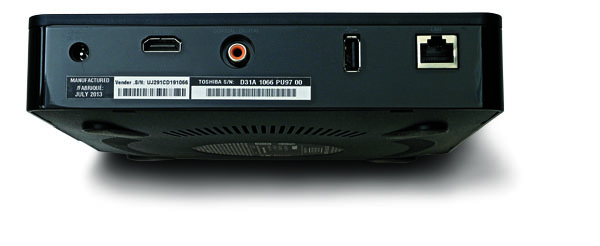 2K Performance and Sound
Significant video differences between good Blu-ray/DVD players, even modestly priced ones, have long since virtually disappeared—apart, perhaps, from their video processing. The same is essentially true of movie audio via HDMI. The Toshiba sailed through our video test bench cycle without a hitch, nor did it hiccup in any way on any video material I watched. Yes, even in 2K, there was a trace of white line enhancement when viewed from close to the screen. But this was invisible from any sensible viewing distance and never lessened my enjoyment.
When I listen to two-channel music on my home theater setup, I prefer to use a coaxial digital link from a player to the preamp/processor. Used this way, the Toshiba's audio wasn't quite up to audiophile reference standards (which can be incredibly picky). The sound was a little less open and airy than from the player I currently use for music playback, the pricier (when available) Marantz UD7006. But the differences were such that other listeners might disagree. My main reservation about the Toshiba for music playback is its lack of a front-panel display. I don't turn on my video monitor when listening to a CD, and without the feedback a display can provide (What track am I on? How long is it?), I'd have trouble living with it. But not everyone will be bothered by this, particularly those who most often simply play their CDs from beginning to end and leave it at that.