Cambridge Audio Azur 752BD 3D Blu-ray Player
Price
: $1,299
At A Glance
: Reference-quality audio and video • HDMI and digital audio inputs • Built-in 192 kHz audio upsampling
They say that imitation is the ultimate form of flattery; I say if it isn't broke, don't fix it. In the last few years, we've seen a few high-end Blu-ray players use the popular Oppo Digtal Blu-ray player as the core of their design, with at least one manufacturer having even taken it as far as dropping a complete Oppo BDP-83SE chassis into a different cabinet with a new faceplate and charging $3,000 more for it (only to be exposed later).
With the Azur 752BD, Cambridge Audio utilizes only the core video components and transport, which adds its own analog audio section and execution. So while my review unit did look suspiciously like a hybrid of Oppo's latest BDP-103 and BDP-105, it only shares Oppo's video section and connection features. And honestly, who could even think to fault them for that? With full Blu-ray 3D playback, scaling up to 4K, both digital video and audio inputs, and its own integrated volume control, this player takes a completely new approach to what a Blu-ray player can do.
The Azur 752BD is a great-looking player from every angle. The front panel is constructed from a thick piece of aluminum, and the complementing case features a nice design touch with Cambridge Audio's logo molded into the top panel. Everything about the construction speaks to a high-end design, and nothing feels cheap. I loved the laser-etched logos on the front panel, a feature rarely seen on components at this price. The Azur 752BD features a USB- and MHL (mobile high definition link)-compatible HDMI input on the front panel. MHL allows you to hook up portable electronics like some of the latest cell phones and streaming sticks and delivers video and audio to the player. The Azur 752BD also features Cambridge Audio's signature filter switch that toggles the custom digital filter modes. This has been a trademark of Cambridge Audio's Blu-ray and CD players for some years now, and I'll talk more about these later.
The back panel features some of the most exciting features to come from a Blu-ray player anywhere near this price point. It has a pair of HDMI outputs for 3D or multiple display support, and takes a two-prong approach to video processing. The core is the Mediatek decoding chip, which provides deinterlacing duties for any interlaced signal and provides the onscreen display graphics. If you're using HDMI 1, the player then couples a Marvell video processing chip for scaling and video-enhancement features, including scaling up to 4K. Both outputs support 3D playback, but only HDMI 1 offers some of the more advanced video processing features.

Connectivity is a key feature for the Azur 752BD. You'll find a pair of USB 2.0 inputs for connecting USB drives or memory sticks for audio and video playback, or you can use one with the included Wi-Fi dongle for Internet connectivity. The player can also connect to your home network via an Ethernet connection for full playback of compatible video and audio files it finds on your network. The Azur 752BD supports most of the popular playback files on the market today, including FLAC lossless audio sampled up to 192/24. It also supports WMA, WAV, and MP3 files and AVC, MPEG4 HD, and MKV on the video side.
The true highlights on the back panel are the HDMI and digital audio inputs. The Azur 752BD takes its role as a Blu-ray player much further than most and includes switching of not only two HDMI sources but also two digital audio sources with its coaxial and TosLink digital connections. This lets you take advantage of the Azur's outstanding video processing for other sources, such as cable boxes, game consoles, or other streaming devices. But it also gives you the option of connecting other audio components via one of its digital audio connections to take advantage of its custom audio board and digital filters. Since the Azur 752BD features its own volume control, it can be connected directly to a two-channel or multichannel amplifier and act as a digital preamplifier for your other sources. This takes Blu-ray players into a completely new level of features that could replace some of the other components in your system. For audio outputs, the Azur 752BD offers both a 7.1-channel and a dedicated two-channel output. The 752BD doesn't offer any analog video outputs except for a composite video out that can be used for diagnostics with the setup menu only. An IR remote input and RS-232 input are also featured for remote systems.
Getting Started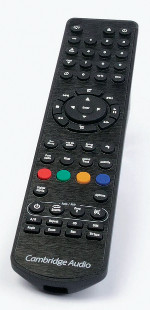 Setting up the Azur 752BD was a snap. It's no secret that I've been a proud owner of Oppo's designs for years now, and the setup menus are nearly identical. After power-up, you're greeted with Cambridge Audio's home menu that lets you select from a variety of options, including disc playback, external sources, or the player's setup menus. There is also streaming support for Picasa and YouTube. If you need more, you can get just about any online service you want these days with an add-on media streamer costing less than $100, or by adding the Roku Stick to the 752BD's MHL-equipped HDMI port.
The included remote is also designed by Cambridge. It has a very sleek look with backlit buttons and a very nice stand to hold the remote when not in use. I wasn't the biggest fan of the button layout. Most of the main controls are in an outer circle around the menu buttons, which makes it easy to hit the wrong one. In my first go-around with the 752BD, I also noticed that the IR signal was weak, to the point where it required absolute perfect aim at the IR receiver on the front of the player to get it to work. A replacement remote from Cambridge exhibited more normal behavior.
Setup menus include full customization of both the audio and video playback. On the audio side, the Azur has options for both HDMI and analog audio outputs with full bass management and time-alignment available for the latter. The 752BD is a true universal player with support for high-resolution audio formats including DVD-Audio and SACD. Because of the Azur's internal upconversion to 192 kilohertz for all audio signals, SACD is available in PCM form only, with no option for direct DSD playback regardless of which output you use. Like most players today, the Azur can be updated using a variety of means. You can update it using a network connection, USB stick, or via a CD. No firmware updates were issued during my time with the player.