Rounders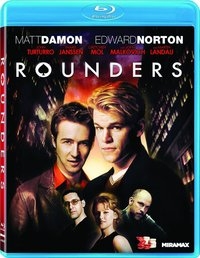 Mike McDermott (Matt Damon) is trying to leave his poker playing days behind him while he attempts to earn his law degree and prove to his girlfriend that he can hold a "real job." Bu when his best friend, "Worm" Murphy (Edward Norton), is released from prison, he coaxes Mike back to the tables. "Worm" gets himself into serious trouble with a local mobster/poker legend, Teddy KGB (John Malkovich), and Mike's rear-end ends up on the hook since he mistakenly vouched for his friend and he needs to come up with a boatload of cash in short order. Look out poker world, here he comes.
For the record, I love playing poker—specifically Texas Hold'em—so it's only natural that this is one of my favorite movies. While I limit my gaming to tournaments and avoid cash games like the plague, I've witness many people who constantly chase the big score and get in way over their head and lose their entire bankroll. One of the biggest thrills of my life was winning a seat to the 2010 World Series of Poker Main Event, but sadly my dream of winning the title went down in flames when my set of queens was beat when an ace hit on the river giving my competitor a higher set—that's poker!
For a film that just entered its teen years, the AVC encode looks absolutely fantastic. Shadow detail in the nighttime and dimly lit interior scenes is astounding and detail is mesmerizing, especially in facial textures and clothing. Other than some occasional aliasing in some city buildings and a chain link fence, there isn't anything to complain about.
The DTS-HD MA 5.1 track isn't going to blow the windows out of your house, but it's no slouch either. Environmental ambience is well-placed in the rears speakers, dialog is always intelligible, and the clicking of the chips as they're thrown into the pot sound just like my local casino.
Supplements include two audio commentaries, the first with the director Hohn Dahl, screenwriters David Levien and Brian Koppelman, and actor Edward Norton, and the second with professional poker players Johnny Chan, Phil Hellmuth, Chris Moneymaker, and Jesus Ferguson. Rounding things out is a behind-the-scenes featurette, a look at the world of professional poker, and "Champion Poker Tips."
There have been rumors for years about a potential sequel to this cult classic and IMDB has a targeted date of 2014. As a fan, I can't wait to see where they take the story. If you aren't into poker you may not enjoy this as much as I do, but be sure to give it a chance.
Ratings
Picture:4.5/5
3D-Ness: N/A
Sound: 4.0
Extras: 3.0
Interactivity: N/A

Disc Specs
Studio: LionsGate/Miramax (1998)
Aspect Ratio: 2.35:1
Audio Format: DTS-HD Master Audio 5.1
Length: 121 Min
MPAA Rating: R
Director: John Dahl
Starring: Matt Damon, Edward Norton, John Malkovich

LATEST VIDEO