Rik Emmett on the Allied Forces Behind the Sound of RESolution9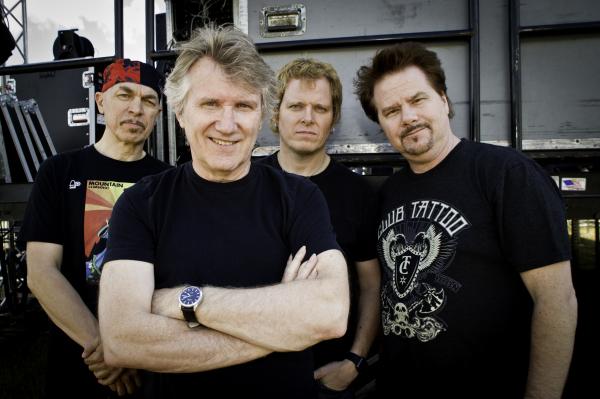 Rik Emmett is an artist who's always reveled in the creative benefits of teamwork and collaboration. The former guitarist/vocalist of Canadian power trio Triumph has forged quite the formidable and far-reaching solo career since he left the band in 1988, but he's quite adamant about the all-for-one, band-centric, and exhilaratingly electrifying flavor of
RES 9
(Provogue Records), the forthcoming album from his new four-man collective that's been appropriately dubbed Rik Emmett & RESolution9. (From left in the above photo, the RESolution 9 bandmembers are: drummer Paul DeLong, Emmett, guitarist Dave Dunlop, and bassist/keyboardist Steve Skingley. Dunlop and Skingley also co-produced
RES 9
with Emmett.)
A fair amount of the album was recorded and mixed at Mississauga, Ontario's Metalworks Studios, a location where Emmett, bassist Mike Levine, and drummer/vocalist Gil Moore (who owns the studio) recorded many of Triumph's greatest works. "This album represents a journey through my life," Emmett observes of RES 9, "and the idea behind a lot of these songs is me trying to figure out who I am, and why I'm doing what I'm doing. There's a common thread of positivity here that ties into the records I was making 30 years ago. What did I learn from making them? You'll hear all of that echoed in the grooves of this album." (Speaking of grooves, RES 9 will be available on 180-gram black vinyl; the 300-piece limited-edition red vinyl is already sold out.)
Indeed, the broad scope of the 11 deeply heartfelt songs on RES 9 covers a lot of exciting aural ground, starting with the out-of-the-gate gallop of lead track "Human Race," which also features a driving contribution from his fellow Canadian axeman, Rush guitarist Alex Lifeson. For his part, Lifeson added some period-perfect 12-string guitar alongside Emmett and Dunlop to buttress the impact of "Human Race," and the Rushman says he found it quite an honor to play with (and for) his lifelong friend. "When Rik asked me to play on his new album, I didn't hesitate for a second," Lifeson reports. "He's the consummate musician, a wonderful guitarist, and a terrific person, and it's always my pleasure to work with him any chance I can get. There is a rock purity in his songwriting and performance, and it's just so much fun to get together and throw ideas around. He's always so up and open for anything — even a notoriously uncooperative Rickenbacker 12-string!" Dunlop points out the way the RESolution9 band meshed with Lifeson "stands as a great example of the collective efforts of the brotherhood."
RES 9 also percolates along quite nicely with the testifying tones of "My Cathedral" and the whispering blues of "The Ghost of Shadow Town," as well as impassioned guest vocals from Dream Theater's James LaBrie on "I Sing" and "End of the Line," the latter of which also features killer cutting-heads guitar dueling amongst Emmett, Lifeson, and Dunlop.
Not only that, but we also get the touching album-closing bonus track "Grand Parade," which reunites Emmett with his onetime Triumph bandmates. "Grand Parade" also very deliberately recalls the distinctly intimate feel of Triumph's "Suitcase Blues," from the band's 1979 breakthrough album, Just a Game, a song Emmett continues to perform solo to this day. Levine says he had a great time in the studio with his former partners. "We rocked it up a bit, and Gil made the drums heavier than they were on the demo," the bassist notes. "I think it turned out really fantastic. I told Rik I felt it was a really cool tune, one that was very personal for all of us. I'm really, really proud of it, and it was great to work with both Rik and Gil on it. It was really neat."
Adds Moore, "I always liked how Rik was able to bring another dimension and another color palette to what we were doing, and I like the spacious bass and drum tracks we did together. That's what's always been in my wheelhouse, as far as my playing is concerned. I'm really happy with how this song turned out. I hope we get to do it again."
I called Emmett, 63, across our border to the north to his Ontario homestead to discuss the sonic impetus behind RES 9's audio identity, how life experience informs his songwriting, and the ongoing impact of Triumph's Allied Forces, which was released 35 years ago this past September. "I got a burning heart/I got a hungry soul," Emmett sings on "Human Race." RES 9 more than RESolves the pangs of those cravings.
Mike Mettler: Teamwork is a concept that's always been important to you as an artist. How did that manifest itself while you guys were recording RES 9?
Rik Emmett: You can't accomplish an album like this by being 100 percent yourself. It takes a lot of elements to make something happen. I come back to that old saying that goes, "Success has many fathers, and failure is an orphan." (both laugh) In other words, I know that I have to spread it around. I feel it's pretty important that I keep the guys in my band really happy.
Mettler: One of the earliest lines in "Human Race" is a very telling one that stood out to me right away: "I've got a thirst for life." Is that a personal manifesto?
Emmett: Oh, I think so. (chuckles) One of the things I like about the lyric on "Human Race" is that it gets across the idea that, "I'm still this. I still live this." I think that's very true. There's a line on "I Sing" about raising a joyful noise, and I still want to do that. I still want to make positive music and offer people something that's motivating and inspiring — and I want to do it for myself too. I need music. Music can provide that for me. It's a lifeline.
When we first played "Human Race" for Alex Lifeson to see if he would like to play on it, I'm pretty sure he goes, "Hey, it's like an old Who song from the '60s or early '70s. This'll be fun to do. How about I play a 12-string Rickenbacker?" For sure, there's Pete Townshend in that song. There's no doubt about it!
We were rehearsing the track with the band on the studio floor, and when we were breaking down the bridge, I'd go to Paul [DeLong, the drummer], "No, it's got to be more like Keith Moon! Get really busy and roll around on all the toms!" And he made it happen.
Mettler: As you've said to me before, music is therapeutic. On this album, your entire life experience is expressed through these 11 tracks. You probably couldn't have made this record 30 years ago.
Emmett: No doubt. No doubt.
Mettler: As a listener, I hear it as somebody imparting lessons about life in a good way. That's what I'm getting out of the journey it's taking me on.
Emmett: Yeah, thank you. I think that's true. And it's also true about the records I did make 30 years ago. So here I am again — what did I learn from making those records? I couldn't have made this record back then, but are all of those records echoing in this one now? Oh, for sure! "Human Race" is similar to a little bit of "Magic Power" [from 1981's Allied Forces] here, and a little bit of "Somebody's Out There" [from 1986's The Sport of Kings] over there... (chuckles)
Mettler: You can see and hear the lineage, like those Pete Frame rock-history branches. All of these songs inform each other.
Emmett: Totally.
Mettler: I don't know that "My Cathedral" could have been written in 1985 per se, but it strikes the very core of who you are as an artist today.
Emmett: You know what? It never would have made an album back then. Maybe I would have written a little something like it, but it wouldn't have made the cut. Now, I think that song is the heart and soul of what the album really is for me. When we get to "Cathedral" and "The Ghost of Shadow Town" in the running order, that's me. That's 2016 Rik Emmett. That's where I'm at.
This might be my last kick at the can, so I want this record to be a summation of who I am and what I've done as a recording artist — songwriter, guitar player, singer — the whole ball of wax. While there are vintage and retro feels on the album, it is about my currency as an artist.
I was always an eclectic chameleon of a player — I had to learn how to adapt from playing folk guitar to a wedding band to a polka band to a rock band. With RES 9, that chameleon is going to be showing off all of his colors.
Mettler: You don't mind that whenever I see the name or the phrase, I keep repeating it like, "RESolution9, RESolution9..."?
Emmett: (chuckles) It didn't come from that. Dave [Dunlop] has a thing about the number 9. He plays hockey twice a week, and the sweater he wears has the number 9 on it. His studio is Room 9, and he's got a tattoo on his right arm that's the Chinese symbol for the number 9. It's his thing.
I always felt really strongly that we should be packaged like a band, so we needed a band name. I didn't want it to be just "Rik Emmett." We liked the idea of the initials RE for Rik Emmett, so what about a word that starts that way, like REvolution? RESolution is good, because it's almost like the Rik Emmett Solution, and the solution to all of the problems is the band! This is great! But I thought using RESolution on its own was very '60s or '70s, so I said, "How about we stick the number 9 at the end?"
Mettler: I love that decision, because I think it fits the band's vibe perfectly. Now let's talk about "Grand Parade," which is listed as a bonus track in the album's packaging.
Emmett: The conversation about having Triumph involved was always on the table. I half-had the song, and I was always thinking, "Wouldn't this be great?" I always thought of it as revisiting "Suitcase Blues" from 1979 [the aforementioned final track on Just a Game]. I play that when I do acoustic shows as the last song of the night in my encore. I dedicate it to Mike and Gil and the fact that they gave me the latitude to do the crazy stupid things that I do. (both laugh)
As I was developing the lyric, I kept thinking, "Wouldn't it be great if I could get Mike and Gil to play on it? Wouldn't this just bring everything full circle, and back around?" One thing leads to another and we're all in Metalworks, and this is lining up perfectly. So the Triumph song is a bonus track. That's the best way to position it. It's like "Suitcase Blues" — or "Her Majesty" on [The Beatles'] Abbey Road!
Mettler: I love that! Positioning it as a bonus is the right thing. One thing about "Suitcase Blues" was that it didn't get on the radio, so, in a way, it was always a "secret handshake" song with fans. And "Grand Parade" totally fits with the mindset of the original as the callback thread. The lyrics certainly bring together those memories, like the reference to Johnny Walker.
Emmett: My black Les Paul is nicknamed Johnny Walker! (both laugh) It's funny how those things happen. The origin of that comes from hospitality riders. Mike Levine always wanted Johnny Walker Red on the rider, to be in the dressing room after gigs. After shows, it was always, "Who gets the bottle tonight?" You didn't want it every night yourself, so sometimes the band got it, and sometimes the crew did. That's where the line came from, because the only friend you had in the hotel room was Johnny Walker.
The song itself always had that vibe — it was always down-tempo, and based on a Joe Pass guitar thing: Here's 12-bar blues, with some changes in it. I was fiddling with that sad melancholy, like a jazz musician who was alone at the end of the night. I'm grateful the guys gave me enough latitude to do that. (laughs)
By the way, the whole idea of Rik Emmett doing classical pieces on albums was because Triumph never had enough material. Levine would say, "Well, Rik, how about you come up with a guitar piece, like progressive bands have solo moments?" So that became a staple.
Mettler: Speaking of Triumph, Allied Forces just celebrated the 35th anniversary of its 1981 release, back in September. How do you feel about its overall sound and its impact, all these years later?
Emmett: Allied Forces is probably my favorite Triumph album, for a lot of reasons. It was the first album we made at Metalworks, and the last album we did with the late Mike Jones as engineer. Mike was an ex-Brit, and he knew how to get those nice, fat, warm Marshall-amp distortion guitars married up to sparkling-clean Teles [i.e., Telecasters], or acoustics. I always enjoyed working with Jonesy — and also Ed Stone. Loved working with them both.
Looking back, with perspective, I feel Allied Forces was the album where Triumph found itself as a band. You never really have any awareness of it — at the time, you're just powering ahead, trying to handle the momentum. It's only later, looking back, when you can see it for what it was — or, at least, what it became.
The title track, "Allied Forces," was arguably our best moment as a heavy rock band. "Fight the Good Fight" and "Magic Power" were FM AOR anthems, from conception through execution — and, eventually, they proved to be the right thing in the right place at the right time, for the market of FM radio and arena concert touring. "Fight" was probably the best collaboration of song elements and arrangement that Gil Moore and I ever came up with — even though he wasn't crazy about the Biblical title, "Fight the Good Fight." But Mike and I outvoted him.
I think the Just a Game album was an album where I was figuring out what I could do as a recording artist in the studio, but with Allied, I think it moved to a different level. We had arrived as writers and recording artists at a place where the material evolved into arrangements that suited our little ensemble. Maybe we'd lacked a bit of that self-awareness on previous efforts.
I also look back and think that maybe we got a few other things right — the mixes of that album are really good, and that's largely Mike Levine, in an era before automation and digital everythingness! The logo on the front cover, combining the lightning bolts of the logo with the quasi-military Flying V — my first big guitar endorsement deal with Dean for a Flying V, by the way! — in blue-silver on black, with the sword from the Allied Expeditionary Forces crest in it ... (pauses) it was the whole subtext of being a Canadian band, tied to U.S. market-driven forces, but with a view of taking our music to the whole wide world.
And the idea really surfaced through this album where we were fully aware that we were never going to be a band that would enjoy a "critical" embrace. We were a band of the common man. The "Allied Forces" were us, merging with those kids in the concert venues. It was us and them, against the world. It's so hard to know what the heart of an album is going to be, when you're inside it. It takes a few decades for the whole thing to shake out, but there's an integrity to Allied Forces that still stands up.