Review: Sonos Sub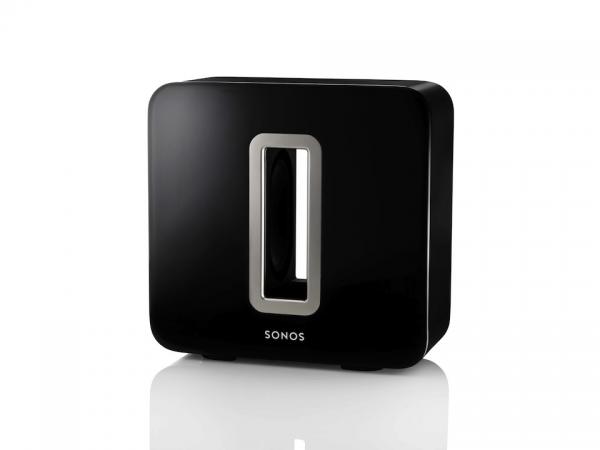 Since my first lengthy experience with Sonos products, I've been recommending them as a simpler, lower-cost alternative to traditional multiroom audio systems. It's just so much easier. Plug in a Sonos component, go through a simple config, and you have great-sounding music and Internet radio in any room (or many rooms) in a matter of minutes, all controlled by your smartphone or computer.
But there's one thing a Sonos system doesn't deliver: bass. Now that's fixed.
Yesterday, the company introduced the Sonos Sub, a $699 subwoofer designed to work seamlessly with any Sonos system. I was lucky enough to get a pre-ship sample for review.
Just to recap the way Sonos works: All components communicate through Sonos' own wireless network, which streams music independently of your main wireless network; the Sonos system also connects to your Wi-Fi router so it can accept commands from your smartphone or computer, retrieve music stored on your networked computers and hard drives, and reach the Internet to access numerous streaming services.
The Sub's design is a little weird, with two 4.5-by-7-inch "racetrack" drivers facing each other across a central cavity, a design that cancels vibration. (I wonder if the aesthetics were inspired by Paris's Grande Arche.) You can stand it up or lay it flat. At just 6.2 inches thick, it slips easily into small spaces - certainly under most end tables, maybe even under a couch.
Each driver is in its own ported enclosure; the ports fire into the same central cavity as the drivers. Each driver has its own Class D (switching-type) amplifier, of unspecified power.
No one will blame you if you're thinking the Sub is a function-follows-form design created by a lifestyle-oriented company that doesn't know low bass from largemouth bass, but you'd be wrong. Unlike a lot of companies that make compact audio systems, Sonos has its own acoustical engineering team. In fact, its director of engineering product management is Chris Kallai, formerly of Velodyne and thus well-versed in good bass reproduction.
Nor would anyone blame you if you assumed the Sub connects to other Sonos components with a wire, but it doesn't. It uses the same wireless network as the other gear. The only wire required is the AC cord, although you can use a wired Ethernet connection if you wish.
Setup à la Sonos
As with other Sonos components, you go through a simple config to assign the Sub to a certain room and a certain Sonos component, like a Play:3 or a Play:5. You just push a button on the sub, a little LED starts blinking, then you search for new components using the controller app running on your computer or smartphone. Once your system finds the Sub on the wireless network, you tell it what Sonos component in what room you want it to mate with.
The Sonos app then takes you through a simple adjustment procedure for the sub. First it plays a multitone bass pattern two ways, and asks you to choose the louder of the two. Then it plays the same tone and asks you to set the level so the bass sounds full but not overwhelming.
I mated the Sub with a Play:3, and the operation took less time than it would take to hook up and adjust a conventional subwoofer. However, despite the adjustment procedure, the bass level still needed occasional tweaking, as I'll discuss below.
Getting a lot from a little
Two 4.5-by-7-inch drivers may not seem like a lot of audio real estate, but it's actually slightly more area (although probably a little less total displacement) than a typical 8-inch woofer. Still, approximately 54 square inches of moving diaphragm isn't a recipe for raw bass power, so I wondered if and how Sonos might tune the Sub to best exploit its limited resources.
The pumping, danceable bass line of the English Beat's "Ranking Full Stop" (from I Just Can't Stop It) told me right away. I was impressed that the Sub, in combination with the Play:3, could easily play loud enough to get people dancing at a party. And that doesn't mean pushing it to the edge; the system still sounded distortion-free even cranked all the way up. But it wasn't the tightest rendition of "Ranking Full Stop" I'd heard - the pitch definition in the bass seemed a tad soft and the sub had a trace of the "high-Q" sound often heard from small subs that need to deliver an impression of power.
That said, the Sub still delivered a nice sense of punch and drive, especially in the upper bass region. When I played "I.T.M." from saxophonist/keyboardist James Watkins' Intense, the Sub nicely conveyed the mix of rich low notes from the two bassists, perfectly capturing the contrast between Jamaaladeen Tacuma's explosive popped high notes and restless, ahead-of-the-beat rhythm and Shawn Scott Jones' more relaxed, grooving sound.
I imagine most Sonos customers won't be playing ska or avant-leaning jazz/funk, though, so I switched to some classic regular-guy fare: "Limelight" from Rush's Moving Pictures. The Sub made the Play:3's sound vastly more satisfying, delivering a surprising sense of low-end power. The tight - indeed, lean - sound of bassist Geddy Lee and drummer Neal Peart sounded fatter and less crisp than I'm used to hearing, but most people would probably enjoy that effect; Peart's kick drum, in particular, always sounds too thin to me.
The Sub rocked especially hard when I played "Outshined" from Soundgarden's Badmotorfinger, the awesome bass/guitar/vocal unison in the chorus coming off in perfect sync with no lag or bloating in the bass. In fact, I was a little shocked at the sense of bass power the Sub delivered on my heavy-metal faves.
As with the Rush tune, "Outshined" demanded a subwoofer level setting that was down a couple of notches from the one that sounded best with jazz and pop. That's not tough to adjust, though - just go into Room Settings in the Sonos app on your smartphone or computer and set the sub level as you like it. It's much more convenient than adjusting a level knob on the back of a subwoofer, or searching between the couch cushions for the little credit-card-sized remote that manufacturers tend to include with their higher-priced subs.
Yeah, I'm sure if you put together a standard two-channel system with a separate, fully adjustable subwoofer, you could get better sound, but the person who'd do that probably isn't the Sonos customer.