Review: Sharp XV-Z17000 3D DLP projector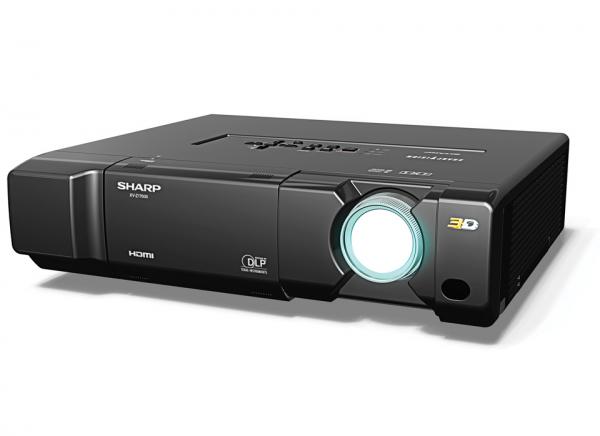 Sharp was once king of the $10,000 projector class, a class now nearly disappeared. With the 3D era under way, it returns to the game with this $4,995 offering, only to find the market far more competitive than before. Most notable is the $500-cheaper JVC DLA-X3, the baby brother of the X7 model I reviewed in the April/May issue.
The design of the XV-Z17000 is far more utilitarian than the XV-Z series of yore. It has a mecha/anime aesthetic I kinda like, but at $5,000 it's a lot less "home theater" and more "office tabletop" than I'm comfortable with. There's a sliding lens cover, but it and the rest of the projector feels rather flimsy. It seems clear that Sharp had to cut some corners to put 3D in at this price point.
Two pairs of active shutter glasses are included. (Extras cost $149 per pair.) The non-rechargeable spectacles look bulky, but they weigh very little and do an excellent job blocking ambient light. There's no external emitter; the sync signal is output by the projector itself. The tiny remote has buttons for each input and many picture adjustments. All are glow-in-the-dark.
Setup
Placement is difficult. The XV-Z17000 has a significant upward throw, meaning the bottom of the projected image is above the center line of the projector. This effectively makes a ceiling mount the only possible install option ("up" being "down" when you mount it on a ceiling). There's no lens shift — inexcusable at this price. The electronic V-Shift adjustment in the menu merely blanks the image, making it smaller but not moving it. Exacerbating the placement issues is an extremely limited-throw zoom lens, meaning you only have about 1.5 feet of forward/backward distance to play with. Retrofitting this projector into an existing theater would be near impossible without moving the ceiling mount. If your theater can't support a ceiling mount, you basically can't use this projector, as placement on a coffee table yields an image only about 60 inches diagonal.
I overcame my installation frustrations by placing the projector on my couch, the only location where it would project a square image that fit my screen. But then I put up an image, unleashing the fury of Ra, Helios, Apollo, Surya, and, what the hell, Tom Edison.