Review: Phonak Audéo PFE 232, PFE 132 and PFE 012 Perfect Fit Earphones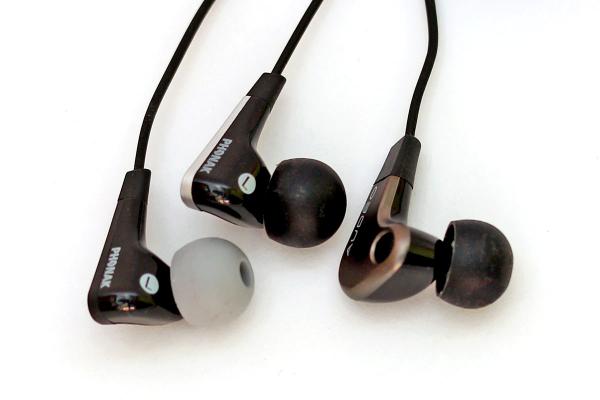 At the CanJam section of last fall's Rocky Mountain Audio Fest, a manufacturer said something that's resonated with me ever since. "The fit is the sound," he told me, referring to the fancy new tips included with his company's in-ear monitors. With that simple statement he summed up the reason why different listeners can have such different opinions of headphones. With IEMs, unless the tips seal well and the sound tubes fit properly within your ear canal, you'll get little or no bass, and your treble and midrange will be out of balance at best and grossly uneven at worst.
Perhaps 50 feet away in the same ballroom, Phonak — the world's largest manufacturer of hearing aids — showed me a way they'd come up with to address the fit problem with IEMs. The company's Perfect Fit system employs L-shaped earpieces designed to conform to the folds of your pinna, allowing the body of the earpiece to reach further and more consistently into your ear canal for a better fit.
The design requires an unusual cable configuration; instead of drooping from your ears, the cables wrap around and over them. This scheme not only allows Perfect Fit to work the way it's supposed to, it also provides strain relief so the earpieces are less likely to be pulled out of place accidentally. We've seen this idea before, especially in custom-molded IEMs and in universal-fit models from Shure and Westone, but it's not the norm.
After receiving the company's top-of-the-line, $599 PFE 232 shortly after RMAF and using it during my 2011 holiday travels, I was all set to write a rave review. I loved the way the Perfect Fit design allowed the sound tube to fit deep into my ear canal; the (yes) perfect seal of the design allowed me to get ample deep bass; and the strain relief provided by the over-the-ear cable routing assured that the IEMs stayed in place. The comfort was, for me at least, as good as it gets with IEMs — I was able to keep the PFE 232s in my ears through an entire flight from Houston to Denver without the slightest desire to pluck them from my ears. Most important of all, though, the PFE 232 sounded smooth, neutral, and super-spacious.
But I wondered: How much of the PFE 232's great sound was due to its drivers and voicing, and how much was due to the Perfect Fit design? To find out, I asked the company if I could try its least-expensive Perfect Fit model, the $119 PFE 012. Not only did they agree, they sent the $239 PFE 132 for good measure.