Review: MartinLogan Mikros 70 In-Ear Headphone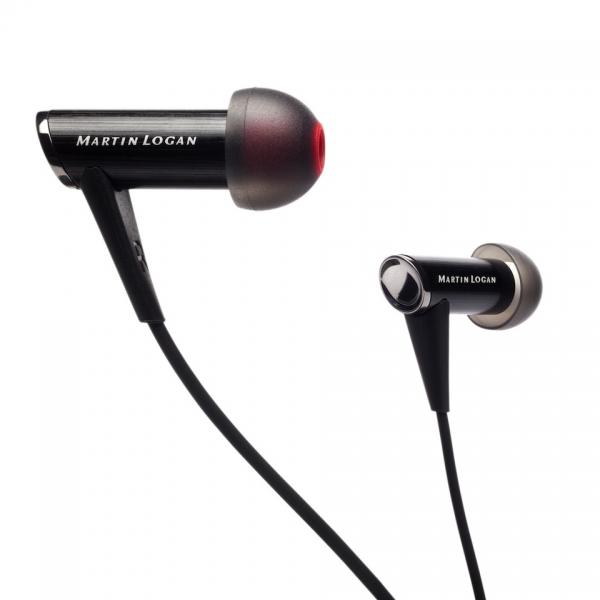 We've learned one thing from our past investigations into the new wave of headphones made by speaker companies: Headphone engineering has little in common with speaker engineering. Because the physics of headphones are so different from the physics of speakers — and because few, if any, speaker companies actually build their own headphones — it's rare for a company's headphones to mirror the sonic character of its speakers.
Tougher still for MartinLogan, which built its brand on 5-foot-tall electrostatic speakers.
Sure, there are a few electrostatic headphones, mostly notably those wearing the Stax brand. But they're extremely expensive and require a 580-volt bias from a special amplifier, so they appeal only to a minuscule sub-subset of the already small audiophile subset of the headphone market. So instead, MartinLogan is relying on conventional dynamic driver technology and presumably voicing its headphones to sound subjectively like its big panel speakers.
ML has now launched two headphones: the Mikros 70 in-ear monitor and the Mikros 90 on-ear model. The IEM was first to make it to the ears of our West Coast listening panel: me, L.A. jazz musician Will Huff, and voice actress Lauren Dragan.
The Mikros 70 uses a relatively small 6.6 mm driver (9 mm is more common in IEMs), and a slim, lightweight design that fits securely and deeply into the ear. It has an inline mic/remote that's totally compatible with iOS devices (iPhone, iPad, etc.), and is semi-compatible with Androids (the play/pause control worked with my Samsung Galaxy S III, but not the volume control). The package includes standard silicone tips in three sizes, plus slim, triple-flange tips in two sizes.
'Stat-like sound?
In at least one way, the Mikros 70 reminded me of the electrostatic speakers I've reviewed (including, most recently, the MartinLogan ElectroMotion ESL): It has a smooth sound with mellow treble.
I liked the Mikros 70's take on James Taylor's "Shower the People" (from Live at the Beacon Theatre) even better than the way the same-priced Phiaton Moderna MS 200 portrayed it. To my ears, the Mikros 70 sounded flatter and more even, with just a little bit of boost in the mid-treble that gave it a little more life (and a little more sibilance). Taylor's acoustic guitar on this tune sounds a little crisp through most IEMs, but through the Mikros 70 it had a warm, pleasing sound — pretty much what JT intended, I'm sure.
"More Cico Rece da Me Zeni," from Miroslav Tadic and Vlatko Stefanovski's Krushevo — a great CD of guitar duos recorded in the Makedonium — showed the contrast between the two headphones even more clearly. The Mikros 70's upper midrange wasn't as clear to me, but its bass was tighter and less pumped-up than through the MS 200. Again, as much as I like the MS 200, the Mikros 70 sounded flatter and more even to me — and much like a set of MartinLogan's electrostatic speakers, at least from the perspective of tonal balance. Capturing the huge, spacious sound of a real pair of 'stats would require an over-ear, open-backed headphone, probably using planar magnetic drivers.
Over the time I spent with the Mikros 70, I found myself grabbing it often when I wanted to listen to jazz and pop recordings. But music with wider bandwidth and great dynamic demands, such as Kid Ink's "Hell and Back" sounded rather lifeless through the Mikros 70. The little IEM couldn't muster enough bass or treble to convey the excitement of rock and hip-hop. It's a mellow 'phone for mellow music.
Will felt that the Mikros 70 had an appealingly focused sound, without the MS 200's somewhat exaggerated spaciousness, but he found himself wanting more bass. He also found that at the loud listening volumes he prefers, the upper midrange got too tinny for his taste. Lauren was less kind, complaining about a lack of treble articulation and bass impact when she listened to Muse's "I Belong to You."
Measurements
To measure the Mikros 70's performance, I used a G.R.A.S. Type RA0045 ear simulator, a Clio FW audio analyzer, a laptop computer running TrueRTA software with an M-Audio MobilePre USB audio interface, and a Musical Fidelity V-Can headphone amplifier. I used the standard silicone tips in the medium size because these fit the ear simulator best. I inserted and reinserted each earpiece several times, and settled on a position for each that gave the most representative result.
The Mikros 70's frequency response measurement indicates a fairly soft treble and a downward-tilted tonal balance. Like many IEMs, it has response peaks in the lower and middle treble (at 2.3 and 6.2 kHz, respectively), which normally would give the subjective impression of flat response, but the peaks are very mild — enough to keep the Mikros 70 from sounding dull, but not enough to give its treble much life.
As you might guess from the Mikros 70's almost perfectly flat 22-ohm impedance, adding 70 ohms output impedance to the V-Can's 5-ohm output impedance to simulate the effects of using a typical low-quality headphone amp has no significant effect on frequency response.
Total harmonic distortion (THD) at 100 dBA is a little high: 1% to 2% in the midrange, rising to 4.3% at 20 Hz. Isolation is above-average even for an IEM, probably because the Mikros 70's slim design allows it to insert deeply into the RA0045 coupler (and, in my experience, into the human ear as well).
Average sensitivity with a 1 mW signal at 22 ohms rated impedance is 102.9 dB from 300 Hz to 10 kHz, 103.1 dB from 300 Hz to 6 kHz.
Bottom Line
The Mikros 70 is a taste-specific, genre-specific headphone. It's not for audiophiles, who'll probably want more treble. It's not for fans of rock, hip-hop, or EDM, who'll want something with a more vivid vibe. So who's it for? Jazz fans, maybe classical fans, and people who are especially averse to bright sound.