Review: Logitech Revue With Google TV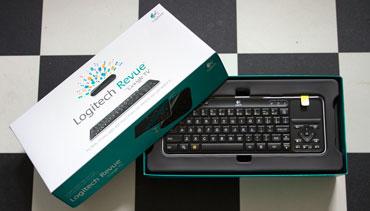 When Logitech's Revue showed up at my door, I had already spent some time with it on a few different press events. But, after having it nestled under my HDTV for a few days, I really started to get a feel to how it actually figures into the media-consumption process. Having already applied the first over-the-air update, it's safe to say that the Revue does exactly as promised, at least from a technical perspective. Before it can truly revolutionize the way we watch, however, it's going to need some help.

Setup
Like with Sony's Google TV-equipped set, getting up and running is a fairly simple process. An HDMI cable to the TV and an optical audio cable to the receiver connected without a problem. Once turned on, it guides you through the process using a screw-up-proof Wizard like so many other devices before it.

Since I don't have a Dish Network set-up, the DVR integration isn't as tight. I had to answer a few questions about my hardware and the channels I subscribe to. Since I only get a selection of the premium channels, I had to manually go through and pick out the ones I didn't want showing up in my menus. After realizing I had selected the wrong DVR model, I had to go back through the whole process again. Annoying, but a result of my own mistake.

Then there's the matter of signing into all of the services. After signing into my Google account, I went through and entered info for Amazon, Twitter and Netflix. If this were an Xbox 360 or a PS3, that probably would have taken me the better part of an evening (typing with a controller and onscreen keyboard is extremely painful), but the almost-full-sized Revue keyboard remote made quick work of it.

Once the cables were connected and my data had been surrendered, I was ready to go. Luckily, my remotes were fairly standard, so the box didn't require any learning to gain control of my devices.


The Remote
The review kit came with the standard keyboard remote, which is about the same size as most laptop keyboards (the Mini Controller, which is optimized for thumb-typing, comes as a $129 add-on). While it's clear that it's intended to be used for lap typing, I found myself trying to pick it up and use my thumbs more than once. Because the data entry comes in short, controlled bursts, smartphone-style typing actually makes a little more sense. A full-sized keyboard feels a bit like overkill when you're rarely typing anything longer than a URL or a Tweet. It makes Sony's Google TV controller look that much smarter.