Review: House of Marley Bag of Rhythm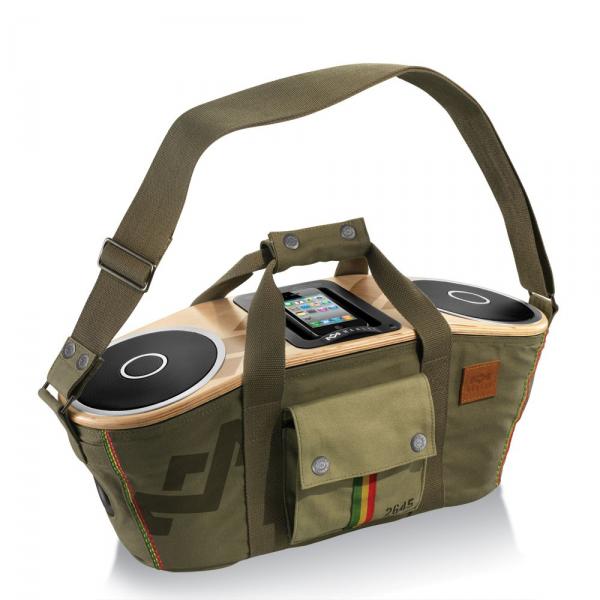 You gotta say this for House of Marley: They keep their branding consistent. The new Bag of Rhythm iPhone/iPod dock isn't some sleek, silvery concoction designed for some baldhead to keep on his credenza while he's dreaming up new ways to exploit the working class. Nope, the Bag of Rhythm is built to sling over your shoulder, carry to the park, and play reggae tunes when your drum circle takes a break.
If you've seen our reviews of the Exodus, Destiny TTR, and Positive Vibration headphones, you know the House of Marley concept: audio gear made in large part from recycled or recyclable materials, with a quasi-handmade, hippie-ish or rasta-ish look.
By the way, today happens to be a big day for Marley fans, because it's the release date of Marley, a documentary on the reggae legend and House of Marley namesake by Oscar-winning director Kevin Macdonald. Marley will be shown in theaters and will also be available for viewing on Facebook for $6.99. Why not check out the trailer on YouTube?
Back to the Bag…
The Bag of Rhythm embodies the House of Marley style to an even greater degree than the headphones do. It's built into a removable canvas bag with a shoulder strap and a carrying handle. The speakers point up so you can hear them better when the unit is slung over your shoulder. The birch plywood speaker baffle mounts two coaxial speakers, each of which incorporates a 4.5-inch woofer and a 1-inch tweeter. To assure you can keep the Bag of Rhythm jammin' when you're off the grid (or just in the park), it has a compartment that holds six D-cell batteries. An AC power supply is also included. A 3.5mm stereo input lets you connect your friend's Android phone (or practically any other analog stereo source). Three touch-sensitive buttons control power on/off and volume up/down.
In the two headphone comparisons we've done with House of Marley headphones, they've won top honors both times. Let's find out if the Bag of Rhythm can maintain this family's growing reputation.
Rocking steady?
As I looked over the Bag of Rhythm's coaxial drivers, I wondered how well it could perform. Coaxials aren't known for great sound, because the support structure and enclosure for the tweeter interfere with the midrange frequencies coming from the woofer. The upside, though, is that interference between the woofer and tweeter is lessened. The Bag of Rhythm has built-in digital signal processing (DSP) that allowed its engineers to tune the sound. But while DSP is great at fixing frequency response and phase errors, it's not very effective at taming the effects of reflections from objects in front of a driver.
Nonetheless, the Bag of Rhythm sounds quite good for an iPod dock. It has an essentially flat tonal balance; the treble, midrange, and bass are all in the right proportions. Because of this evenness, it doesn't favor any particular type of music. I found the sound quality pretty much consistent whether I was playing heavy rock, classical, jazz, or (of course) reggae. The only noticeable variation I heard in the tonal balance was a slight boost in the midrange around 1 to 2 kHz, which revealed itself most prominently by accentuating guitars and the higher vocal frequencies on Steve Earle's "Copperhead Road."
It also plays loud enough to either get everyone in the neighborhood park dancing or to make them hate you. In my highly subjective output comparison with the JBL OnBeat Xtreme and the NAD Viso 1, playing Mötley Crüe's "Kickstart My Heart" in my living room at a distance of 3 meters and cranking the volume until it reaches the max or Vince Neil's vocals start to distort, the Bag of Rhythm hit 93 dB, while the Viso 1 hit 92 dB and the OnBeat Xtreme hit 89 dB.
I also enjoyed the bass tuning — the large dual ports combine with the small woofers to deliver surprisingly flat, even bass. It doesn't play deep, though: It severely attenuated the deepest bass note in the synth-bass line on Olive's "Falling."
All that said, the Bag of Rhythm doesn't have a refined sound. It has what I consider the classic coaxial driver sound. There's some raggedness in the midrange caused by reflections off the tweeter support assembly and enclosure, and the woofer exhibits a bit of "cupped hands" coloration on some vocals, sounding almost as if the singers had their hands cupped around their mouths. While I could see a non-enthusiast junking his/her stereo rig and buying an OnBeat Xtreme or a Viso 1, I doubt anyone would want to make the Bag of Rhythm their main listening system. Still, it's probably the best iPod dock I've heard at or near this price range.
Measurements
I measured the frequency response of the Bag of Rhythm with the unit placed on my 2-meter-high measurement stand, and the measurement microphone placed at a distance of 1 meter on the same axis as the left tweeter. Using my Clio FW audio analyzer in MLS mode, I fed left-channel-only test signals through the 3.5mm line input. This gave me quasi-anechoic measurements down to 300 Hz. (Quasi-anechoic measurements remove the reflections from nearby objects to simulate measurement in an anechoic chamber.) To get the response below 300 Hz, I ran a ground plane measurement with the Clio FW in log chirp mode and the Bag of Rhythm and the microphone placed on the ground 2 meters apart. I then imported the data into my LinearX LMS analyzer for post-processing. The graph here shows a quasi-anechoic measurement at 0° on-axis (blue trace) and an average (red trace) of the measurements at 0°, ±10°, ±20°, ±30°. The quasi-anechoic measurements are smoothed to 1/12th octave, the ground plane measurement to 1/3rd octave.
Bottom Line
I don't know of another product quite like the Bag of Rhythm, and I'm not talking about the styling. It's a good-sounding iPod/iPhone dock that plays nice and loud, looks very cool, and can run off batteries. I expect we'll see plenty of these popping up in big-city parks this summer. If you get one, and you do take it to a park in my home city of Los Angeles, please do us all a favor and use it to play the music of its namesake. 'Cause who doesn't dig Bob Marley?
Incidentally, if you're pining for a Bag of Rhythm but can't scrape up the $349, you can maybe win one by visiting the company's Facebook page and participating in the Earth Day Giveaway contest.
LATEST VIDEO