Review: Fanny Wang WangBuds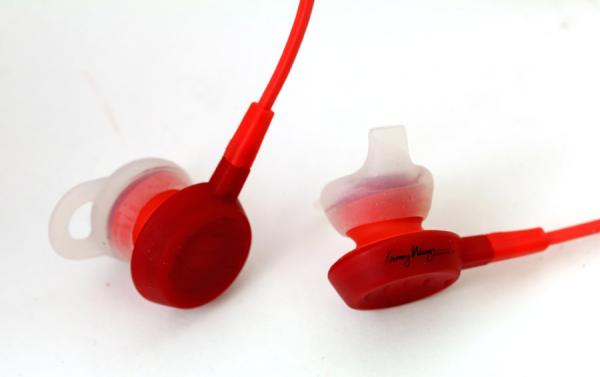 Even though I campaigned against California's Proposition 8, I have to confess that I can't quite get the whole product positioning and marketing of the Fanny Wang brand. The WangBud increases my confusion, although it intrigues me at the same time.
For its first in-ear headphone, Fanny Wang didn't just get some generic IEM and slap its logo on. It created a product unlike any other I've encountered: a headphone using dual dynamic drivers, with earpieces the size of the old iPod earbuds and oblong silicon tips like those supplied with most Bluetooth headsets.
The dual-driver arrangement puts a 6mm "tweeter" in front of a 10mm "woofer." It's like tacking a woofer onto the back of a regular earbud. The idea is to give you deeper and clearer bass, and also giving you less distortion in the highs because the "tweeter" is relieved of strenuous bass reproduction duties.
WangBuds come in black, red, or white for $79.95. All include a three-button, iPhone/iPad-compatible mic/remote, four sets of silicon tips, and a little fabric carrying bag.
Tipped off
Eager to hear what a dual-dynamic-driver earphone sounds like, I ripped open the WangBuds box. But my elation quickly turned to despair when I saw the oblong silicon tips. These types of tips don't seal your ear the way that the cylindrical silicon tips provided with IEMs do. Without a seal, you lose the bass-along with any chance of getting a realistic tonal balance.
Bluetooth headset manufacturers use these tips specifically because they don't seal the ear. They allow some environmental noise in, which is probably a good thing when you're driving, and because most people use BT headsets just for phone conversations, the lack of bass doesn't matter.
Fanny Wang used them because it was the only thing that would work with their dual-driver design. However, Red Giant's dual-dynamic-driver A03 Ossicle does accept standard tips, so it can be done
I tried all of the different tips supplied, and all I could get was a midrange-heavy balance with no bass and crude highs, a sound I remember none-too-fondly from the 1990s earbud era, before in-ear monitors became ubiquitous. Yet pushing the WangBuds firmly into my ears showed there was a lot more good stuff going on. The bass sounded surprisingly even and well-defined. The mids and highs weren't what I'd call smooth, but they weren't bad for $79, either. But of course, one can't be expected to hold your earbuds in place all the time.
Learning that frequent S+V headphone tester Lauren Dragan is an enthusiastic user of the Jawbone Era BT headset, which uses the same type of silicon tips supplied with the WangBuds, I asked her to give the WangBuds a spin in the hope that her experience with these types of tips might allow her to get a better result. Nope. "The mids are way too hot," she said. "I tried really hard to get them to fit right, even pushed them into my ears, and couldn't get them to sound good."
I then sent a set to S+V's Michael Berk, who had the same results Lauren and I did. But then we finally found someone for whom the WangBuds worked: Mike's wife Adina, who has never been able to tolerate the invasive feel of an in-ear monitor's silicon tips in her ear canal. She found the WangBuds' "woofer" gave her a welcome dose of extra bass compared to the old-skool earbuds she usually wears.