Review: CEntrance Audiophile Desktop System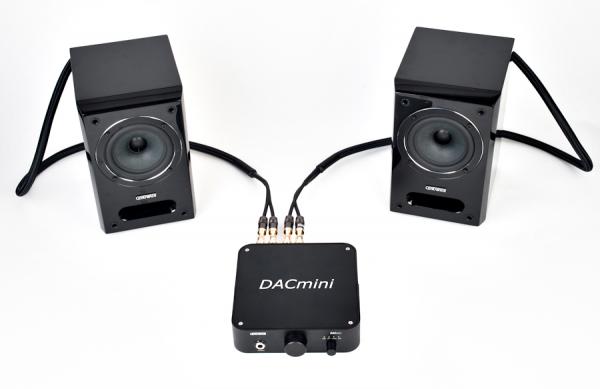 We've long been fans of CEntrance's portable USB DAC/headphone amp, the DACport; in an expanding market of bus-powered USB DACs, the venerable unit (along with its streamlined sibling, the DACport LX) remains a favorite of, and reference for, many reviewers of portable audio gear. Now they've gone ahead and put out a complete two channel system, of all things - the Audiophile Desktop System.
But there's always been a lot more to CEntrance. The decade-old Chicago-based company got its start as a co-development and design firm (working with big pro-audio industry players such as Alesis, Benchmark, Line 6, and Mackie), then began building its own line of digital audio interfaces aimed at the professional market. Their more recent consumer products - including the popular and well-regarded DACport portable and DACmini desktop USB DAC/headphone amp combos - reflect that heritage in their solid build quality, no-nonsense feature sets, low-noise designs, and (most importantly) excellent sound.
Lately, the company has turned its attention to the audiophile market, This year, CEntrance began packaging their most full-featured desktop source, the DACmini PX, with a pair of the company's MasterClass 2504 passive speakers and a cool little pair of miniature audiophile garden-hose-style banana-plug terminated speaker cables (we had some 1-meter testers; these are shipping with a more useful 2.5-meter pair). The ensemble, known collectively as the Audiophile Desktop System ($2,000), comes packaged in a Pelican briefcase, suitable for taking the show on the road. While this isn't everybody's idea of a portable system (it's a sizable and hefty package - let's call it "luggable" - and while I could see taking it along on a yearlong house exchange or suchlike, you're not going to be taking it back and forth to the office), it does pack an impressive amount of digital and analog functionality - and good sound quality - into a compact system.
Brains and Brawn
The hand-built DACmini PX, which serves as the brains of the ADS, is a Mac Mini–sized integrated amp, offering (on the digital front) USB, optical and coaxial S/PDIF connections, along with an analog line input and output (both on RCA jacks), and a pair of hefty speaker connections on combination binding post/banana jacks. Input selection is made via a rotary encoder, a handy quartet of LEDs keeps you apprised of the active input (and a fifth click of the dial powers the unit up or down). A master volume control and a 1/4-inch headphone jack round out the front panel.
Rather than going with the flow and embracing the currently popular asynchronous mode on their USB decoder design, CEntrance has stuck with an adaptive approach, but have refined it over the years (by means of their proprietary JitterGuard jitter-management algorithm) to deliver performance that is virtually jitter-free. This allows driverless operation up to 96kHz/24 bit on both Mac and Windows machines (current incarnations of Windows don't support asynchronous USB devices out of the box). If you have ultra-high-resolution inclinations, 192 kHz playback is also supported over the S/PDIF input.
A 1.5 watt Class A amp covers headphone amplification duties, while the speaker outputs are driven by a pair of Class D modules, putting out 25 watts per channel (the accompanying MasterClass 2504 speakers are, of course, designed to handle a 25 watt input).
The only potential downside I see to CEntrance's design is the 10 Ohm output impedance on the headphone output - based on a rough sampling of the headphones contributing editor Brent Butterworth has measured over the last year, this is high enough to produce audible changes in bass response with some low-impedance models. But should you feel similarly, you're in luck - CEntrance offers a 1 Ohm modification for a $100 fee. (for the same fee, the company will perform a "Rock and Roll" mod to the headphone circuit, boosting the output gain for fans of low-efficiency headphones). Various other modifications - you can trade the fixed line outputs for variable pre outputs, for example - are also available for about the same fee.