Review: Bill Janovitz's Walt Whitman Mall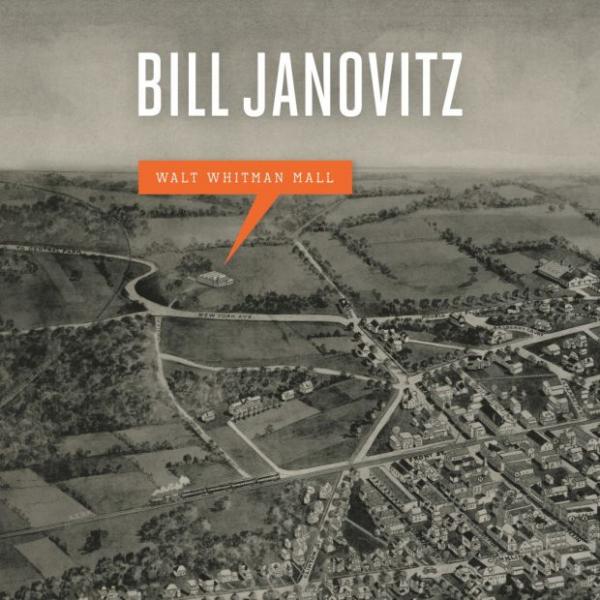 "The book is not a direct influence. That is to say that it did not spur me on to write any sort of song cycle or (gasp!) concept album. Rather, I found myself writing a lot of songs with a sense of a specific space, my hometown of Huntington, Long Island, New York."
So explains Bill Janovitz and about his new album, Walt Whitman Mall, and it seems as apt a description as I can think of.
Oh, and it's also really good. He didn't say that part (obviously).
You'd be forgiven (maybe) for not knowing Bill Janovitz. His band, Buffalo Tom, did fairly well in the 90s (especially in the northeast), and during their multi-year hiatus, Janovitz released the mostly-acoustic Up Here and joyously-louder Fireworks on TV! solo albums. In 2007, Buffalo Tom reunited with the fantastic Three Easy Pieces, one of my favorites of theirs. In 2011, they released Skins, which even though I didn't love at first listen, ends up having many songs I listen to regularly.
With WWM, Janovitz returns to his more personal solo stuff... mostly. I loved Up Here, an often quiet, acoustic album, and a stark difference from the electric guitars of most Buffalo Tom offerings. WWM, is somewhere in between these two styles. It's a tight, polished album that keeps a small band aesthetic.
Take "Long Island," the lead-off track. This track was the final song on Up Here, but on WWM it gets a whole new arrangement, with some great percussion, horns, and big backing vocals. The effect is that the original, a song I've known for years, seems more like a demo, with this as the "official" track. It's bigger, yes, but it works perfectly with the song.
Janovitz's stated goal was to create songs with a sense of a specific space, namely his hometown of Huntington, Long Island. More than space, though, was a specific time. He moved to the Boston area in Junior High, so Huntington became, as he says, "trapped in amber of nostalgia." He further explains, "So much of who we are is so clearly developed during that crucial point in our lives and so, naturally, the musical conscience is acutely developed as a tool to cope with the stormy emotions. The songs we love during those years buffer us through, while informing our musical taste for the years that follow. Some of these songs come from there, the place, that recent time, the past times, and even now. Some of them have more autobiography than others. Some are pure fiction. Some of the subjects are people in their 40s, real or imagined, some on Long Island, some here in Massachusetts. Most have to do with the push-and-pull of the past and present."
The feel of the entire album fits this motif. Some of the songs border on melancholy, while others are more upbeat, but all are infused with a sort of "yeah, that was cool, remember that?" Not in a depressing way, like the characters in Springsteen's "Glory Days," but more as an amused, content adult, reminiscing about the old days.
The songs throughout WWM are energetic and tight, and without the somber nature that filled Up Here. It's more similar to my favorite Buffalo Tom tracks, like those from Big Red Letter Day, with a brilliant, catchy melody and smart, clever lyrics.
Like many of today's great albums, WWM didn't originate from the traditional record label noise. Instead, Janovitz worked on the songs while interacting with his fans. A highly successful PledgeMusic campaign shows that even established artists can use crowd funding to assist with project costs (no matter how you do it, it's not cheap to make an album).
Walt Whitman Mall is a gem, with flavors of melancholy, intertwined with guarded (perhaps world weary) optimism, all with the right amount of production and a balanced, open mix. It's an excellently crafted high point, filled with track after track of great music. Highly recommended.
Walt Whitman Mall is available on iTunes, Amazon, and Google Play.