Review: Apple iPod nano 7th Generation and EarPods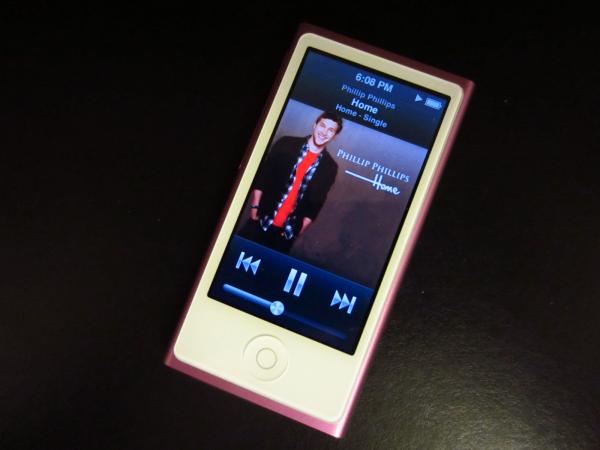 This summer I learned the hard way that a slightly open Ziploc baggie does not make an effective waterproof case for an iPod nano while cycling for 5 hours in the pouring rain. My beloved 5th generation iPod nano was rendered useless after soaking in water for hours. Needless to say, I was thrilled when I heard the announcement of the 7th generation nano and newly redesigned EarPods earphones. (Get it? Earphones+iPod=EarPod!)
The new iPod nano is larger than the 6th gen, but much smaller, sleeker and lighter than my 5th gen; it measures 3.01 x 1.56 x 0.21" inches and weighs a mere 1.1 ounces. Gone is the built-in camera and microphone, but so much else is improved that it's easy to overlook the loss. The new nano has onscreen Multi-Touch controls, but includes hardware controls as well, so it's easy to operate during a workout, jog or ride without needing two hands to control it. (Don't worry, Mom, I only use one earbud wrapped around my helmet straps when cycling — never in my ear blocking out ambient sound.) Volume controls and a play/pause button that doubles as a track forward/back button are placed conveniently on the sides, while the main on/off button is on the top. The familiar home button is on the main face, along with the gorgeous touch screen. The screen is the largest to date for the nano line at 2.5 inches diagonal. The UI is similar to the iPhone and iPod Touch, with an array of apps that separate your music, videos, audiobooks and more. It has built-in Bluetooth and an FM receiver that uses the headphone cable as an antenna, and it's compatible with the Nike+ fitness electronics line. Battery life is rated as up to 30 hours for music playback, 3.5 hours for video.
The headphone jack is located on the bottom, next to the concealed Bluetooth antenna. The nano also features Apple's new Lightning connector, the 9-pin the 30-pin connector found on older iPhones, iPads, and iPods. The new Lightning connector is smaller than a mini-USB port, and is cleverly dual-sided, so you'll never fumble with the cable again. Of course, this renders your old iPod dock obsolete, unless you spring for the $29.00 adapter. The nano 7th gen ships with a Lightening to USB cable, so you can get connected to your computer and iTunes immediately.
After 600 million earbuds, how does Apple improve on a classic?
Included with the nano are the new EarPods. This new model is creating quite a stir, considering that except for one slight modification, the Apple earphone hasn't changed much in over 10 years. Apple spent three years on the design, which they claim sounds similar to high-end earphones. I'm not sure what apple-flavored Kool-Aid they're drinking, because the EarPods don't sound anything close to a high-end headphone, although they are an improvement over the older Apple design.
Apple claims to have based the shape of the design on studies of thousands of ears, coming up with what they claim to be the best shape and most secure fit for most people. To me, they look like the Disney character Eve from the animated movie WALL·E, which isn't surprising since an Apple designer was asked to help in Eve's creation. Fit and comfort is an individual thing. Personally, I'm not thrilled with the fit. They fit loosely in the ear with the narrow edge aimed into the ear canal. They're nowhere near as snug as an in-ear design. As such, they always feel like they're about to fall out. However, I used them while doing some chores and have to admit that they only fell out once. Still, they never felt really secure either. Unlike the older design, once I realized they weren't going anywhere, they were surprisingly comfortable in my ear. I didn't feel the need to rip them out of my ears after an hour or two of discomfort like I had with the old earbud design.
The cables are slightly thicker than those supplied with the older models, which make them somewhat less prone to tangles. If purchased separately ($29), EarPods come with an inline microphone and remote, along with a nifty case that lets you wrap up the cables to avoid a daily tangle-fest. The microphone/remote version is included with the new iPhone 5 and iPod touch; those features obviously aren't required with the iPod nano so they're left out here.
While the new design is eye-catching, ultimately all that really matters is how they sound. The original Apple earbuds were known for sounding thin and harsh. The new EarPods are noticeably better, but still aren't anywhere close to a high-end sound. There is a good amount of bass, thanks to the four ports scattered around the casing and the directionality of the case. The kick drum on Phillip Phillips' "Home" had a nice round fullness, although it lacked the impact that headphones with larger drivers or earphones with a tighter fit would provide. Similarly, when the kick drum kicks in on the second verse of Gavin DeGraw's "Not Over You," the bottom just didn't have the punch that it should.
On the other end of the spectrum, the highs are much cleaner and clearer than the older Apple earphones, but the EarPods are still too bright. Listening for long periods is just uncomfortable — not because the EarPods are physically uncomfortable, but because they cause listener fatigue with a relentless high frequency response that while not distorted, is overly bright. Cymbals, brushes on a snare drum, guitar, and female vocals were all too pronounced. P!nk's voice on "Blow Me (One Last Kiss)" is just shy of sibilant; these just aren't earphones that I would want to listen to for any length of time. I should note that these songs were 256k downloads from iTunes. Sadly, that harshness doesn't go away with softer listening levels. As bundled earphones go, the EarPods are an improvement over the previous design, but I sure wouldn't shell out $29.99 for an EarPods when I needed a replacement.
All in all, I love the new iPod nano 7th gen, but I'll go back to my trusty Audio-Technica in-ear earphones for any serious listening. And, yeah, I'm shopping for a waterproof case.