Review: Altec Lansing Muzx Ultra MZX606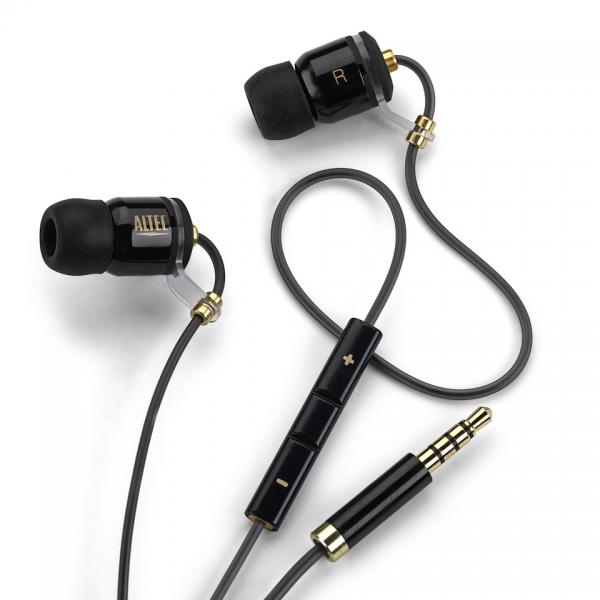 With so many companies slapping their brand on generic IEMS, what's an easy way to tell who's serious about sound? Look to the guys selling IEMs with balanced armatures. Most IEMs use dynamic drivers, tiny versions of the drivers in box speakers, but a balanced armature is more like a little motorized teeter-totter that drives a diaphragm. They are known for extended, clear treble, but not for extended, deep bass.
Balanced armatures are a relatively rare treat in an under-$100 model like Altec Lansing's Muzx Ultra MZX606. The Muzx Ultra is a slick little design with a neat strain relief on the cable and an iPhone-compatible inline volume control/microphone. A spring-snap pseudo-suede case is included, as are four sizes of silicon tips (one with a double flange).
The Ultra doubles down on the stereotypes about balanced-armature IEMs. Mids and highs are spectacularly detailed. For example, the Philly Joe Jones drum solo that begins "Night and Day" from Everybody Digs Bill Evans sounded amazingly spacious and dynamic, the Muzx Ultra reproducing the nuances of Jones's cymbal and snare hits echoing off the studio walls. And the rich, wooden warmth of Julian Lage's handmade Manzer archtop guitar on his CD Gladwell came through as I've rarely heard it.
But the Muzx Ultra's absent bass makes it a weak choice for pop, hip-hop, and rock. "It might be okay for podcasts," Lauren opined, "but there's not much below about C4 [262 Hz]. The low end is like a 'tick' rather than a 'woof.'" Greg totally agreed. The Muzx Ultra has some nice sonic traits and a great design, but its faint bottom end limits it to listeners with specific and unusual tastes in sound.
Test Bench
The Muzx Ultra's response plot shows a deficiency of bass with a strong boost at 2.4 kHz and a milder one at 6.9 kHz. Increasing output impedance to 75 ohms boosts bass by 3 dB below 400 Hz and cuts treble by 4 dB above 3.5 kHz, so this headphone will sound very different with a low-quality source device. Isolation, measured using the double-flange tip, is excellent for an IEM. Distortion at 100 dBA is very low, typically 0.35%. Average sensitivity from 300 Hz to 10 kHz with a 1-watt signal at the rated 16 ohms impedance is 103.8 dB.