Review: AKG K 490 NC and K 495 NC Noise-Canceling Headphones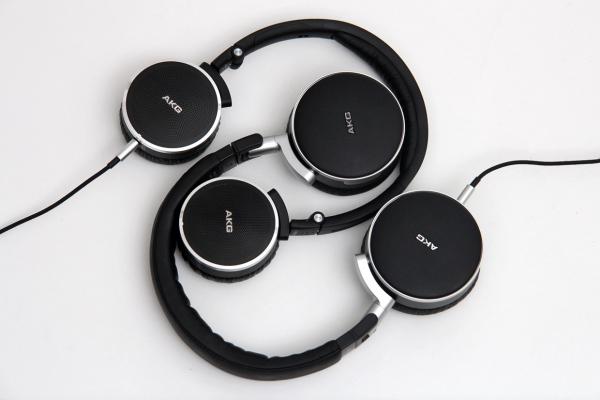 I love the form factor of on-ear, or "supra-aural" headphones — the kind where the ear pads press against your ears' pinnae instead of surrounding them — because they usually fit easily into my laptop computer case. But I've had a problem finding a model comfortable enough to wear for more than an hour. What's more, I've found no on-ears whose performance compares to that of a good over-ear (or circumaural) headphone — until now.
I was excited to see at the most recent CES show that a company known for audiophile-grade headphones was putting serious effort into some on-ear models. And I could tell right away when I heard AKG's new $249 K 490 NC and $349 K 495 NC that these were the result of a serious design effort in which performance was a priority.
Officially certified for business travel
The K 490 NC and K 495 NC conform to the general aesthetic of headphones worn by the average road warrior, a standard maintained by such ultra-popular headphones as the Bose QC3. The AKGs have active noise-canceling circuitry to minimize airplane noise. They have detachable cables for times when you want just noise cancellation and not music. Their understated, black-and-silver design goes well with anything from an Armani suit to a Three Wolf Moon T-shirt.
Both headphones have internal batteries that recharge through a supplied USB-to-2.5mm stereo cable. The K 490 NC doesn't include a charger, but you can plug its charging cable into your computer and you're probably got plenty of USB chargers sitting around by now. Unlike many headphones with active noise cancellation, the K 490 NC and K 495 NC work with the noise cancellation switched off, so if the battery runs down you're not stuck with silence.
The smaller K 490 NC has 40mm drivers, mounted in earpieces that swivel 90° in one direction so the headphone folds flat. (They also swivel about 30° in the other direction for better fit on your ears.) Hinges on the headband let the earpieces fold in so the headphone forms a crescent-moon shape and can slip into the supplied neoprene carrying case. A sliding switch on the side of the left earpiece activates the NC circuit, and a green LED tells you it's on.
The larger K 495 NC also has 40mm drivers, mounted in larger earpieces that swivel a little more than 90° in either direction. The earpieces are attached by hinges that allow folding so the K 495 NC fits into its semi-hard pleatherette case. Turning the silver ring surrounding the left earpiece activates the NC circuit and the green power LED.
On the road with on-ears
My first longer-than-a-minute-or-two experience with the K 490 NC and K 495 NC was promising. I brought both with me on a bus/subway/bus trip into town for one of my frequent guest spots on Sound+Vision Radio, a Saturday morning national program available on an AM station near you or through iTunes as a podcast.
Co-host Ted Cohen and entertainment correspondent Deborah Sass were blown away by the sound of both AKGs. Deborah remarked that she couldn't believe the spaciousness and 3-D imaging when I played jazz vocalist Sue Matthews' take on "I Fall In Love Too Easily" through the K 490 NC. Ted's eyes opened wide when he put on the K 490 NC and he immediately asked for a contact at the PR firm so he could score a loaner. Ted and Deborah enjoyed both headphones in their brief listen, but preferred the K 495 NC for its fuller sound.
I wore the K 490 NC for the roughly 100-minute trip to the studio, and the K 495 NC for the trip back. The K 490 NC stayed pretty comfortable all the way to the studio, although it was starting to irritate my ears ever so slightly by the time I arrived. The K 495 NC stayed extremely comfortable for the whole trip back; I'm confident I could wear it through an entire L.A.-to-Houston nonstop.
The noise cancellation proved pretty effective for both models, although the K 495 NC has an edge partly because of the better seal afforded by its larger earpieces and plusher ear pads, and partly because its NC function seems to work a little better. When I played a recording I made of noise inside an airplane through my home theater system, the K 490 NC did a good job of blocking out the low-frequency rumble, but the K 495 NC did an even better job. However, the K 495 NC's noise cancellation did produce a slight amount of audible hiss, which I could hear during very quiet music passages.
Most noise-canceling headphones I've tried that offer a passive mode sound awful with the noise-canceling switched off. Not these. The K 490 sounds almost identical in passive and NC modes, just a little louder in the latter. The K 495 loses some bass extension in passive mode, but I think it actually sounds a bit better that way than it does in the fat-sounding, bass-boosted NC mode.