Remaster Class: The Kinks - Muswell Hillbillies & Everybody's In Show-Biz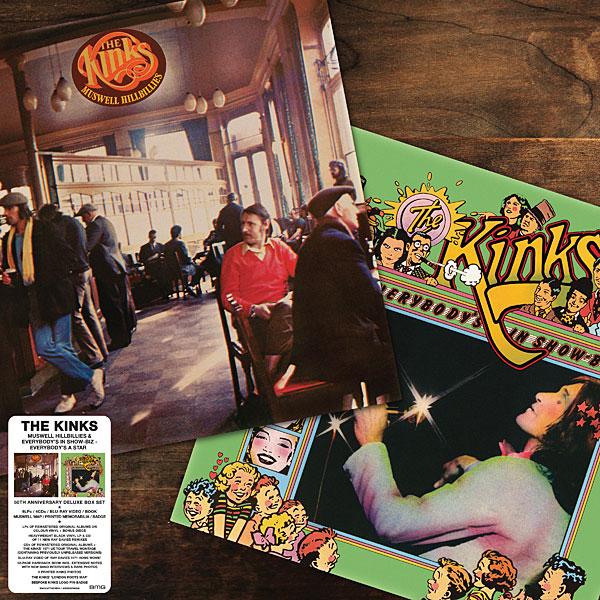 The Kinks were at a crossroads. As they entered the 1970s, the British pop/rockers hadn't yet ascended to the next toppermost level, even after achieving new heights following the songwriting leap Ray Davies took with the still poignant 1967 track, "Waterloo Sunset." It took two critical back-to-back albums, November 1971's Muswell Hillbillies and August 1972's Everybody's in Show-Biz, to fully get them there—and then they never looked back.
Me, I never owned pristine or even new copies of either album on vinyl. That said, I did have the cleanest used copies of both the 1971 RCA Victor 1LP Muswell and 1972 RCA Victor 2LP Show-Biz that I could find—and I was quite fine with it. I found certain comfort in the hominess inherent in the grooves of either album, whether it was the folkie despair of "20th Century Man," the accordion-enhanced "Oklahoma U.S.A." on Muswell, or the cosmic "Lola" vibes of "Supersonic Rocket Ship" and star-culture poignancy of "Celluloid Heroes" on Show-Biz.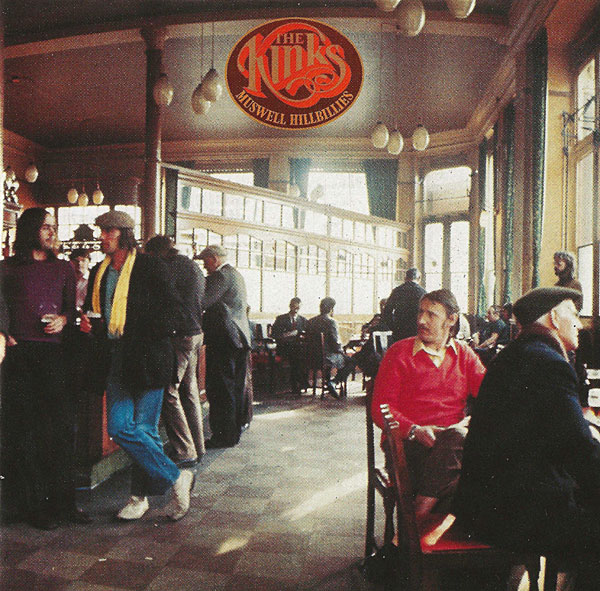 The character studies backstopping Muswell most especially appealed to my listening sensibilities in the moment—and that was clearly the band's intention. "Muswell Hillbillies is all about the characters and the stories, and the musical influences," Kinks guitarist Dave Davies confirmed to me directly. "I mean, we grew up on country and western music, the blues, English folk songs—and elements of all of them are on there. It's a very special album."
No arguments here, especially when it comes to the down-home singalong jangle of "Complicated Life," a song that remains a perennial favorite for us both. "You can relate a lot of that song to what's going on in today's world," Davies believes. "A lot of feelings and emotions it conveys are just as important now as they were when we recorded it—people feeling fairly displaced, and how we all deal with morals."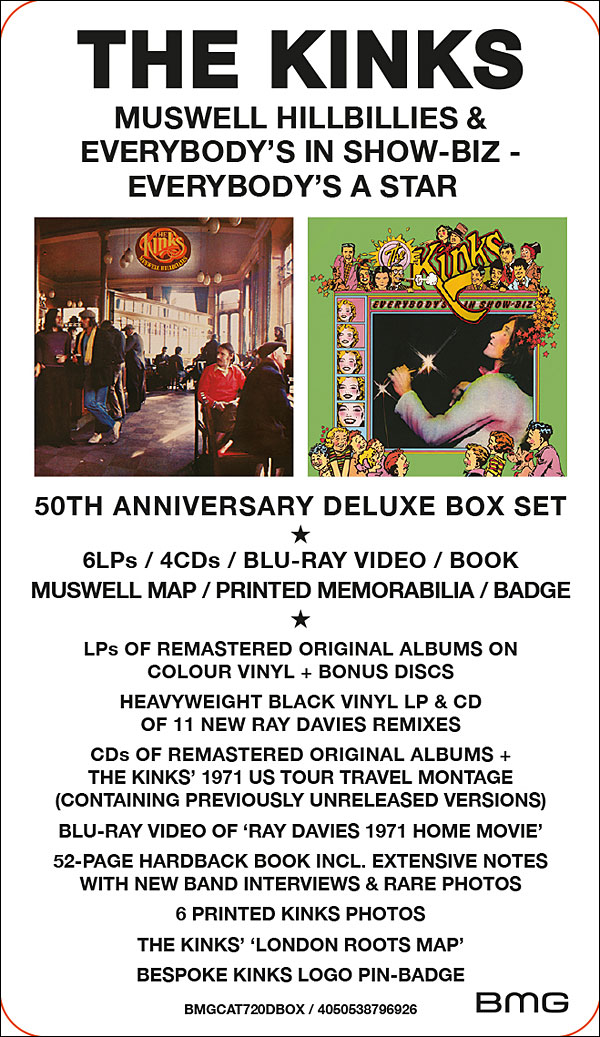 While I did indeed get the 1990 Rhino Redbook CDs of both albums, I held off on getting later pressings of either album on wax once Walter Yetnikoff's shortlived Velvel Records reissued the bulk of The Kinks catalog. I deliberately shied away from the 1998 Konk/ Velvel vinyl releases—not only due to the iffy SQ, also because every time I saw any Kinks Velvel LP in record bins, the outer sleeves were creased, bent, and/or bowed—a collectors' no-no.
It didn't matter what part of the country I was in, whenever I scanned the record bins for those Velvel Kinks LPs, every time I saw them, they were damaged. Even so, I did get both albums' 1998 Konk/Velvel CD equivalents for my collection, though I was much more invested in actually listening to the 2016 RCA/Legacy 2CD Show-Biz set, especially given the cavalcade of bonus live tracks ("Get Back in Line," "Alcohol") and alternate mixes alike.
In September 2022, BMG issued Muswell and Show-Biz as part of a mondo box-set collection of six 180-gram LPs (five of them on color vinyl), plus four CDs with 11 new-to-2022 Ray Davies remixes, and a Blu-ray featuring priceless of-era Ray Davies-shot 16mm footage. The five color LPs—the two Muswell LPs are blue, and the three Show-Biz LPs are yellow—are 140-gram, while the sixth black-vinyl LP containing those stellar new Ray Davies remixes is 180-gram.
GZ in the Czech Republic pressed the vinyl; Kevin Gray at Cohearant Audio in L.A. cut the ShowBiz LPs and the first Muswell disc, while Tony Cousins at Metropolis in London cut the second Muswell disc and the Remixes LP. Muswell replicates the 2014 Legacy gatefold deluxe 2LP remastered from the then newly discovered Ray Davies original master tapes, while Show-Biz is the 2016 Legacy gatefold deluxe 3LP, also remastered from the original master tapes. All this technical data is worth noting because it bodes well as the potential benchmark for likely future Kinks box sets.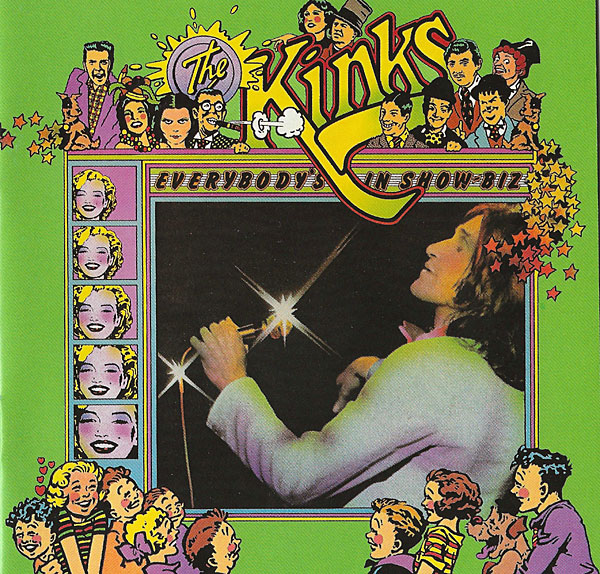 "Good music is a mixture of a lot of things," believes Dave Davies, "and there's something about older music that works in higher resolution in the way it enhances, rather than changes, form because it should still sound sonically 'of that time.' Besides, I'm mainly concerned about getting the feeling, the emotion, and the ideas across. That's always a priority for me—getting the emotion across exactly how I want it. It's easier to get the point across in music rather than lyrics—but you do need your imagination and a certain amount of lyrical prowess to do it."
And that is the true essence of Kinks music. Both Muswell and Show-Biz kronikle what it takes to embed their tunes into your listening proclivities as permanently accessible earworms—it doesn't matter who you are.