Ready, Set, Record! Page 2
LiteOn LVW-5005 LiteOn might seem like the new kid on the block, but the Taiwan-based manufacturer has actually been around for nearly 30 years. With a deck that records audio and video onto DVD-R/RW, DVD+R/RW, and even CD-R/RW discs - a unique combination - it's definitely making itself known. Even more noteworthy is the LVW-5005's $300 price tag. I paid that much for my first VCR, and that was nearly a dozen years after the VHS format launched!
LiteOn LVW-5005
DIMENSIONS (WxHxD) 16 1/2 x 2 1/2 x 12 inches PRICE $300 MANUFACTURER LiteOn, www.liteonamericas.com, 888-454-8366
The silver-cased LVW-5005 looks nice enough, though its build quality struck me as a bit flimsy. Aside from a power button and disc-tray slot, the only visible features on its front panel are six control buttons for playing, pausing, scanning, and recording discs. A flip-up door conceals an A/V input with a composite-video connection, but no S-video jack, and - a pleasant surprise - a FireWire port for dumping footage from a MiniDV or Digital 8 camera, an unexpected perk at this price.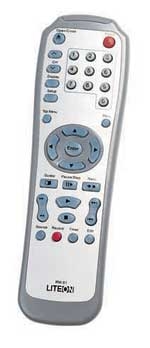 The LiteOn's back panel has a standard suite of recorder connections (Click to view "Features Checklist"). Its remote control is nothing special, but the tiny buttons are logically laid out. The only real complaint I had was the player's slow response to the commands I punched in on the handset.
The straightforward menu system really simplified setup. After I connected my cable feed and told the recorder to scan for active channels, an onscreen menu let me delete any scrambled or unwatched channels from its memory, which let me surf more quickly through the ones I'd want to see. There's no VCR Plus+ function for automatic programming, but I could use the deck's timer menu to manually program a list of recordings and assign variables like picture quality and source (TV, satellite, or whatever) for each entry.
DVD recorders can be intimidating to operate, which is why I liked the EasyGuider feature on the LiteOn. Pressing a button on the remote calls up the EasyGuider menu, from which you select the function you want to perform: play, record, format, or finalize. Additional submenus for each category basically hold your hand and lead you through the selected process.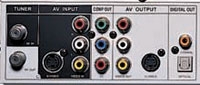 The LiteOn's HQ, SP, EP, and SLP recording modes offer 1-, 2-, 4-, and 6-hour recording times, respectively. Recordings made in the HQ and SP modes looked equally sharp, although shots from ESPN's Speedworld containing fast motion or billowing smoke were more solid when recorded in HQ. The same program was all but unwatchable when recorded in EP or SLP. To squeeze out extra recording time, both of these modes cut picture resolution in half and lower the video bit rate to 2.5 megabits per second (Mbps) or less, a recipe that yields images so soft and blocky-looking, they'll almost make you miss your VCR.
With all the bells and whistles found on DVD recorders, it's easy to forget that they're also meant for playing DVD movies. Although the LiteOn's picture sharpness was a notch below that of the other two decks tested, its performance was pretty good, with most discs I played showing a decent amount of detail and clean, natural-looking color. But when I switched over to progressive-scan mode, I saw that it lacked 2:3 pulldown detection - a video processing feature that reconciles frame-rate differences between film and video. (We had stopped commenting on the presence of 2:3 pulldown detection in DVD-player reviews because it seemed to be universal now, so it was a surprise to find this lacking in the LiteOn.) The effects could be seen, for instance, as a jagged pattern on the grille of the Speak-and-Spell in Toy Story as it stumbled forward to offer up its microphone.
At $300, LiteOn's LVW-5005 DVD recorder is a great bargain, and it handles an impressive range of optical media. If you're looking for a DVD deck that also serves as a CD recorder, this is the only one out there that fills the bill. I wouldn't use it as my main DVD player, but as a straight-out recorder, its simplicity and versatility are highly appealing.
LATEST VIDEO