RBH EP-SB Wireless Earbuds Review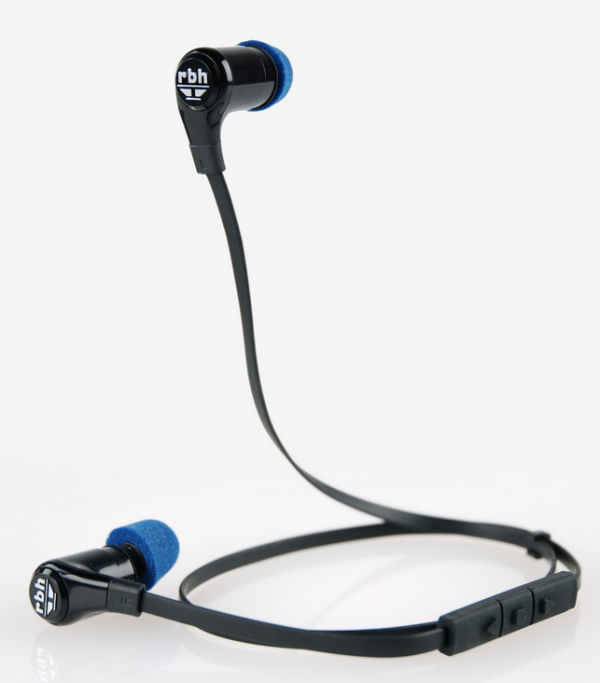 Editor's Note: This review was first published on 1/31/15, based on what proved to be a defective sample, and revised on 2/15/15.
Speaker company RBH has expanded their headphone lineup with new Bluetooth in-ears, the EP-SB. Lightweight and sweat resistant, RBH want the EP-SB to be your go-to headphones for on-the-go and at the gym. I got my hands on one of the first pairs available (literally!), and put them through their paces. How did they hold up? Lace up your sneaks and meet me after the jump.
First off, let's talk about the sound. Apt-X enabled and Bluetooth 4.0, RBH has done really well with the tuning of the SB. The highs are clear and detailed without shrill peaks or tinny edges. The mids are well-represented and make piano and guitar have a full, present sound, with a nice sense of space. The low-end experience, I found, changed based on which of the included tips I was using. The SB have both silicone and Comply tips in the box, and I found that although the larger Comply sealed in my ears completely, the lower frequencies rolled off starting around 60Hz. Yet when I changed over to the silicone tips, the bass line increased in volume dramatically, and suddenly hip-hop and electronic music had more oomph than with the Comply in use.
Of course, your anatomy and fit experience may vary, so suffice it to say that the SB are capable of producing a full low-end, it just may take some experimentation with the fit to find it. While we're on the subject of fit, the SB also have optional silicone wings for stabilization, which are what I used on my run. The cord that connects the buds hangs down from your ears and runs behind your head, and although I've had some success with similarly-styled headphones, I couldn't get the cable to thread over my ears for extra security. The way the cord emerges from the earbuds themselves, it seems the SB are designed to hang down only. Not a deal breaker for most, but worth mentioning if you only prefer the hooked-over-ear fit. Interestingly, despite the in-ear, behind-the-head cord design, and a splash resistant
IPX 4 rating
, a casual glance at the RBH website might make you think RBH isn't marketing the EP-SB as sport headphones. Their site pushes sound quality first. But the SB are Coated with Liquipel (the same nano-coating as the
well-reviewed Jaybird Bluebud X
), and are designed to be able to take some sweat and dust without an issue. In my five mile run test, they tackled my sweat and a light misting rain that eased off after my first half mile. For the most part, the SB stayed in place, and I only needed to do some minor adjustments during my jog. The in-line three-button remote worked well, and was easily accessible while my phone stayed safe and dry in my pocket.
I should mention here that in a previous version of this piece, I had tested an early model of the EP-SB and had some issues with Bluetooth interference. I'm happy to say that the problems were with that specific unit only. The folks at RBH sent me a new pair and these were capable of what I was expecting in terms of wandering space: able to go a good long distance while in eyesight, and through two walls indoors with no problem. So if you happened to peruse an early posting of this, know that you can, in fact, put your device down and wander around without worrying about the signal dropping.
Overall, the SB are fantastic sounding, easy to wear Bluetooth in-ears that sound-wise rival any similar headphones currently available. They are comfortable and light enough to be perfect for use on a daily commute, or while walking your dog. That said, I don't know that I'd choose the SB as my constant gym companions. Personally, the fit just wasn't quite stable enough for my ears on longer runs. But I am a finicky sportsy-kinda gal ( I average 4-5 workouts a week, if that helps you gauge what I mean). Those who wear headphones at the gym infrequently, or who prioritize sound quality over fidgeting with the fit on occasion during long workouts will be very happy. In the end, if you want headphones that sound great, fit comfortably, and that won't break if you find yourself breaking a sweat, the EP-SB might be just the all-around Bluetooth headphone solution for you. The RBH EP-SB are available for $179 on
rbhsound.com