Rainbow "Since You Been Gone" Vocalist Graham Bonnet Opens a New Book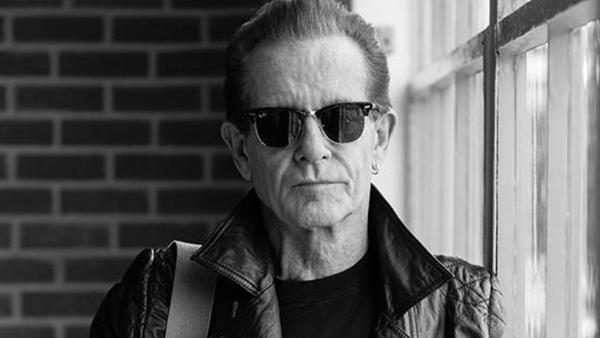 Rainbow was looking for a hit. The hard-rocking British band had found some success with original vocalist Ronnie James Dio, but bandleader/guitarist Richie Blackmore wanted to hear his songs on the radio. After scores of vocal auditions, they finally hit upon Graham Bonnet. At that time, Bonnet was best known for singing in the rock duo The Marbles, who had gotten to #5 in the UK singles chart in November 1968 with "Only One Woman," a song co-written by the brothers Gibb, a.k.a. The Bee Gees.
Once the reconstituted Rainbow laid down their cover of Glen Ballard's "Since You Been Gone," it became the breakout track on 1979's Down to Earth. The song reached #5 on the UK singles chart and quickly became an AOR staple here in the States, opening the radio door for Rainbow just as Blackmore had envisioned.
"I was totally surprised when that song took off," Bonnet admits today. "Suddenly, it was everywhere, all over the world. It was just an amazing thing. As you can imagine, I was sitting around doing nothing for a few years, and then I joined this band I didn't even think I was the right guy for, because I didn't wear 'the uniform' — I didn't have the long hair and all that went with it. I looked wrong for being that kind of hard-rock singer!"
In addition to his brief tenure in Rainbow (Joe Lynn Turner subsequently took over the vocal duties on 1981's Difficult to Cure), Bonnet had stints singing with Yngwie Malmsteen's Alcatrazz and the Michael Schenker Group before diving into a solo career. The latest salvo from the Graham Bonnet Band is a wide-ranging double-disc release called The Book (Frontiers), which asserts the prowess of Bonnet's hard-rock-meets-R&B pedigree. Disc 1 teems with harmonic, riff-driven tracks like "Welcome to My Home" and "Dead Man Walking," while Disc 2 includes an updated, fiery take on "Since You Been Gone." (BTW, many people get that song title wrong, including some of the sleeve artwork for the original 45 single release — it's "You," not "You've.")
During a recent band-rehearsal break, Bonnet, who turns 69 this Friday, got on the horn with me to discuss where he likes to hear his vocals in a mix, how he transformed "Since You Been Gone" from a pop song into a rock hit, and coming to grips with living in the streaming universe.
Mike Mettler: Did you have a very specific idea about where you wanted your vocals placed in the mix for the songs on The Book?
Graham Bonnet: Oh yeah. I went through everything with Conrado Pesinato, my guitar player, because he also engineered the album. I went through every backing harmony to make sure they all had the blend I wanted. Sometimes, he didn't get it. He'd go, "But don't you want the lead upfront?" And I'd say, "No. It's got to be like a sandwich. The harmony is like a little choir. You take the lead vocal back and into the mix with the harmonies."
Most people don't do it that way, but I think of Queen and the way they blended their harmonies. That's the way I like to hear them — in a really solid block, and not having the lead sticking out too much.
And if you don't get that blend, it kind of ruins the song for me. I'm expecting it to lift. A really great backing harmony with a great chorus — like with "Since You Been Gone," if you will — you can't help but sing along, you know? I've always tried to make the chorus "sing-alongable." Well, most of them, anyway.
Mettler: "Since You Been Gone" is probably the best example of how people know your vocal style. And, at last check, it had over 17.5 million listens on Spotify — which, I might add, is also the most popular Rainbow track overall on that streaming service.
Bonnet: Well, blimey!
Mettler: The way the "whoa-oh-oh"s were layered in that chorus — that was your choice to do it that way, wasn't it?
Bonnet: Yeah. The version of the song we first heard was by Clout, a girl band [from South Africa, who covered the song in 1978]. It wasn't "Whoa-ohs" on that one; it was "dit-dit dit-dit, do-do" — very poppy, instead of the bluesy thing we did.
And we had heard Russ Ballard sing it as well, also in that poppy way. [The song first appeared on Ballard's 1976 album, Winning.] That's where Roger [Glover, Rainbow's bassist and producer] said, "We can't do that. We have to make it a little more rock-sounding." That's where the "whoa-oh"s came in, and where we took the more happy-skippy things out.
Mettler: Did you know right away that song was going to have such an impact? Could you feel it was a song that was going to break through like it did?
Bonnet: That song? No! No clue. I'll tell you, to be honest, when I finished the album [Down to Earth], I thought, "Well, that's it." I didn't even think I was going to go on tour with this band. I did the session, the song made the album, and then suddenly, we were on tour like a month or so later.
"Since You Been Gone" was actually the most unfavorite track of everyone in the band, so we left it until last. We didn't have to do it — but, my God, what a big mistake that would have been! That broke the band, and Rainbow got played on the radio, for a change. Our manager Bruce Payne had said, "As great as all that heavy guitar and real serious stuff is, make something that's radio-friendly, something that people can sing along to." So, like I said, we did it last, and it turned out really well. I think it definitely brought Rainbow to the front of whatever we were doing back then.
And it just surprised me totally, the way I was accepted by Rainbow's audience when we went out on the road. It was just marvelous.
Mettler: I also like the modernized, updated version you do of "Since You Been Gone" on Disc 2 of The Book. It's going to bring a lot of people to the song who never heard it before.
Bonnet: Yes, I sure hope so.
Mettler: And speaking of great harmonies, there's a bunch of them on "Welcome to My Home." And I also love what you did with "Dead Man Walking," where everything drops out of the track toward the end and it's just you there taking it home.
Bonnet: That was a little idea I had to give it some more dynamics. I love things to be done sort of "incorrectly." We don't finish with a big drum splash — instead, it sort of fades away, gradually. The idea came up right before we finished the song: "What about this?"
Mettler: You had an R&B background when you started with The Marbles in the '60s. Who were the vocalists who influenced you back then, the artists you looked up to back in the beginning?
Bonnet: Back then, I had listened to Little Richard, and Tom Jones. I thought Tom was great — a guy who had a marvelous voice but who had never made enough records I liked. The songs weren't good enough for him, I always thought.
I also liked Stevie Wonder, and the other usuals. The Beatles, obviously; I loved all The Beatles stuff. But I was very much influenced by a girl back then who was a little like Amy Winehouse. She was a 15-year-old girl who sang very similar to her — Helen Shapiro was her name. Have you heard of her? She had a mature-sounding voice for a 15-year-old girl, and she's still playing out there now. [Helen Shapiro had two #1 singles in Britain in August and October 1961: "You Don't Know" and "Walkin' Back to Happiness."]
I also liked The Crystals, The Ronettes, and other people like that, to get the sound they had. And Frankie Lymon — that's whose voice Ronnie Spector copied.
Mettler: Right, Frankie Lymon and The Teenagers [best known for their Top 10 1956 hit, "Why Do Fools Fall in Love"]. A lot of people thought he was a she because of how high and how sweet his voice was at his young age.
Bonnet: He was like 13! Just a kid — like Michael Jackson, when he started so young.
Mettler: Are you a fan of vinyl?
Bonnet: I love vinyl, and I do have a record player at home, yes. I think everybody's getting back into it again, aren't they?
Mettler: Yeah, isn't that something? I think it's opening the door to introducing or reinforcing serious listening habits. For one thing, it's a ritual you have to pay attention to and can't be distracted for, because you'll have to get up at some point and flip the sides over.
Bonnet: Exactly, yes. I loved taking out the vinyl and seeing the inner sleeve and reading along with the lyrics. When I got Beatles albums, I loved just looking at the words as they were singing them. It was magical, you know?
Mettler: It was. Do you have a favorite record from back then that's still important to you today?
Bonnet: Oh, it would have to be [The Beatles' 1969 studio swan song] Abbey Road, and also The Beach Boys' Pet Sounds (1966). Brian Wilson, he's one of my favorite writers. I've never met him, but he's been my hero ever since I was a teenager. I never understood back then how they got that sound, but now I realize it's tracking and tracking and tracking, and being in the studio all day singing your head off and getting it just right. And he really did. I mean, he worked those guys to death.
Mettler: If you had your choice to cover a Beach Boys song, which one would you do?
Bonnet: Oh, it would probably be "God Only Knows" — maybe. (chuckles) I also like the song "Disney Girls," do you know that one? ["Disney Girls (1957)," written and sung by Bruce Johnston, appears on 1971's Surf's Up, and it continues to be a highlight of most every Beach Boys concert.] I love how that song goes into different timing — into 3/4, or whatever. It's pretty cool. I used to sing that one with a band I was in, in London. Do you remember Ian Matthews' Southern Comfort? When Ian Matthews left, I was playing bass and singing with those guys, and "Disney Girls" was one of the songs we did. They all sang harmony. It was very much a Crosby, Stills & Nash kind of a band.
Mettler: Oh yeah, I remember them! Now, on the other side of the vinyl coin, so to speak, is people are going to listen to The Book digitally and through the streaming universe. As an artist, how do you feel about that?
Bonnet: It's a weird thing. I see my daughters listening with these things in their ears and not talking to me or listening to me. "Hello, girls??" (laughs)
It's also hard for me to understand the concept of having a hit song now; it's beyond me. How do we know? Who's listening to it? Where are the charts? How do I get into the charts like I used to, back then? You sold so many thousands of records at first, and your record climbed the charts. But everybody's downloading stuff, and nobody's paying for it anymore. That's another thing with me.
Well, we'll see what happens. I do this as my living, and aren't they taking money out of my pocket, these people who are downloading or streaming for free? But I have been told everything will work out fine, and not to worry my little head off over it. (laughs)
Mettler: Well, the way you make your money now is you go on the road and play it live, anywhere you can go.
Bonnet: Everybody's doing it that way now. Back in the '60s, when my cousin [Trevor Gordon] and I were doing The Marbles, we played maybe three times in the 2 or 3 years we were together as that group. We played once in London, once in Sheffield, and that was it! The rest of the time was spent at home, basically recording.
And that's the way it was with The Bee Gees, and The Beatles; everybody went off the road. Touring — somebody else did that, you know what I mean? Now, you play every sh--hole in the world! (both laugh)
Mettler: To modify a song title, you haven't been gone at all; you've actually been quite busy all these years. It must be nice seeing how much attention The Book is getting for you now.
Bonnet: It's cool that people do know about what we're doing, yes. It's been very good, and very hard at the same time. We push everybody as much as we can, and I think we've got a better hold on it this year. Luckily, this band has put me back on the map again. From Beth-Ami [Heavenstone, bassist] and Conrado, it's been overwhelming: "Come on, Graham; you've got to do this! You've got to get out there." (chuckles) They still push me, every day. It's really nice to have those kind of people around me.