Prog Giants Nektar Remember The Future from The Other Side Page 2
Mettler:
They're there, even when they're not there.
Moore:
Yeah, it's
The Other Side
vibe.
Mettler: And you still work with your original light-show mastermind, the visual conceptionist Mick Brockett, who was himself a fulltime bandmember right from the very beginning. Having Mick and your current light designer Pete Lango working together must make things easier for you up there onstage.
Moore: Not only that, but in the last few months, we digitized the light show. When we did ProgStock last October, it wasn't digital at all, and we found that it wasn't bright enough. So we got some really high-powered projectors, and we digitized the whole thing. It's really strong now. [ProgStock was a festival held at the Union County Performing Arts Center in Rahway, New Jersey, on October 13, 2019.]
Mettler: Let's talk about surround sound. When Mark Powell, the guy who ran the Eclectic Discs label in the early 2000s, came to you and said he had found the original master tapes and wanted to do 5.1 mixes for some of them, what was your response?
Moore: I said, "Let's do it!" We've always looked at getting the best sound for our recordings.
Mettler: Remember the Future originally came out in quad, didn't it?
Moore: That's right, it was done in quad. And Remember the Future was the best recording we had done up to that point.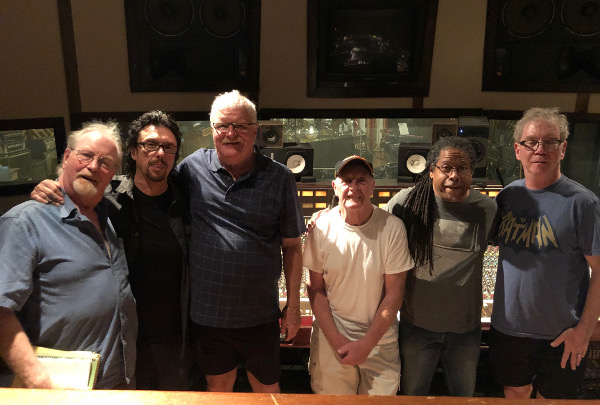 Mettler: Ron, I'd say the interplay you and Mo have is much more clear in these mixes on SACD.
Howden: Yes. And I love that there's so much more separation here. You felt the world was opening up when we went from mono to stereo, but these mixes are like, "Wow!"
Mettler: We do live in a 360-degree world, after all.
Howden: Right. How many times have you heard a car go from here (gestures in front of him) to here (gestures behind his head)? Sound is all around you. We take it for granted, a lot of this stuff.
Mettler: Some do, but we don't! Mark, you were quite hands-on with Paschal Byrne in terms of handling the remastering duties for a number of classic Nektar albums you reissued on CD and in 5.1 on SACD on your custom Eclectic Discs label in the early 2000s. I for one am glad you found the original masters for Journey to the Centre of the Eye.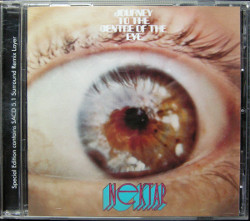 Mark Powell: In the early 2000s, we had all of the tapes sent over from Germany, and the original eight-tracks were all there for Journey. I think we did all of those transfers in 2003, and released most of them in 2004. Some little bits here and there were missing, and you'll notice that in the mix that's on the SACD.
Howden: We were just talking about that, because the guitar was missing on the original.
Powell: I was really pleased with it at the time, though we were limited somewhat since there was no 96/24 at that point, and analog-to-digital conversion just wasn't as good then. I can hear the difference now when I'm retransferring other masters that I worked on maybe 15 years ago. I mean, I'd love to get my hands on those Nektar masters again, retransfer them, and do them all in hi-res.
Journey was quite a challenge. When you have eight-track tape, because there's a bit less going on, your palette is somewhat limited in terms of what you can do in the surround picture. Sometimes other instruments have been mixed down to one track, so you don't have stereo drums, for example. The whole album was recorded on one eight-track machine, so you didn't have stereo for the kits, and you couldn't open things up. So the Journey mix was a little bit limited by that. But after it was put out in the States, one of the publications had it as one of their picks for best surround mix of the year. And I was chuffed with that, to be honest. (chuckles heartily)
Mettler: As well you should — especially considering what happens in "Astronaut's Nightmare" right out of the box, for one thing. At least we were able to get "The Dream Nebula" mixed together as one track, rather than in the original album's two parts that had been recorded in two different sessions. That's pretty special to my ears.
Powell: The whole album to me is pretty special, to be honest with you. And I agree with you that getting "Dream Nebula" as one piece was a highlight. I thought that worked really well, even if it was a bit complicated. (chuckles again)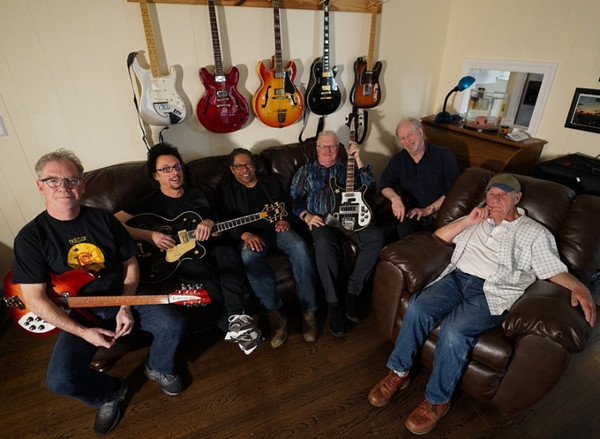 Mettler: And then we get to Remember the Future, which already had a quad mix done for it in 1973. Did that make it any easier for you?
Powell: We did do a proper remix of that one entirely. The 16-track masters were all there, and there were just two reels — one of "Remember the Future – Part One," and one of "Part Two," so it was actually pretty easy to do that one. That was always one of my favorite albums.
Of all the Nektar 5.1s we did, the one very few people heard was Live in New York. One of the things I liked about that one was, in the original show in New York [at The Academy of Music on September 28, 1974], there was a power cut [i.e., a power outage], and they lost power to the stage for about 10 minutes, right in the middle of a song ["Remember the Future"]. On the CD layer, you'll hear the concert going all the way through, which we remixed to keep it all together. But on the SACD, we thought it would be fun to have it where they start the track, and then lose power in the middle of it. That's there on the 5.1, so you get the whole experience. (laughs)
I'd love to see that one come out again, actually. That captured the band live at one of their peaks, I think.
Mettler: Was A Tab in the Ocean a possibility for getting a 5.1 mix? Was that ever under consideration?
Powell: Tab was, but I think it came down to budgets, really. The multitracks did exist, but we decided not to do it probably because of the budget at the time, to be frank. But it's something I'd like to go back to again. I'd like to go back to Recycled as well, but I have a funny feeling some of the multitracks are missing on that one. Some things were missing at the time, so we couldn't do it in 5.1.
Mettler: What about [June 1973's] Sounds Like This?
Powell: Sounds Like This did have the 16-track masters there, and there was a version that appeared for about 5 minutes, but we had to change gears because we had to close down the old label for various reasons, and then set up Esoteric Recordings instead.
Mettler: Maybe you can revisit all of them at some point. Is there any thought to doing The Other Side in 5.1?
Powell: Not yet. The band basically decided they wanted to do a stereo mix for the vinyl. If there was to be a 5.1 mix done for it, it would be the band's decision on that one. But, certainly, we've been talking about getting access to the Nektar catalog and doing new 5.1 versions of things properly — revisiting it all, and getting the catalog out there again.
Knowing the technology better and what I've overcome doing subsequent projects in 5.1, I know we could do a much better job. The more you do it, the better you become at it, I think. Just like musicians probably do when they look back at something they recorded 20 or 30 years ago and say, "I wouldn't mind having another go at that."
Moore: We might do The Other Side in 5.1 at some point. The way we recorded it and the way we mixed it — everything was very individual so that you're able to cotton on to certain parts of the music and follow it through. When you listen to it the next time, you'll cotton onto something else, and follow that through.
Mettler: Mo, do you have a favorite album from the Nektar canon?
Moore: I like them all, and for different reasons. They depicted the band at that time. And we had full leeway with what we were doing with the albums. They let us do whatever we wanted to do.
Mettler: When you think of an album like Journey to the Centre of the Eye and how you presented it as a concept album. . .
Moore: In 1970 and '71, that was unheard of. And now it's been 50 years.
Mettler: What do you think the staying power has been for the band to have lasted for 50 years?
Moore: I don't know. We've had young people in their teens and people in their 70s come out and see us. At one show, there was a man in his 40s with his son who was 15, and the kid had his arms full of Nektar gear, vinyl, and CDs. I said to the dad, "Thanks for bringing your son!" And he said, "No — he brought me!" (chuckles)
A lot of people I've talked to are shocked we're still here. In my experience, once we've played a show somewhere and people see what the show is made of, the next time we come, it's been packed. So we'll definitely come back.
Howden: We have such a legion of diehard fans, and we're so thankful for them. It goes without saying that, without them, we wouldn't be anything. The fact that they still remember us . . . (trails off) When we first started out on this project, it often crossed my mind, "I don't want us to just cash in on the old hits we had — I want us to create something new." And people have been so receptive to it.
A couple of years ago, I didn't think I'd be doing this anymore. I had cancer, Stage 4 lymphoma — very aggressive. I had a ton of chemo, and I thought I was finished playing drums. But we did a stem-cell transplant, and it was successful. So I feel very lucky to be able to keep playing this music for everyone.