Pro Audio Technology: P.A. Power, Audiophile Sound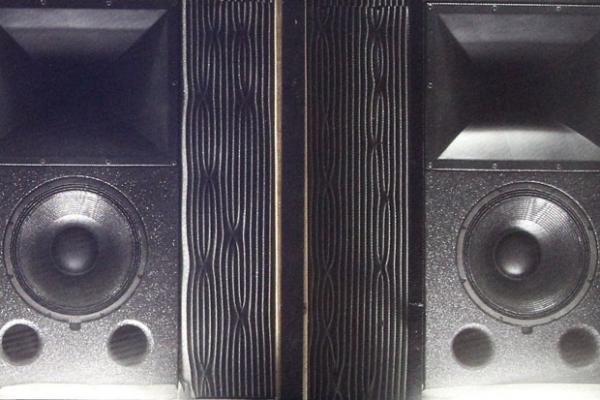 When pro audio technology invades home theaters, it's usually in the form of a recording monitor repurposed for consumer use. Pro Audio Technology comes at it from another direction: It's bringing P.A. system technology into the home.
Of course, anyone who's heard a P.A. system may now be cringing at the thought of blaring 120 dB sound in their living room, but that's not the case here. Pro Audio Technology's speakers are designed by company president Paul Hales, who not only has designed speakers for pro audio behemoth QSC, but also had his own line of well-received audiophile speakers back in the 1990s.
"We're the only company in the residential/consumer space that truly uses pro audio approaches and technologies," Hales said.
"We use very high-powered amps and speakers with drivers designed for super high power handling and sensitivity," he continued. "You need this kind of pro technology for proper reproduction of movie soundtracks, which have much more dynamic range than music. Yet these speakers are voiced and designed with residential/consumer applications in mind. None of the pro stuff sounds good enough for home use — it's built with price and durability as the main objectives."
I've seen speakers like these in concert P.A. systems, but never in the home. They're built not from the usual MDF, but from 9-ply birch plywood covered in a tough polyurea finish. "It's the same thing they use for truck bed liners," Hales said. "If you want, I'll give you a screwdriver and you can try to damage it." Indeed, the speakers look as if they would work just fine after a fall down a flight of stairs.
If the speakers don't look beautiful, it's because they're built for custom installation — either in-wall, in-ceiling, or placed behind a faux wall of acoustically transparent fabric. There are models designed to mount in 3.5- and 7-inch walls; the biggest model is only 16 inches deep.
Hales then took me back to his test bench to demo the company's PMA amplifiers. Each PMA holds four ICEPower amp modules, each of which can be 200, 450, or 1,000 watts. A digital signal processor is built in. Using a laptop connected through USB, the installer simply selects which Pro Audio Technology speakers are installed, and the amp creates the appropriate speaker crossover. There are also eight parametric EQs per channel, so the installer can correct for room acoustics problems.
The amp's digital EQ corrects for the effects of acoustically transparent screens, but it's not just one general correction curve — the installer actually picks what brand and type of screen material is used and the amp automatically EQs for it. This is important, because as we've measured, acoustically transparent screens do not all perform the same.
Later, we drove from Pro Audio Technology's Huntington Beach, Calif., headquarters to Synergy Audio Video, a custom A/V integrator in Tustin, Calif., that has several showrooms. We started with one of the company's small systems: three little in-ceiling LCR speakers, two 15-inch subwoofers up front, and two 5-inch two-way in-wall speakers for surrounds. Hales cued up the gunfight scene from The Book of Eli, and I was amazed to hear how realistic the sound effects were — not quite like real gunfire, but clear, undistorted, and very, very loud and dynamic. Not bad for such a little system.
Next, we went into Synergy's big home theater for a demo of one of Pro Audio Technology's bigger systems. The front three speakers were the SCR15sm, a monster with a 15-inch woofer and a midrange/tweeter horn fed by a 3-inch compression driver. Now when Hales played The Book of Eli, it really did sound pretty darned close to real gunfire. I actually ducked once.
And these weren't even the company's top speakers — there are three larger, higher-priced models above the SCR15sm.
Hales then played a scene from the Cream: Live at the Royal Albert Hall Blu-ray Disc. He meant to show me how cleanly the system could play Ginger Baker's powerful drum solo, but I also noticed how neutral and musical the system sounded. Even though Baker's cymbals were reproduced at about the same level as if you were sitting 10 feet from his drum kit, they sounded clean, lush, and detailed, with none of the harshness or excessive brightness I might expect from pro gear.
Pro Audio Technology's systems start at about $20,000 and go up to about $300,000, with all amps included. VP sales & marketing Larry Reagan summed up the line nicely when he said, "No matter what situation you have, we can give you the sound you want." The company has about 90 dealers, many of whom have active showrooms, so you can verify the company's claim for yourself. Riders with heart conditions or fear of loud sounds are cautioned.