Private Screening Page 5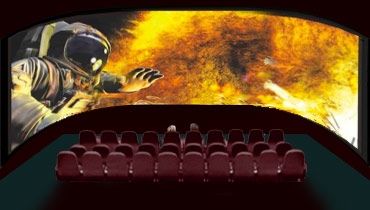 Curved Screens: What's the Angle?
Curved screens were popular back in the days of feeble CRT projectors, where they delivered extra gain for a brighter picture. They're recently made a comeback - but for reasons many home theater enthusiasts don't understand. "A lot of people think the curve compensates for distortion caused by 2.35:1 anamorphic lenses, but that's not true," says Joaquin Rivera, director of residential sales for Stewart Filmscreen.
According to Rivera, the primary reason for the curve is to maintain better performance for viewers sitting off-axis from the screen's center. The curve keeps the distance from the lens to the projector consistent - and thus helps the projector deliver brightness more evenly across the screen. It also directs more of the projector's light at the audience and away from the theater's side walls. "And some people just like it because it's sexy," says Rivera.
There's no denying the lure of the curve. Rivera says that Stewart's CineCurve is its most popular screen, despite the fact that an 11-foot-wide model in a solid (unperforated) material lists for $19,500 - or 7.5 times the price of the Stewart screens we reviewed for this article. The CineCurve features an advanced masking system that brings black masking material in from the side to create any aspect ratio you want. (Stewart's CineV model uses simpler vertical roll-up masking and costs about 30% less.)
Other manufacturers also produce curved screens. Screen Excellence offers the VistaCurve, which is made with the company's acoustically transparent Enlightor 4K material. Screen Research has a similar product called the TheaterCurve, which uses the company's THX- and ISF-certified woven material. Da-Lite offers its Curved Series screens, although they're designed primarily for commercial use.
Despite their cost and complexity, curved screens have become a big hit in custom-installed home theaters. Ultimately, that's for the same reasons that have made 2.35:1 projection rigs popular: Because they create a more theatrical experience and deliver a sensation you just can't buy at your local mass-market electronics store.
Curtain Close
After watching countless movies and TV shows on these screens in a variety of lighting environments, I've come to the conclusion that achieving great front-projector performance isn't as much a matter of picking a particular screen as of picking a particular type of screen. I had fun watching all of these, and none of them revealed any flaws that I found bothersome at a normal viewing distance.
For a typical home theater, the Stewart FireHawk G3 is probably the most practical pick among these screens. If sound is especially important to you, you might go with the Screen Research ClearPix2 (or the Screen Excellence Enlightor 4K if you're planning to go beyond 1080p someday, or the Elite AcousticPro 1080 if you want to save a lot of money). If watching with the lights off gives you the creeps, go with the Screen Innovations Black Diamond. Or if you're like me and just want the most immersive movie-watching experience possible, then paint everything in your room black and get a Da-Lite JKP Affinity.
Now if you don't mind, I'd like to return to the black hole . . .