Private Screening Page 4
Screen Innovations Black Diamond II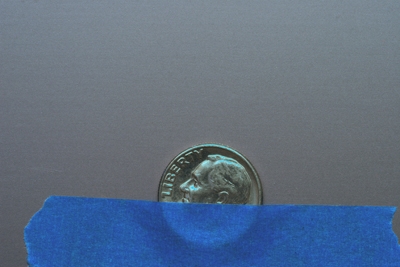 Screen Innovations was one of the first to come out with a so-called "black" screen. Black screens are highly directional - they reflect only light coming straight at them, and reject light coming from an angle. This characteristic lets you watch them even in a well-lit room. The Black Diamond II that I received had a rated gain of 1.4 (It's also available in 0.8) and costs $3,297 in a 106-inch-wide 2.35:1 size. A curved version is available, and Screen Innovations is working on a motorized version. The company contends that the screen's dark surface eliminates the need for masking.
The Black Diamond II's gain measured 1.24, and gain fell considerably in the corners, by an average of 43%. The half-gain angle was roughly 35°. Its color response was a bit uneven - it bumped up blue a tad and red a tad more, but my eyes didn't notice the shift.
I got a huge kick out of this screen. It's fun and relaxing to be able to watch a big picture (especially one in 2.35:1 aspect ratio) with the lights on. Room light can cause glare on the screen, but shutting off or moving the offending light fixes the problem. The Black Diamond II's picture never achieves anything like the purity of the JKP Affinity, but it looks punchy, colorful, and contrasty all the same. This screen doesn't really even compete with the others - it competes more with flat-panel TVs.
$3,297 (as tested) / siscreens.com
Screen Research ClearPix2
Screen Research was the first company to make a big splash with woven screens, and its products show significant refinement since their original introduction. The ClearPix2 fabric is certified by both the Imaging Science Foundation (ISF) and THX, and its FastGrip feature eliminates the creasing and bumps that have frustrated installers of woven screens.
The ClearPix2 sample we received featured a black-velvet-covered frame, a matte-white finish, and a rated gain of 0.95. It's also available in a 0.75-gain gray finish and in a motorized roll-up configuration. Price of a 106-inch-wide 2.35:1 model is $4,543. Measured gain was lower than expected at 0.71, but brightness uniformity was good, with the gain increasing by an average of 8% in the corners. Color response on-axis was excellent. Acoustic performance was the best I measured, at +3.3/-7.1 dB on-axis and +3.3/-5.5 dB off-axis, and with a largely flat response below 8 kHz.
The ClearPix2 produced a pleasing image with the JVC projector and Panamorph lens. A macro shot revealed that the lines between the JVC's pixels were lost in the weave, but the picture didn't seem to lose detail as a result. Overall, this is a well-made and effective screen.
$4,543 (as tested) / screenresearch.com
Stewart Filmscreen FireHawk G3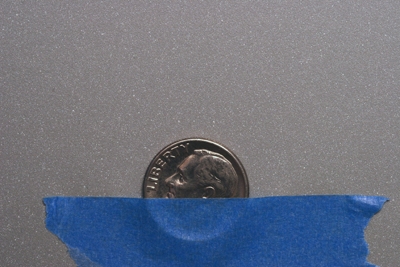 The FireHawk G3 is the only gray screen I tested. It's available in fixed-frame and motorized versions, in Stewart's CineCurve curved screen, and with or without perforations and motorized masking. The 106-inch-wide 2.35:1 model I tested costs $2,600, and the price is the same no matter which Stewart material you choose. The screen is certified by both the ISF and THX.
I measured the gain at 1.07, lower than Stewart's published number of 1.25. This screen is definitely directional - the gain falls by an average of 67% in the corners. It dropped to half-gain at about a 28° angle. Color response on-axis was almost perfectly even.
I also measured a piece of Stewart's Microperf X2 screen material to compare it with the woven screens. The perf material did have a more pronounced effect on the sound than did the woven screens, measuring +4.1/-12.1 dB on-axis, +11.5/-5.8 dB off-axis when I used the Cinema Sonic Processor electronic compensator that Stewart offers with its perf screens. (The processor simply boosts treble by 3 dB.) But all of these effects occur above 4 kHz, so they're not as audible as they might seem from the numbers.
Unlike most of the other screens, the FireHawk worked beautifully when I hung beige drapes to the sides of it and turned on a couple of spotlights in my room. The screen did a great job of maintaining contrast even with a moderate amount of ambient light, while all of the white screens were noticeably washed out in a brighter environment. The FireHawk also intensified the already deep blacks of the JVC projector. When I put it in the black hole, though, I did notice a trace of a hot spot in the center. I also noticed a bit of sheen - bright granules on the screen's surface. Despite a couple of performance compromises that might turn off purists, I think that for most real-world home theater environments, the FireHawk makes more sense than any of the white screens.
$2,600 (as tested) / stewartfilmscreen.com
LATEST VIDEO