Polk Audio T50 Speaker System Review
PRICE
$690 as reviewed
AT A GLANCE
Plus
Big sound, small price
Efficient and easy to drive
Proper surround sound at a soundbar price
Minus
Black vinyl is the only finish
THE VERDICT
Polk's T50 system is all about value with a capital V— delivering a real 5.1 experience including a powered subwoofer and floorstanding tower speakers at a soundbar price.
"What this country needs is a really good five-cent cigar."—Thomas R. Marshall
American vice presidents aren't usually remembered for much, but Woodrow Wilson's VP Thomas R. Marshall will always be remembered for saying that America needed good cheap cigars. If you figure in a hundred years of inflation, Marshall's five-cent cigar would still be well under a buck today, so clearly he was a man who wanted real value for the money. With that in mind, I reckon that if Marshall were alive today, he would be a huge fan of the Polk T Series speaker system.
These days, if you go shopping for a reasonably priced upgrade for your home entertainment system's audio, most people will tell you to check out a soundbar. It's easy to hook up, unobtrusive, and cheap, but at least in my experience, usually far from being truly satisfying. It seems that no matter what tricks they use to spread the sound around the room, most soundbars deliver little more than glorified mono sound. Getting a big, immersive soundstage from a soundbar is a bit like trying to get your groceries home from the supermarket on a motorcycle. Sure, you can use various tricky boxes and carriers attached to your bike to get the job done, but even the smallest and cheapest car would make the job so much easier. In a similar way, if you want a real soundstage from stereo or multi-channel music and movies, five properly placed speakers and a subwoofer in a good ol' 5.1 setup will make even the fanciest soundbar sound pedestrian. For a real enthusiast, the decision to move to discrete speakers is a no-brainer, the only problem being that most decent 5.1 speaker packages cost a good chunk of change. Luckily, Polk Audio has a long history of dealing with that problem.
Since day one over 40 years ago, Polk's approach has been all about delivering plenty of bang for your audio buck. In recent years, however, their status as king of the low-cost, high-value speaker has been challenged by a number of budget systems, including those designed by Andrew Jones for Pioneer and more recently, Elac (see our review of the Elac Debut system in the January issue and at sound- andvision.com), and even some dirt-cheap speakers from Dayton Audio (such as the B-652AIR, review September 2015 and at soundandvision.com). In the midst of all of this, Polk's new T50 towers, along with the matching T30 center channel and T15 bookshelf speakers, are clearly aimed at challenging the value leaders head on. At just $690 for the complete package, they go toe to toe with the Pioneer system, at a price point where most other manufacturers offer systems with five tiny satellites and a small subwoofer. Of course, you'll need to add a surround receiver or amplifier to drive it all, but we've recently seen some fantastic bargains in that department too.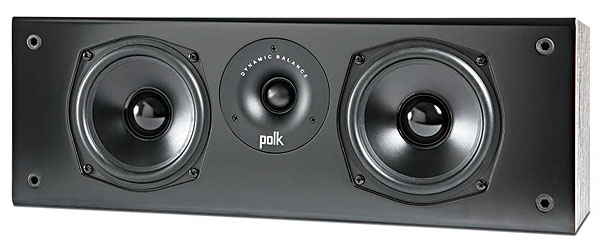 At first glance, the T50 towers look like they're packed with firepower, with a 1-inch soft-dome tweeter equipped with a waveguide and three 6.5-inch cones to crank out the sound. But if you probe a little deeper, you'll discover that two of what look to be 'woofers' are actually not electrically driven; they're passive bass radiators affecting the bass output in a way that's akin to a port on an enclosure. In fact, the T50 is really a two-driver speaker, with only the top woofer and tweeter connected to the amplifier, albeit housed in a fairly large enclosure to help it achieve deeper bass. The cabinet itself is a pretty straightforward square-sided tower, though a little shorter than most, with a plinth attached to the bottom for added stability. There's no provision for any type of leveling feet or spikes, but with its relatively light weight, the speaker felt perfectly stable sitting on my carpeted floor. The only available finish is a not too cheesy-looking woodgrain-patterned black vinyl, while the connectors are a single pair of gold-plated five-way binding posts. The detachable grilles are made of black fabric stretched over a push-on plastic frame, completing the package.
The other speakers in the system follow a similar design. The T30 center-channel speaker uses a pair of slightly smaller 5.25-inch woofers in a ported enclosure, while the T15 bookshelf speakers I pressed into service for the surround channels have a single 5.25-inch woofer and a slightly smaller tweeter in a ported enclosure. Polk figured that people might want to wall-mount the T15s, so its port is on the front baffle, while a keyhole slot on the back of the speaker makes it easy to hang on the wall.
Looking at the "08" in the PSW108 subwoofer's name, I figured it would sport an 8-inch cone. It turns out that I really should have been looking at the "10," because this sub has a pretty serious-looking forward-firing 10-inch polymer composite-cone driver. Right next to the woofer is a big port, while around the back is the plate amplifier with all of the jacks and controls. For such an inexpensive sub, the PSW108 comes rather well equipped, with stereo RCA line- and speaker-level inputs, plus speaker-level outputs, a phase-reversal switch, variable low-pass crossover, and a signal-sensing power control. One way they did keep the cost down was by giving it a relatively small 50-watt amplifier, although it's monitored by a compressor/limiter to make sure it doesn't go off the rails if you try to push it too hard.
Setup
I set up the Polks in the tried and true positions in my listening room, with the T50s about 3 feet from the side walls and 2 feet from the front wall. I experimented with fine-tuning the position and toe-in but found I got the best results with the speakers in the normal positions and pointed straight ahead. The T30 center channel was placed on a high stand that put its tweeter at the same height as the T50 tweeters, centered between them and slightly closer to the front wall so all three speakers in the front stage were in an arc equidistant from the listening position. The T15 surround speakers were on high stands against the wall directly to the left and right of my seat, while the PSW108 subwoofer was near the front wall between the left speaker and the center channel.