Podcast 78: Fred Maher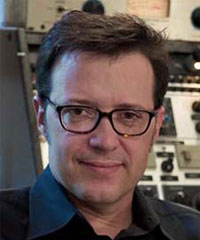 Fred Maher, an audio engineer now working for DTS, talks about his career as a musician, recording engineer, and producer as well as the use and misuse of dynamic-range compression, the audible effect of lossy data compression, the art of mixing music for multichannel playback, DTS' new Neo:X algorithm that can upmix any smaller number of channels to 11.1, where to place 11 speakers, the benefit of 3D audio, answers to chat-room questions, and more.
Run Time: 1:01:11
Click here to listen to this podcast.
Fred Maher wears many hats in the audio world, including audio and digital-media consultant, record producer, audio engineer, musician, A&R executive, and composer with 25 years of hands-on experience in digital media technology and the creative workflow.
Fred started drum lessons at 10 years old and went on his first nationwide tour at 16. He is a founding member of the locally influential NY band Material with Bill Laswell and Michael Beinhorn. After finishing high school and a few years of college, Fred joined Scritti Politti, a pop group that went on to major success in Europe, the UK, and the United States.
An almost completely self-taught musician and a completely self-taught audio engineer, Fred became much more interested in recording and production after his first few times in a recording studio. This led to his first co-production credit in 1985, Scritti Politti's "Cupid and Psyche '85" and his first solo production credit in 1986 at the age of 23.
Since then, Fred has produced and played on records by Lou Reed, Scritti Politti, Matthew Sweet, Information Society, Lloyd Cole, Vitamin C, V.A.S.T., Taxi Ride, and many others. He has also served as VP of A&R at Elektra Records and as a technical consultant for Steinberg, Gibson Guitars, Euphonix, AMD, and DTS, where he is now working on Neo:X and other audio technologies.
Here's the YouTube video of this podcast:

SPONSORED VIDEO