Podcast 77: The Chat Room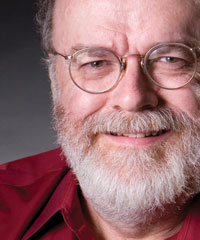 In this episode, I fly solo, answering questions from the chat room about everything from plasma versus LCD to tonally matching the front speakers to my opinion of various specific makes and models of AVRs, TV, and speakers, and many things in between. Plus, for those who watch the video, I show you around my new podcast set and point out some of the interesting items that appear behind me as I do the show each week.
Run Time: 1:06:51
Click here to listen to this podcast.
Scott Wilkinson has enjoyed over 20 years as an author and editor in the home-theater arena. He currently serves as online editor of HomeTheater.com. He also hosts a weekly podcast called Home Theater Geeks, in which he interviews top industry technologists. HTG was recognized as one of the best audio podcasts of 2010 on iTunes. In addition, Scott can be heard each Sunday morning discussing home theater on Leo Laporte's nationally syndicated radio talk show, The Tech Guy.
Previous positions include writing and editing for Home Theater and Stereophile Guide to Home Theater magazines, both of which he helped launch, as well as The Perfect Vision, Audio/Video Interiors, Connected, and etown.com. He also hosted the product-review section of DVD Preview with Leonard Maltin.
As a professional musician, Scott plays many different wind instruments, such as tuba, trombone, didgeridoo, conch-shell trumpet, recorder, ocarina, and various ethnic flutes. He can be heard on the soundtracks of the movies Gladiator, White Squall, and Mystic India as well as the video games Myst 4 and Uncharted. Scott has also recorded two albums with his avant-garde trio Many Axes and one with his wife, singer-songwriter Joanna Cazden.
Here's the YouTube video of this podcast:

SPONSORED VIDEO