Podcast 102: Renato Pellegrini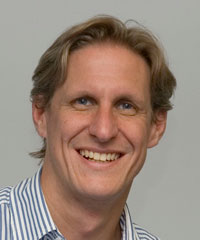 Renato Pellegrini, co-founder of Sonic Emotion and my first guest geek to appear live from Europe, explains the company's Absolute 3D audio technology, which uses wave-field synthesis to create a 3D soundfield throughout the room, putting every listener in the sweet spot. He reveals several consumer products that incorporate the technology and introduces Sonic Emotion's new 3D audio app for the iPhone/iPod/iPad (and soon Android devices) called Headquake. Also discussed are several commercial installations using Absolute 3D and the company's Music in Our Schools donation program.
Run Time: 1:00:41
Click here to listen to this podcast.
Renato Pellegrini received his Master of Science in Electrical Engineering from the Swiss Federal Institute of Technology (ETH) in Zürich in 1996. He started his professional career as a hardware engineer for digital-audio mixing consoles at Studer Professional Audio in Zürich. In 2002, he received a PhD for his work in psychoacoustics with the thesis "A virtual listening room as an application of auditory virtual environments." Before founding Sonic Emotion, he participated in the European research project "Carrouso" on the topic of wavefield synthesis.
Here's the video of this podcast: