Pioneer S-2EX Speaker System, ADA Cinema Rhapsody Mach III Controller, and ADA PTM-8150 Amplifier
Multinational speakers meet American amps.
On the battlefield of speaker design, I am the triage nurse. I walk into speaker demo rooms at trade shows, my badge sometimes inadvertently turned inward, listen for a moment, and quietly mutter to myself, "This one's a keeper," or, "He's dead, Jim." Or occasionally just, "Hmmm," because good speakers may sound iffy under bad conditions, and I respect the potential buried within an ambiguous first take. But, if my instincts tell me to pursue a review, I whip out a business card and start making arrangements on the spot.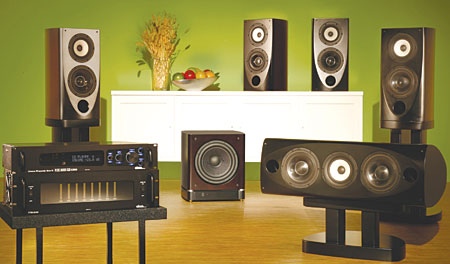 The Pioneer EX Series speakers started out as a keeper with a little hmmm. I felt comfortable with them immediately. They had a presence, something unabashedly warm and dark-toned. They also had an absence—no, a restraint—that curbed the fight-or-flight anxiety I get from the brash, hard, cartoon-edged sound certain marketing people consider to be lucrative. The question was not whether I would pursue the EX Series but whether my perception would deepen when I did.
Audio Design Associates (ADA) entered the review process in a different way—on the fast track. I've had long-term relationships with two of ADA's high-performing multichannel amps in the past. So, when the eight-channel PTM-8150 became available, along with the Cinema Rhapsody Mach III controller, I jumped at the chance to review them. A preliminary listen with my Paradigm Reference Studio/20s revealed a transparency that got me genuinely excited. I knew that pairing the EX speakers with the ADAs would stack the deck in Pioneer's favor. In this kind of game, though, everybody wins—including you, if you've got $27,898, a big room, a disdain for stereotyping, and a taste for adventure. Perhaps even romance.
In the PTM Tradition
Anyone who's unfamiliar with ADA may find that the PTM-8150 defeats expectation much like the Pioneer speakers. It musters 150 watts into 8 ohms and 250 watts into 4 ohms. Yet, at just over 5 inches tall, it's smaller than many receivers. In lieu of an elephantine chassis with massive heat sinks, this amp dissipates heat with an exhaust fan. That allows 58 pounds of high-current guts to fit into the little rack-mount chassis. The controller is also fan cooled.
If these ADA components are destined for a gear closet in a custom-installed system, the fan noise won't be a problem. But, if you're using them in an open rack, as I did, you'll need to keep the rack away from the seating area. As long as anything at all came out of the speakers, I was able to tune out the fan noise at a distance of 12 feet.
If you're the tweaky type who likes seeing power indicators in operation, the PTM-8150's eight leaping LEDs will keep you entertained. The controller display encircles its knobs in pale blue-white legends and, to the left of them, maps channels in operation. If you prefer the components within sight but out of mind, you can turn off the flashing lights via a front-panel switch on the amp.
While the PTM-8150 more than justifies its existence as an eight-channel power amp for bleeding-edge home theater, it can also serve four zones with high-quality stereo in a multizone installation. When used that way, it can operate in a Quick Turn-On mode to allow paging through the speakers. You can also give it an address and daisy-chain it with up to eight other ADA amps for large commercial applications.
Just as not all muscle amps come in giant boxes, not all preamp/processors come with a conventional receiver's clutter of controls. The Cinema Rhapsody Mach III controller does it all with five knobs on the right side of its slim front panel—unless, of course, you go for a touchscreen. Pressing the volume knob powers up the unit. Another push mutes it, and two presses shut it down. Another knob cycles through surround modes when spun but enters the control menu when pressed. Menu navigation uses only the front-panel display. There is no onscreen display; although, for installers, ADA does provide the option of PC input.
The PTM in PTM-8150 is a memorial to Peter T. McKean, the man who cofounded Audio Design Associates with Albert G. Langella. McKean was the liaison to the custom-install industry, the man with his ear to the ground. He was also a party animal. My Audio Video Interiors story years back about his home in the Hamptons contained the phrase "seven different lambada machines," a sequence of words that may be unique in western literature. Langella remains active as ADA's lead designer, president, and CEO. ADA products are designed and made in White Plains, New York.
An International Fusion
Pioneer's EX Series speakers are a unique international fusion—they're designed by an Englishman, in America, for a Japanese corporation, and are manufactured in China.
Although they're best known for video displays and surround electronics, Pioneer has had a toe in the speaker business for 65 years. The EX speaker series is the product of collaboration with the team at Technical Audio Devices (TAD), including design genius Andrew Jones, who spent 11 years at KEF and has the English accent to prove it. TAD is headquartered in Long Beach, California, alongside Pioneer Electronics, and designs both professional and home gear.
The EX line includes the floorstanding S-1EX, the stand-mounted S-2EX, the S-7EX center, and the S-W1EX subwoofer. I reviewed four of the stand-mounted speakers with the center and the sub. This configuration costs $17,500.
Mocking expectation, the S-2EX monitor stands nearly 2 feet tall and weighs almost 62 pounds. It took a strong man—that is to say, not me—to get four of them up on stands. The S-7EX center approaches 3 feet in width.
Like most speakers, these are made of medium-density fiberboard, and, as with most high-end speakers, their interiors are extensively cross-braced. More unusual is the obsessive layering of the exteriors. The side panels are made with 10 layers of 0.125-inch MDF, curved and bonded for a total thickness of 1.25 inches. Even more layers form the front and back panels, their thickness totaling 2 inches.
In both models, a beryllium dome tweeter is mounted coaxially in the center of a 5.5-inch magnesium midrange and partnered with a 7-inch composite-fiber woofer. (There are two woofers in the center speaker.) This was my first experience with beryllium and magnesium drivers, which offer a rare (and expensive) combination of lightness and stiffness.
Although beryllium is typically used as an alloy, Pioneer's tweeter employs a pure form, made with a technique that the company has been using for 30 years. Vaporized metal is sprayed repeatedly onto a copper sheet mounted on a heat sink within a vacuum chamber. Then the copper is etched away until only the beryllium remains. The magnesium midrange, which in some ways behaves similarly to beryllium, is mounted in the same axis. The two drivers share a common magnet, but there is also a waveguide between them.