Pioneer Elite BDP-05FD Blu-ray Disc player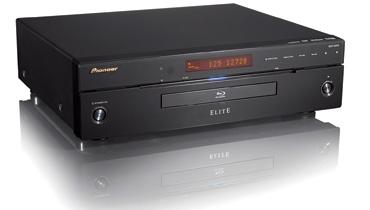 The Short Form
$799 / PIONEERELECTRONICS.COM / 800-421-1404
Snapshot
Though pricey and lacking some of the latest whiz-bang features, Pioneer's flagship Blu-ray player delivers solid audio and video performance
Plus
• Extensive, high-quality picture adjustments • Crisp, near-flawless DVD upconversion • Superior component-video picture quality
Minus
• No built-in DTS-HD Master Audio decoding • Audio setup can be confusing
Key Features
• BD Profile 1.1 (Bonus View) compliant • 1080p/24 fps video output • HDMI 1.3 with Deep Color support • Onboard Dolby TrueHD decoding • Optional color-upsampling modes • Outputs: HDMI, component-, composite-, and S-video; optical/coaxial digital audio, 7.1-channel analog audio, stereo analog audio
Among Blu-ray Disc backers, Pioneer has probably been the format's most vocal champion. A few other companies hedged their bets by making players that also spun HD DVDs, but Pioneer plowed straight ahead with Blu-ray, vowing to crush, kill, and destroy the competition in the high-def-disc format war. Now, with the smoke from that fracas fading, Pioneer has begun to roll out its players for 2008, a group that includes the flagship BDP-05FD.
The BDP-05FD is a Profile 1.1 (Bonus View) model with dual audio-video decoders to enable onscreen video commentaries from discs offering that feature. Its HDMI 1.3 connection delivers 1080p/24 video to compatible TVs and also supports Deep Color. If you have a recent-vintage receiver with built-in Dolby TrueHD and DTS-HD Master Audio decoding, the same connection can also be used to deliver those soundtracks in bitstream format directly to the receiver. Alternately, the player can decode high-rez soundtracks internally and send them out as a multichannel PCM signal. (At present, the player's decoder is only compatible with Dolby TrueHD, although Pioneer says a forthcoming firmware upgrade will also let it decode DTS-HD Master Audio soundtracks).
Other video features include extensive picture and noise-reduction settings (as well as multiple memories to store adjustments) and a slick onscreen menu that mirrors the graphical user interface found in the company's Elite receivers and Kuro plasma TVs. On the audio front, the player provides a 7.1-channel analog output along with high-end Wolfson digital-to-analog converters for all channels. When connected to one of Pioneer's SC-05 or SC-07 receivers, the player's PQLS feature enables jitter-free signal transfer by bypassing the HDMI interface's digital clock in favor of a high-speed reference clock located in the receiver. According to Pioneer, this feature can significantly enhance the sound quality when playing CDs.
For a new Blu-ray player showing up at the tail end of '08, the BDP-05FD is surprisingly large - you'd need to stack up three of another manufacturer's latest players to equal its height. The glossy black front panel mirrors the design of the company's other Elite-series components. One cool front-panel feature is a set of "capacitance touch" controls. These take the place of ordinary buttons, letting you operate the player and switch video-output resolution by simply touching specific zones on the player's face.
Pioneer's slender remote control has a glow-in-the-dark keypad and a number of buttons that provide instant access to functions you normally would need to activate through the onscreen menu. For example, you can switch between video formats by pressing Output Resolution. The options range from 480i to 1080p, while selecting either Auto or Source Direct sets Blu-ray video output to 1080p/24 for compatible TVs connected using HDMI. Video Adjust, meanwhile, lets you switch between the picture-adjustment settings, which include Memory 1-3 along with modes for specific display types (plasma, LCD, and more). Also, pressing the Secondary Audio and Video buttons will call up any Bonus View tracks present on discs.
The remote's Tool button is another feature the player shares with Pioneer's new plasma TVs. Pressing it calls up an onscreen menu for accessing several key adjustment options on the fly when watching discs, including video-output resolution, picture-quality adjustments, secondary audio/video playback, and audio dynamic-range control.
SETUP
As with many other Blu-ray players, configuring the BDP-05FD's audio output can be tricky, and the situation isn't helped much by Pioneer's manual. (Trying to figure out the Audio Output Settings chart with its numerous footnotes was like deciphering hieroglyphics.) My first setup step was to switch HDMI High Speed Transmission to On in the HDMI submenu, a setting that ensures that the player can pass a 1080p signal on to the TV when the Auto video-output-resolution mode is also selected. My next step was to select the Auto color-space mode in the same menu. Two other options (YCbCr 2:2:2 and YCbCr 4:4:4) allow the player to "upsample" the color information encoded on Blu-ray Discs and DVDs. But after comparing the various modes, I can't say I detected an improvement in color detail with either upsampling option selected.
If you simply want to send a bitstream output to an external receiver for decoding, you need to select Auto in the HDMI Audio Out menu. But if you want the player to first decode soundtracks internally and then send them to the receiver as multichannel PCM over HDMI, you need to select PCM. With the PCM output active, the player can decode the primary high-rez Dolby TrueHD soundtrack when a movie's secondary audio track (director and cast commentary, for example) is also enabled. The Pioneer's ability to do this sets it apart from many other players we've tested recently, some of which down-rez the main soundtrack to basic Dolby Digital or DTS when secondary audio is active.
Along with testing the player's bitstream and PCM-over-HDMI output capabilities, I also hooked its multichannel analog output up to my A/V processor's 6-channel analog input. The BDP-05FD offers only a limited amount of setup options here. You can set the speaker output as either Small or Large (with Small, the electronic crossover point is 100 Hz). But that setting applies to all of the speakers in your system, and there are no center- and surround-channel delay adjustments. (Once again, this audio shortcoming might be addressed in a future firmware update.)
LATEST VIDEO