Pinnacle AC Sub 100 Subwoofer
The Search Is Over: Pinnacle's AC Sub 100 subwoofer is the perfect fit for many systems, not just budget ones.
Get a load of those feet. Someone slipped a set of solid-brass isolation cones on Pinnacle's AC Sub 100, a working-class $350 subwoofer dressed humbly in black vinyl. So what's with the magic slippers? Another Cinderella story perhaps? Or is it merely a Mr. Blackwell- caliber fashion faux pas, like matching Prada with Wrangler? Well, the AC Sub 100 isn't a thing of beauty, but you can take it to the ball—or put it in your entry-level home theater—without embarrassment. This 13-inch cube can dance a bit. The AC Sub 100 resides at the low end of Pinnacle's subwoofer line, and its feet are hand-me-downs from the company's more-exotic designs. They're standard equipment on, among others, Pinnacle's $1,200 Digital Sub 600. Is there another manufacturer that fits such fancy footwear on its nickel-and-dime subwoofers?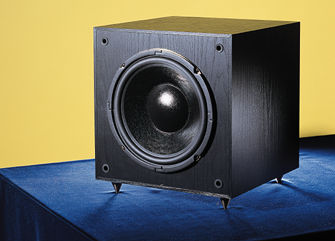 Unlike so many subwoofers in the ultralow-budget division, the AC Sub 100 also has a 10-inch driver. The heavyweight fiber-cone woofer allows the AC Sub 100 to dip down to a rated 33 hertz, a region most budget subs with standard 8-inch drivers have never seen.
Now for the more mundane. This bottom-vented sub with a fourth-order low-pass filter is powered by a 100-watt, class A/B amplifier designed by Pinnacle. It weighs only 22 pounds, which is frighteningly lightweight for a sub with a 10-inch driver. The cabinet is made of half-inch medium-density fiberboard. Knock on the cabinet, and it sounds as if no one's home, the hollow tone indicating a minimum amount of internal damping. In most applications, that makes it difficult to prevent vibration and the resulting dirty-as-a-compost-pile sound. However, the AC Sub 100's vented design relieves internal pressure to help eliminate vibration. Pinnacle has also incorporated an anticlipping circuit—also known as soft clipping—into the amplifier that prevents it from being overdriven at dynamic peaks, where it is susceptible to increased distortion. Pinnacle chose the 10-inch driver in part because it requires less movement and produces less distortion while reaching the same volume levels as an 8-inch driver.
And don't forget those brass cones. They reduce vibration against the floor, which could turn the sound into a muddied mess. The feet provide a critical service, elevating the sub sufficiently to give the bottom vent the room it needs to exhale. Isolation cones have long been thought to have magical powers, a tweaker's fetish, in reducing vibration and enhancing the clarity of all things electronic. The cheap plastic spheres included with the average budget sub just don't do the trick. I recall one company that offered an otherwise-excellent subwoofer costing about $100 more than the AC Sub 100, but the designers didn't even leave holes for the plastic feet. They packed the feet and metal screws in a bag with drilling instructions for the holes. That experience made my discovery of Pinnacle's brass cones even more pleasantly surprising.
There were more surprises to come. The AC Sub 100 I received not only lacked basic speaker-level inputs but also didn't have a variable crossover. Wait a minute. Beautiful brass isolation cones and no speaker-level inputs or variable crossover? What was this, Candid Camera? Turns out the particular sub I received was an earlier production model. The AC Sub 100 can function without the speaker-level inputs, since receivers typically have line-level connections. However, eliminating the variable crossover circuit means that the sub will only perform at its best when paired with a receiver with its own crossover-frequency settings. In this case, only one of the two receivers I had (the Outlaw 1050) was so equipped. Pinnacle has since added a variable low-pass filter (50 to 150 Hz) and an LED that shines red when the sub is powered on, but there are still no speaker-level inputs on this sub.
The AC Sub 100 does have a phase switch, a level control, and a single line-level input; however, it lacks an auto or manual on/off switch. So, if you're using the sub with a receiver that has no switched AC connections, like the Outlaw, you'll either have to shut it down by unplugging it or simply leave it on around the clock.
Even so, the AC Sub 100, paired with an assortment of PSB Alpha speakers and the Outlaw receiver, makes a superb entry-level setup for less than $1,600. The 10-inch driver needed an extended break-in, so I left the Pinnacle's crossover at its highest setting, shut down all the other speakers, and ran MTV through the sub for three days. Then, with the sub about 2 feet from the far corner of the room, I calibrated the system using test signals from the Avia Guide to Home Theater disc. When I checked the AC Sub 100 at about 40 Hz (where most budget subs bottom out), it measured a rockin' 98 decibels without overextending itself. That 40-Hz sock proved to be the sub's signature.