Peter Frampton Is All About The Blues
Peter Frampton is a man with a mission. Though he was diagnosed a few years ago with a rare degenerative disease called inclusion body myositis (or IBM, for short) — an inflammatory muscle disease that affects the functionality of a person's arms, legs, hands, and fingers — the legendary British guitarist/vocalist decided to literally not take this potentially crippling news lying down. Instead, Frampton chose to maximize his time in the studio creating and recording as much music as he could before his motor skills began to fade beyond productivity. Not only that, but he recently embarked on an extensive string of summer/fall live dates dubbed "Peter Frampton Finale: The Farewell Tour," an historic run that's currently set to come to a close in October.
Meanwhile, All Blues (UMe), the first recorded salvo from the duly christened four-piece Peter Frampton Band, was released in June, whereupon it promptly (and quite rightly) debuted at No. 1 on the Billboard Blues chart and stayed there for six weeks straight. Eleven tracks, ranging from the not-so-sneaky slide attack on Willie Dixon's "You Can't Judge a Book by the Cover" to the down-home snarling buzz running throughout Slim Harpo's "I'm a King Bee," all show Frampton's inherent mastery of and respect for the blues artform.
Even better, All Blues just came out on double 180-gram black vinyl in mid-August, with a limited-edition translucent-blue wax version made available exclusively through PeterFrampton.com. Both 2LP versions contain a vinyl-only bonus track at the end of Side C — "I Feel So Good," written by Big Bill Broonzy and made famous by Muddy Waters — while the fourth side boasts a laser-etched Peter Frampton Band logo, guitar, and complete track listing that mirrors the album cover.
"I'd never seen a design on a fourth side like that before," Frampton enthuses. "It changes in the light, and it looks so cool! Obviously, if you make something for a CD, it can be almost as long as you want. But to be able to put that bonus track on the vinyl, and also be able to have the option of the heavier-grade vinyl and mix it all so that it was nice and loud — yeah! That was the right way to go with it."
Frampton, 69, and I got on the horn a few Saturdays ago during one of his days off from the road to discuss why first or second takes are the best options, why the sun is a recurring theme in his songwriting, and why he feels his Farewell Tour needs to be his final hurrah. You know I done enjoyed things that kings and queens will never have. . .
Mike Mettler: I'm glad that "I Feel So Good" is the vinyl-only bonus track for All Blues, because I'm sure that sentiment fits in with how you must be feeling about how this record has been received.
Peter Frampton: Absolutely! I mean, debuting at No. 1 was a complete surprise. We knew we had something that we felt sounded really good, and the band is hot on it. And, as you know now, no matter what I throw in front of them, they can do it — and do it so well! I'm so lucky.
Mettler: As I understand it, you guys played 70-something live dates together before you went into the studio to cut this album live, face to face. Was that a decision you and your co-producer Chuck Ainlay made together, or was that your call?
Frampton: No, it was my call. Chuck and I had already spoken about doing some stuff together because I wanted to start to stockpile some recordings for, you know, obvious reasons. I just said, "Are you available here, after we've done 71 shows? I think we're going to take nine days off." (chuckles) And then we went straight into my studio [Studio Phenix, at his home in Nashville], and for the blues concept, we cut around 30 tracks. Well, we tried — we kept 23, and we finished those. Some of them, I felt, "This isn't me," or "This one, I'm not sure." We just went with the ones that happened straightaway. We knew those would be the ones that had the most energy and passion.
It was a great period of recording. We booked it right after that tour, and we were basically in from the end of September [2018]. We took a break for Christmas (chuckles), and then we did some more. We didn't stop recording. We were working on the fourth project, right up until we started to rehearse for this tour.
Mettler: Four projects already? No rest for the, uh, well. . .
Frampton: Wicked! You can say it! (chuckles heartily)
Mettler: (laughs) Why not? It's fair to say. But you must feel great to be in that kind of creative groove, like, "Let's just get it all down while I can do it."
Frampton: Exactly. It's a phenomenal feeling knowing that we've got such great stuff down already, and it's all of the quality of All Blues — that was the criteria. There's always a bar I find early on in a project, when something sort of exceeds your expectations. And then you go, "Oh wow. If that's what happens, then that's the level we've got to get them all to."
Mettler: Was there one particular track that served as that lightbulb moment, the one that was the benchmark?
Frampton: I'm pretty sure [the Willie Dixon/Muddy Waters classic] "I Just Want to Make Love to You" was probably one of the first ones where we went, "Alright — that's it!" (chuckles) There's such a great feel on that one, and that's why it's the opening track [i.e., Song 1 on Side A]. It just says, "Here we are!"
Mettler: You have that nice growl in your vocal on that one with just a slight echo on it, and [Fabulous Thunderbirds frontman] Kim Wilson does a great harmonica bit on there too.
Frampton: Oh yeah, he's wonderful.
Mettler: Because you and Chuck have worked in the studio together for so long [going back to Ainlay's 2001 25th anniversary remix of Frampton Comes Alive!], you guys have a shorthand where he just knows the type of sound you need to get pretty much instinctively, right?
Frampton: Chuck is one of those incredible engineers who brings the best out of what's in front of him, and what's coming through the speakers. He doesn't necessarily have a "stamp," you know what I mean? It's just incredible working with Chuck because, first of all, when you cut the track and come inside [the control room], it sounds like a mixed record! (laughs heartily) He's always mixing! From the very first take onwards, he's got it. You walk in, and it sounds like a record. I don't know how he does it, but it's just phenomenal. I've worked with a >slew of engineers over my career, some ones, and Chuck is right up there with my favorites.

Mettler: I hosted some surround sound panels at the Consumer Electronics Show a few years back, and Chuck sat in on one. He's got such a great ear, especially for the surround sound arena. Frampton Comes Alive! came out in the DVD-Audio format back in the day [circa 2004]. Have you considered surround sound at all as an option for this album, or for any of your other upcoming releases?
Frampton: Umm, I haven't got that far yet. I'm not sure, but I'll speak with Chuck about it. I know there's a new format that you probably know the name of — something in which I heard an Elton John remix.

Mettler: Oh, that's probably Dolby Atmos. It's quite something to experience.
Frampton: That's it! That's the one. You can play it all throughout the room.

Well, I'm very proud of the recordings we've done with Chuck. It's not just that he's a good engineer and a great producer — he's a great ideas man too. He'll just make one suggestion that will start this whole thing going where it's supposed to go. I've always done everything on my own, but when I started working with Chuck, I saw that we needed to make this a partnership in production, because his ideas are invaluable. At one point, he said, "I'm going to be away for a few days — do you want to do some guitar overdubs while I'm gone?" And I said, Oh, no no no — I want you there!" (chuckles)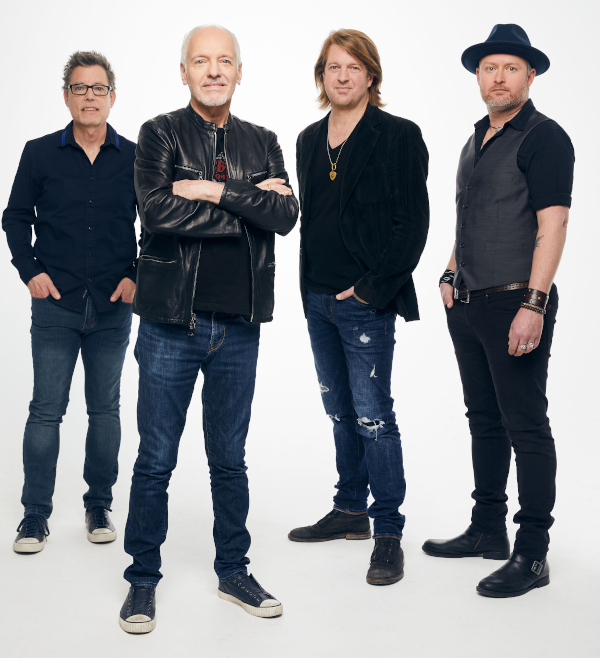 Mettler: When the needle goes down on "All Blues," the Miles Davis track from [August 1959's] Kind of Blue that you do with Larry Carlton on electric guitar, that one just puts me in a special space — and that was a first take, wasn't it? You guys had never played that song together before that moment.
Frampton: We never did, yeah. Rob [Arthur] obviously did some woodshedding on the piano part beforehand, and he does such an excellent job. We all listened and played along with the [original] record at home, and when we got in the studio that day, it was the first track we did. [Guitarist/vocalist] Adam Lester and I just worked out those horn parts and harmonies, and we thought that was such a nice twist.

Mettler: You have such an intuitive feel with musicians you're comfortable with, and that's what comes across on this track, because you guys know each other so well. You could both follow and lead where the song took you.
Frampton: Oh, well, thank you. The ones that we keep are usually the ones that are Take 1, or Take 2. If we're going down the ladder there, or down the road with Take 4 or Take 5, then we go, "Ehhh, we might want to think about this one." Because now we're thinking about it — and the beauty of it, as you just said, is that the band, we've played together so much that we all go to the same place together. And it's funny, because we do it without talking about it. We know straightaway if something is up our alley, you know what I mean?

Mettler: I do indeed! And, of course, that signature talkbox of yours [see the infamous Frampton Comes Alive! track, "Do You Feel Like We Do"] eventually shows up in your cover of Slim Harpo's "I'm a King Bee." It's a pseudo Easter egg near the end of Side C. You wonder if it's going to show up anywhere on the record at all, but that's the only place it actually fits.
Frampton: Yeah, well, I just used it to put a little bit of humor there. I thought, when he [Slim Harpo] just goes [in bluesy-gnarled vocal tone], "well, buzz awhile" (chuckles) — it makes you laugh when you hear him do it, so I thought that was the only place we'd put the talkbox. It's just like a little sound effect, basically.

Mettler: When you were working on Howlin' Wolf's "Going Down Slow" with guitarist Steve Morse, you didn't feel the lyrics were all that personally relatable at first. When did that change for you?
Frampton: Obviously, I realized that later, but I've always loved the song. It wasn't until we actually started playing it that I went, "Oh! What have I gotten myself into?" (chuckles heartily) I just love that track; always have. But I could feel it — and I'm sure that was Take 1 or Take 2 again, but it was definitely an emotional moment for me, when I realized exactly what I'm singing here. We'd done so many tracks before that one, and I could feel the band, like they were all in the vocal booth with me. (chuckles again) They felt so close!

Mettler: It's a very intimate thing to go there like you did. And I know we've said it to some degree already, but hearing this record on vinyl is the best way to experience it, wouldn't you agree?
Frampton: I can't wait to put it on when I get home from the road! (laughs) But, yes, vinyl is instrumental to my listening habits. The last thing I played on my vinyl setup at home before I left for the tour was my original mono version of [The Beatles' June 1967 masterpiece] Sgt. Pepper.

Mettler: Which is the "correct" version. I think we're allowed to go that far in characterizing it that way.
Frampton: We are allowed to say that, yeah.

Mettler: You must have grown up listening to mono records, mostly. I mean, The Shadows' first record was one of the first ones you owned as a kid — one that your father brought home, right?
Frampton: Yes, yes — The Shadows, just called The Shadows [released in September 1961]. Before I got the album, I got all the singles, because in those days, you didn't put the single on the album. The album was a separate entity. You had like three hit singles, and then the record company thought, "Well, if they have three hit singles, maybe we can do an album with this band." That's the way it worked.

Mettler: When you were in The Herd [the English pop band Frampton joined as a teenager in 1966], were you thinking "album" or "single" as an artist, at that point?
Frampton: Oh, we were thinking single. And I don't believe that, on the [1968] Herd album, Paradise Lost — the one where the title track was also the second single — "From the Underworld" was on it, and that was our breakthrough single.

["From the Underworld," released in August 1967, featuring a then 17-year-old Frampton on lead vocals, and it reached No. 6 on the U.K. singles chart. "Paradise Lost" was released as a single in November 1967, and it reached No. 15.]

Mettler: You always seem to have such a sunny disposition. Your outlook is always positive, no matter what you're facing. It's been a constant throughout your entire career. Have you ever given thought as to why that's the case?
Frampton: (slight pause) Not really. I guess I just accept it. Yeah, I mean, I have my ups and downs just like everybody else. But when I'm talking about my passion, it brings the passion out in what I'm saying about it, and playing music, writing music, singing music — I think I was meant to do this, you know? (chuckles) It was what I was brought here for, by my mom and dad.

Mettler: I can see that. The other reason I ask is because you have a number of songs that have "sun" in the title. Like "I Wanna Go to the Sun," from [March 1974's] Somethin's Happening, or "Road to the Sun" on [April 2010's] Thank You Mr. Churchill — which I did buy on vinyl when it came out, incidentally — and you also worked with your son Julian on that one. There's a lot of sunny things to be found in your work, so that must mean something to you as a songwriter.
Frampton: Yes, I'm sure there is. But I don't wanna analyze it, because I'll think about it too much. (chuckles) But when I started writing, there were no rules as to what the songs had to be. If you listen to a song like "I Wanna Go to the Sun," the form of the song is completely bizarre! (laughs heartily)

No one told me, "You have to have a beginning part to the verse, and then a B part of the verse. Then you go to the chorus, and then you have a second verse." No one told me that there was this format. And then when I learned there was this format, it sort of bummed me out!

Mettler: It reminds me of your friends The Beatles: "Let's put the chorus first, before we even sing a verse." Why not? Why do you have to be locked into a format?
Frampton: Exactly! If the first thing that you write is that chorus, it doesn't sound right not having it first. I've got a couple of songs like that, I think.

Mettler: I think you're right about that. Finally, I know you're touring into the fall. Do you feel like you want to go beyond that? Can your Farewell Tour extend? Is that even possible?
Frampton: I have to be "realistically cautious" — that's my term for it. I don't want to say yes to anything right now further than the end of the tour [in October] because I want to see how I'm feeling and then take stock of how I am, how my playing is, and if it's being affected at that time.

But I probably won't, because — and I've said this before — I don't want to go out where people go, "Ohhh, yeah, it's good to see him, but it's obviously affecting him now." I don't want that. I don't want that at all.

On this tour, I feel like I'm playing so differently. I've gotten over a brick wall, in a way — and I firmly believe that it's the audience that's bringing it out of me. Because of their passion, the shows have been incredible.