Paula Cole Rekindles the Hi-Res Passion Behind This Fire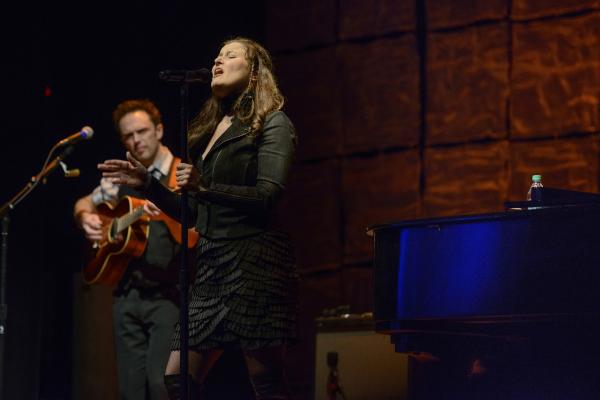 Paula Cole has always been an artist with a singular vision. The Massachusetts-bred singer/songwriter had designs on controlling her own destiny right from the get-go of her career, which led her to be the producer calling the shots for her breakthrough album on Imago/Warner Bros., 1996's
This Fire
. "I couldn't bear having someone else choose my musicians and who I'd play with," Cole explains. "For one thing, the album is out there forever. I'm fortunate to have been able to make the albums I've wanted to make over the years, and I've been guided by that little voice inside to the point where I'd rather have a smaller career and be independent, because it feels right."
And she's still on point to this day. In celebration of the recent 20th anniversary of This Fire, Cole re-recorded the majority of the album live on May 1, 2016 at The City Winery in New York, along with revised/new studio versions of "Where Have All the Cowboys Gone?" and "I Don't Want to Wait" for release as This Bright Red Feeling on her own label, 675.
Not only that, but Cole also shot a new video for the iconic "Where Have All the Cowboys Gone?" which debuted on Yahoo before being made available on her own YouTube channel. The video, as directed by her close friend, actress Melora Hardin (The Office, Transparent, The Blacklist), features an update on the gender roles often misunderstood in the lyrics. "That's my director having a lovely sense of humor — wanting to make it a charming love story," Cole says with a knowing chuckle.
Cole, 48, and I got on the line to discuss her original production goals for the sound of This Fire and its re-recording, working with Peter Gabriel, and her thoughts on streaming. Let's not wait to hear what she has to say. . .
Mike Mettler: You self-produced the new version of "Where Have All the Cowboys Gone?" and the entire This Bright Red Feeling album. It must be comforting to some degree to be able control the sound of your recorded output.
Paula Cole: That's right. It's partly motivated in that I want to own the masters. I'm a product of the '90s and those big record deals, and artists were pretty well taken advantage of then. So I wanted to own the master, and I wanted to put a new spin on it.
Mettler: It does have nice spin on it, true. On the original recording of "Cowboys," there's a bit of a whisper to the vocal at the outset, but it's a little bit more direct this time around.
Cole: Yeah. I mean, I did try to replicate it sonically and get that original organic vibe matched. And I do like to produce. I enjoy that. It's part of the artistic expression of it all for me.
Mettler: For the modern version, did you cut all the tracks in high-resolution — 96kHz/24-bit?
Cole: Yes, exactly that. I'm not an engineer, but in the early days, I'd learn all the new formats. In the '90s, we moved over to ADAT, and when Pro Tools finally kicked in, I was just too busy to be engineering at home, and I stayed busy when I became a parent. So that's on my bucket list — to finally get proficient with Pro Tools! (laughs)
I'm not so strong with it yet, but I'm able to express myself. There are so many other aspects to production; it's a wide set of skills, right? You need people skills. You need arranging chops. You need a strong sense of how to get the right acoustics in a studio, and calling the right people. I prefer to work with a highly proficient engineer, and then work it out that way.
Mettler: In revisiting This Fire as a critical listener, the individuality of you as a performer is well-captured. The whole album sounds like you an artist expressing yourself as, "This is who I am." I'm sure there were business people trying to make you do something else on the album. But to me, it sounds like, "No — I'm going to be like the 'Tiger' here, and do it my way."
Cole: Well, thanks! There were a couple of artists who inspired me to be that way — namely Kate Bush, for one. She was so unique, and nothing sounded like that. I'd turn over her cassette tapes where it would say, "Produced by Kate Bush." That was radical — totally radical to be produced by the same artist, rather than the star producer who does five or ten projects a year.
Mettler: Speaking of Kate, a lot of people were probably first introduced to you on Peter Gabriel's Secret World Tour [in 1993–94], where you got to sing Kate's iconic duet with Peter, "Don't Give Up" [a track originally found on his 1986 album, So]. How was that as an experience for you, to connect to her and the song in that way?
Cole: The tour with Peter was my first tour. It was crazy that that would be one's first tour — five-star hotels, and flying business class. It was all downhill from there! (both laugh)
The musicians on that tour were some of my favorite musicians in the world. I had been listening to them for years, and I had been inspired by them. And, of course, Peter — he was a mentor to me. He was a huge influence. I was nervous and star-struck, meeting my musical hero. I just wanted to do the best for him that I possibly could.
And I was ready. I had graduated from the Berklee College of Music as a jazz singer who had started writing her own songs. I was signed to Imago at the time, and had my first album, Harbinger (1994), waiting in the wings. And then Peter asked me to join him after hearing Harbinger. I flew to Germany, and was thrown out in front of 16,000 Germans on those stages, learning those dance moves and dealing with those lights.
Secret World Live was filmed just days after my joining the tour [November 16-17, 1993, in Palasport Nuevo in Modena, Italy]. We did the show twice, and I knew the music inside and out. I was devoted to the music, and I just loved him very much. I put my best into it, and there you have it.
I toured with Peter over the course of 1994, and then I'd fly home to the States, hop in a rental car, and drive around the States playing coffeehouses with my own material. I very much wanted to be my own artist. I didn't want to be a backup singer, even though it was the most glorified backup singing gig you could possibly get — and I loved it dearly. But I wanted to be free in my own music.
Mettler: You had to assert your identity. People saw in that Secret World Live "Don't Give Up" performance how you set the template and a standard for that role, where it turned into a highlight of the show with the other backup singers Peter has had with him since then.
Cole: Well, I love that song. The moment I heard it, I felt somewhere in my bones I needed to sing that song in the world. Originally, Peter wanted Dolly Parton to sing that part and she couldn't do it, so he got Kate, and it became this wonderful thing. I just adore Kate Bush, so it's been a very important song throughout my whole life, really.
Mettler: When you were producing This Fire, who did you look to as your mentors for the sound you were going for on that album?
Cole: Well, certainly Peter Gabriel was a huge influence. He's someone who combines Earth and sky symbolically — Earth in the drum grooves, and sky in the technology and ethereal nature of it. My drummer, Jay Bellerose, is very much a roots musician. I insisted on having him by my side in those early days, even though the record company wanted me to play with their stock of recording drummers. Instead, I stuck my neck out for Jay and my guitar player, Kevin Barry.
And these were the days of the record company wanting to make all of those decisions for you — pat you on the head and say, "Be well, pretty girl! We have an established drummer." And I'd say, "No, he's a really good drummer."
What's satisfying now is to see T Bone Burnett sees how good Jay is, and he goes out of his way to use him on every project he can. Jay is so special. Jay and I grew up together, and he was a part of my sound. He shaped me and influenced me very much. He's very earthy, and very much influenced by soul, roots, and jazz drummers.
Mettler: And you had Tony Levin play bass on that album too.
Cole: Yes! I just heard it all together: Jay being the root, me being the upper portion of it — the sky, if you will — and Tony, who can be placid and simple with very secure footsteps one moment, but then he can also be explorative, like his part on "Feelin' Love." He's very adventurous, but also very Earth-based.
I just wanted to combine my world — my experience with Peter and my world that was already in existence with my friendships with Jay and Kevin. We brought in Greg Leisz, because I heard him play on k.d. lang's Ingénue album (1992). Greg played all that gorgeous pedal steel on that album, and it just turned my head when I heard it. I longed to work with him. How wonderful that was, and the friendship that started.
We had to make the album quickly. We made it in a couple of days, with all the drum tracks, the performances on keyboards and vocals, and little bits and bobs like clarinet and didjeridu. We laid down the framework and then brought in Tony, who took a half day or something, and Greg Leisz, who took about 3 days, because there were a lot of parts — especially on "Where Have All the Cowboys Gone?" That guitar comp took all night. That was a very rich experience.
Mettler: On "Nietzsche's Eyes," I love the unbridled character of your voice when you repeat the line, "Getting down this." Other producers may have wanted to have cleaned that up. It also comes through on "Tiger."
Cole: That's right. The pain and the ugliness of it. (chuckles) It's on "Mississippi" too — all those unbridled moments.
Mettler: My favorite track is still "Mississippi." I love the way it swings, and the overall grit to it.
Cole: Oh, nice! Grit — definitely grit, and didjeridu. It's really art-rock too.
Mettler: Sequencing-wise, I like how "Mississippi" follows "Carmen." I like the subtle voice choice you have there where you're singing with yourself.
Cole: That's right — it very much a high-end track, inspired by Bob Marley and doo-wop, and singing very softly.
The sequencing of This Fire was very important. Sometimes the gaps are very tight, like a 1970s Stevie Wonder album, and then sometimes they need time. I did heads and tails pre-production, thinking about that sequencing. It took me weeks to come up with that sequence. But I had the sequence in mind when we went in and recorded it, and we recorded it back to front. The very first song we recorded was "I Don't Want to Wait" and then we moved backwards, with "Tiger" being the last.
Mettler: "I Don't Want to Wait" has certainly take on a life of its own in other universes. And I just looked at the numbers of Spotify, where it currently has over 10 million listens. As an artist, how do you feel about the streaming universe?
Cole: Well, on the one hand, it's completely crushed income for artists. That was Prince's fight until his death, and now his estate, for whatever reason, has made his catalog available for streaming. So it's affecting everybody, from the legendary acts who have sold gazillions of albums — they're losing income, as are the smaller artists.
It's an absolute tragedy, because artists make something out of nothing. We make healing art that's beautiful and transformational, and streaming has changed our income.
I don't know how artists will survive in the future. We have to be smart. We have to tour, and we have to find ways to make it physical, so that you can monetize what you do. But on the other hand, it's an incredible tool for a consumer, and I, myself, use it.
Since the Napster era, I feel like there's been less and less expectation with music overall, and it's sad to see society becoming less musically literate. Nowadays, engineers can fix albums to sound clear, rather than the musicians being clever. And that's a shame, because musicianship can be so profound.