Pat & Deborah Mastelotto Reveal How They Romanticized King Crimson
It's not a complete misnomer to observe the audience for King Crimson music tends to skew more towards the male side of the listening ledger—but that statement in
no way
means their forward-thinking music holds little or no sway with female music aficionados and audiophiles alike. In fact, far from it.
This is where The Mastelottos come into the picture with a holy mission to further reimagine Crimson music for all chromosomal combinations on the progressive-listening spectrum. The Mastelottos comprise the power of two—namely, 1) innovative drummer Pat Mastelotto, a man who's been a backbone member of King Crimson's mighty drumming corps since 1994; and 2) his wife Deborah Mastelotto, a skilled jazz singer in her own right. Under The Mastelottos moniker, they've sought to put their own unique insider spin on a level-dozen King Crimson classics on A Romantic's Guide to King Crimson, out now from 7D Media. Crim Heads can access all 12 tracks on the beautifully designed six-panel gatefold digipak CD and/or via hi-res streaming and/or downloadable hi-res digital-file platforms (FLAC, ALAC, WAV, etc.). Go here to choose your own listening path.)
Think "Twin Peaks meets Kate Bush," and you'll instantly get the aurally seductive vibe this dynamic in-sync duo have set forth with their atmospheric takes on Crim classics like "Moonchild," "Book of Saturday," Exiles," "Elephant Talk," and "Sleepless." The Mastelottos are aided and abetted with a little help from a number of their musician friends who have partaken in the Three of a Perfect Pair (a.k.a. TOAPP) Music Camp, which is usually held annually in The Catskills. (Go here for information about the next Camp—which is set to feature master counselors Pat Mastelotto, former Crimson guitarist/vocalist Adrian Belew, and stalwart Crimson bass maestro Tony Levin—and is currently slated for August 9-13, 2021, pandemic-willing.)
It took The Mastelottos some doing to find just the right groove for their Guide. "Pat started by trying to figure out a way to do jazz, but that's not really right for him. He's not that guy," details Deborah. "Finally, I said, 'Baby, you've gotta do it your way. Just make it pretty.' That's why this record is so unusual. It's got a few jazz influences and it's also a little lounge-y, almost like acid jazz. But then you hear these elements of Pat's background—and I think that's what makes it interesting. It's still a Pat Mastelotto record."
Pat—who has also worked with the likes of XTC, Cock Robin, Robyn Hitchcock, and David Sylvian, and was a key member of '80s chart-toppers Mr. Mister ("Broken Wings," "Kyrie")—confirms King Crimson co-founder and major guitar domo Robert Fripp is onboard with what the married pair and their TOAPP cohorts have done with the Guide. "It's been a blessing for me, and for us, to make this record knowing Robert as well as we do—and knowing how he would encourage us to make it sound new," Pat acknowledges.
Recently, I called The Mastelottos at their homebase in Austin, Texas, to discuss just what makes A Romantic's Guide so appealing to a broader listening audience, how King Crimson's all-star drumming backline trio mastered their challenging move to the frontline, and which Crim songs the band still talks about as being the most difficult to play live. It's alright, the rumble in your ears / It's alright to feel a little fear . . .
Mike Mettler: The way I interpret your intentions for A Romantic's Guide to King Crimson is that you bring masculine music into a more palatable universe for non-Crim Head people to get into. What you're saying is, "Everybody can come into this water. It's fine."
Deborah Mastelotto: I love that talk—that perspective of it. That's exactly what we were shooting for.
Pat Mastelotto: And now, I must admit, I wake up worried about it. Like, the real Crimson fans will be like, "Why did he leave the back door open?" (all chuckle)
Mettler: "This was supposed to be our house!" (more laughter) Well, we kid about that. Come one, come all! Anyway, Deborah, what was it about King Crimson music that appealed to you before you decided to make some of it your own?
Deborah: I love how complex Crimson music is. It's such an interesting combination of beautiful lyrics and melodic sections. And then, the thing about Robert [Fripp, the aforementioned King Crimson co-founder and linchpin guitarist] is, he's always had a very good ear for outstanding musicians—especially drummers, of course. He knows who's really good. He keeps his eye on the pulse of music. The musicians he includes in all his different kinds of Crimson ProjeKCts—and in every incarnation of Crimson—they're the best musicians of that era for that time. And you've got to appreciate it—especially live.
Pat: I should mention that Deborah had never seen Crimson before 2008. Her first time seeing King Crimson was in Chicago [during their August 6-8, 2008 run at Park West, on the 40th Anniversary Tour]. We were just dating then.
Mettler: Deborah, were you aware of King Crimson music before you and Pat even got involved? Was it something you personally liked outside of the relationship, before it even started?
Deborah: No, I wasn't a fan, I'm embarrassed to admit—although, when we started dating, we realized there was a lot of crossover in our music collections. Like, I had a lot of Steven Wilson albums in my collection, and Pat was kind of surprised about that.
I had No-Man, and nobody has No-Man! [No-Man is an occasional art-pop-oriented collaboration between Steven Wilson and Tim Bowness.]
Pat: No-Man—I didn't even know them, and she was like, "Oh, no no no."
Deborah: My daughter, believe it or not, she's a huge Crimson fan. She's very musically literate, and she introduced me to it. She said, "You don't even know what he's [Pat's] doing! You should really start doing your research." People who'd meet us as a couple are always surprised we didn't meet at a show, or I wasn't a Crimson fan. I didn't know. I had my own thing going on. I just liked him as a person! (laughs)
Mettler: Well, it looks like it worked out for everyone involved. I understand you guys originally worked up about 20 songs for the Guide at first before cutting it down to 12. How did it all come about?
Pat: Do you know the iPhone app called Amazing Slow Downer? Well, Jeremy Stacey turned me onto it. I use it for the Crimson stuff sometimes, so we can slow down and change the key, and stuff like that. He was using it to learn some of his parts. [Jeremy Stacey has been a drummer and keyboardist with King Crimson since 2016.]
So, Deborah and I experimented a lot with that app while in hotel rooms and traveling together. We were picking different songs, slowing them down, and finding the key, Then, I tried to get Deborah to sing them so I could see if they were going to feel believable.
There are some songs like "I Talk to the Wind" [a key track from King Crimson's seminal October 1969 debut, In the Court of the Crimson King], where I just didn't feel like we could bring anything different to it.
Mettler: That's interesting. I had it in my notes to ask if "I Talk to the Wind" would have been one of the songs you might have tried to do.
Pat: We absolutely tried it, but we couldn't get it. I couldn't find it. (laughs)
Mettler: I hear you. What else didn't make it to the final cut?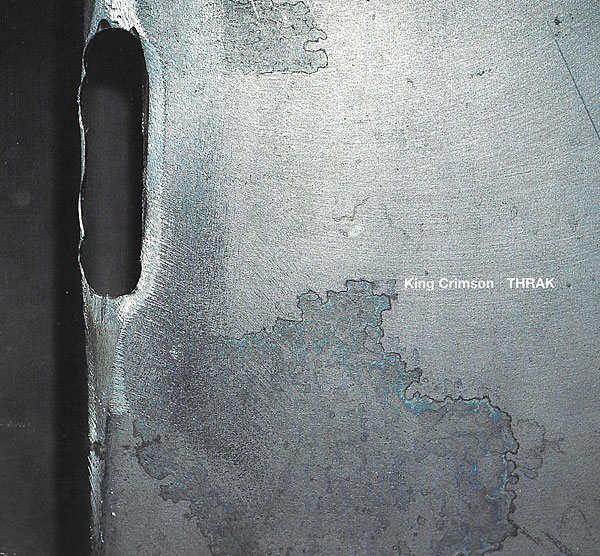 Pat: Going in, I wanted to try "The Great Deceiver" [the lead track on Crimson's March 1974 album, Starless and Bible Black], but that was too difficult. I mean, we couldn't get it "pretty" enough. We thought about "Walking on Air" [from April 1995's THRAK] and "Starless" [from October 1974's Red], but they seem like they've already been done as romantic ballads.
Mettler: Yeah, it's that "Sheltering Sky" kind of vibe. ["The Sheltering Sky" is a particularly touching instrumental from September 1981's Discipline.]
Pat: Right. Since that song didn't have a lyric, we thought about putting poetry over it. In fact, we put a little bit of "Eyes Wide Open" [from March 2003's The Power to Believe] in there. We have a little bit of "Epitaph" [from October 1969's aforementioned In the Court of the Crimson King] at the beginning of "Sleepless" [from March 1984's Three of a Perfect Pair]. Actually, in my head and my imagination, we had a really great arrangement for "Epitaph," but it would have taken probably years (laughs heartily) for me to achieve what I wanted to get for it—this sort of Nina Simone, big-band '50s arrangement.
Mettler: I think you'll just have to do another album, to cover all your bases.
Pat: Well, we've talked about it.
Deborah: There's certainly enough material! It's easy to do another record when you've got really good songs already, and Crimson has some really good songs.
Mettler: No argument here. I also jotted down in my notes that—and Deborah, since you're from Hollywood, you'll get the pitch here—it's like Twin Peaks meets Kate Bush, in a manner of speaking.
Deborah: Oh yeah! Yes! Yeah, we've been told that, actually.
Pat: That's great. We referenced some of that. I mean, I had to use help from other musicians—real musicians (chuckles)—to help me sketch out the songs in certain ways, so a lot of times, those were my references too. I'd take a little clip of Lost Highway [a 1997 neo-noir film directed by Twin Peaks impresario David Lynch] and go, "I want this trombone vibe in this one."