Panasonic SC-ST1 & SC-HT900 HTIB
Panasonic's striking—and strikingly similar—HTIBs.
Another case of separated at birth? If you close your eyes during a movie, it's difficult to distinguish Panasonic's top-of-the-line SC-ST1 from the middle-of-the-pack SC-HT900. Open your eyes, and it doesn't get any easier to tell these two home-theaters-in-a-box apart. Aside from the Penn-and-Teller, tall-versus-small DVD receivers and slightly different center-channel speakers, the two systems are dead ringers.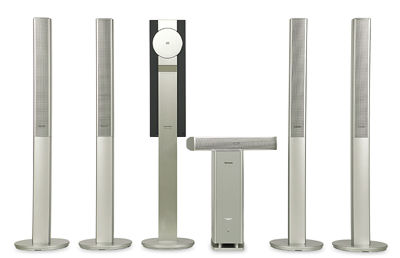 Most surprising, Panasonic has equipped the $500 SC-HT900 with a five-disc changer, slightly more power, a superior center-channel speaker, more connection options, and more up-to-date technological features than the $1,000 SC-ST1. As a showpiece, the striking SC-ST1—with its 3.5-foot-tall, skyscraper-style single-disc DVD receiver—justifiably stands atop Panasonic's newest one-package home theater systems, but the SC-HT900 has its own allure: its flat-line DVD receiver (which isn't much taller than an anthill) and its budget sticker price. Both systems have a Dolby Digital/DTS receiver with a progressive-scan DVD-RAM deck that also plays DVD-Audio discs and the usual CD and CD-R formats.

Panasonic designed the SC-ST1 as a partner for a plasma display and a big-room system that requires some open floor space. The SC-HT900 typifies the shift to compact electronics in an HTIB. Its gleaming-silver DVD receiver that can't reach 3 inches on its tiptoes will have no trouble fitting in, either physically or stylistically.
How much space the rest of each system occupies is up to you. Each uses a long (about 21 inches high) and lean (about 3 inches wide) tallboy satellite that you can build up, Lego-style, using a snap-on plastic stand that attaches to a heavy, round, metal base. At its peak on a stand, the satellite is almost 42 inches tall. Removing the stand and locking the speaker directly to the base cuts its height in half, making it more suitable to place on an end table or bookcase. Yet another option lets you mount the speakers on the wall (the stands, alas, must sit this one out).
Each satellite is stocked with a 2.5-inch pulp/natural-fiber driver and a Piezo-type supertweeter made of polyethylene terephthalate, whose size Panasonic chooses not to disclose. The SC-ST1 satellite's grille is metal mesh; the SC-HT900 satellite's is gray cloth. From a distance, they're almost indistinguishable. The erect speakers make a strong, silvery style statement.
The SC-ST1' s center-channel speaker stretches almost 17 inches wide, but not even 3 inches high or 4 deep. In these small quarters, Panasonic has loaded a 1-inch semi-dome tweeter and four 2-inch versions of those pulp/natural-fiber drivers in a rear-vented, bass-reflex design. A big-screen TV will dwarf this tiny center channel, which weighs only 4 pounds. The SC-HT900's stockier center-channel speaker—almost 10 inches wide, 5.5 deep, and almost 6 high on its screw-on stand—has a 2.5-inch driver on either side of another mysterious supertweeter in a rear-vented enclosure. You can also mount it on the wall after you remove the stand.
Externally, the SC-ST1's and SC-HT900's subwoofers are identical: 26.5-pound minitowers that are about 18 inches high, 6.5 wide, and 17 deep and utilize a side-firing, 6.75-inch durable-cone driver in a rear-ported enclosure. The subwoofer also houses each system's amplification. At the speakers' rated bandwidth in Dolby Digital mode, Panasonic says that the SC-ST1 puts out 27 watts per channel in the front channels, 27 in the surrounds, 62 in the center channel, and 130 at the subwoofer. The SC-HT900's amp has a slightly different circuit board that allows increments in power in the front and surround channels (50 watts each), the center channel (100 watts), and the subwoofer (200 watts). It's hard to figure out why Panasonic chose to make their $500 system more powerful than their $1,000 system, especially since the latter is designed for use with a flat-screen display that would, logically, reside in a larger room. May the SC-ST1's successor be blessed with more wattage. All of the speaker connections run through the subwoofer's tiny, locking speaker clips. The DVD receivers lack power cords. Instead, a locking cable tethers them to the subwoofer, which has no controls. There's no variable crossover, volume control, or phase switch. You make volume adjustments through the DVD receiver.