Panasonic Low(ish)-Cost LED Projectors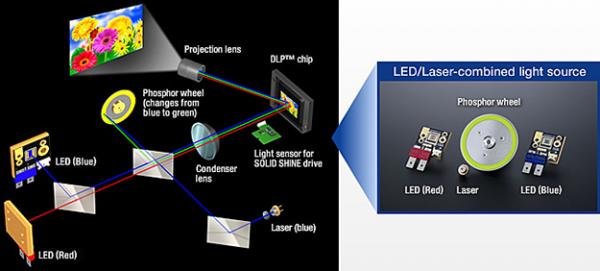 I am a vocal and unrepentant projector fanatic. I think projectors represent the best value in home entertainment, and wish more people would embrace the awesome as I have (for over 10 years now).
However, projectors aren't without drawbacks, and the UHP lamps in nearly all of them are a big one. Hot, expensive, and not particularly long lasting, UHP lamp replacement is often cited as one of the biggest annoyances of projector ownership. The alternative, LED lighting, has mostly just been found in uber-high-end projectors, and inexpensive wee little projectors.
But not anymore.
Panasonic has announced they're shipping four mid-priced LED-lit projectors. This is interesting on multiple levels. With a claimed brightness of 3500 lumens, these projectors should be pretty bright. The LED projectors I've reviewed were rated much less. The ultra-bright Epson 5020, which uses a UHP lamp (or a harnessed star, I'm not sure which), is rated at "only" 2400 lumens, and I got 60 footlamberts out of it. If Panasonic's projectors are really 50% brighter than that, color me impressed (and likely blind).
Like the Casio and Viewsonic projectors I reviewed, the Panasonic "Solid Shine" series of projectors use LEDs and lasers. Like the Viewsonic, these new Pana PJs use red and blue LEDs, and a blue laser hitting a green phosphor. As you can see in the image at the top of the page, there's no color wheel on these DLP-based projectors. Rec. 709-accurate colors (the HDTV standard) are promised, as is a 20,000 hour lifepspan.
The optional ET-YFB100 interface box might make installation easier in some cases. It's an HDMI input box that connects to the projector via CAT5. Uncompressed HD content can travel up to 328 feet. If the two HDMI inputs (and two RGB-PC) inputs on the FB100 aren't enough, the system is compatible with other HDbaseT switchers.
There are four models in the series. Two are available now: the 1080p PT-RZ370 ($5,899) and the 1,280x800 PT-RW330 ($4,599):
Both have a claimed contrast ratio of 10,000:1. The 1080p PT-RZ470 ($6,799) and 1,280x800 PT-RW430 ($5,499) are due in March, and have twice the claimed contrast ratio as the 370/330. The RZ470 also has built-in edge blending, so you could side-stack two for a massive, or amazingly bright, 32x9 (3.55:1) image. Yes, the widest movies commonly available are 2.35:1, but this would be way brighter than a single projector spread to that wide of a screen.
These are some of the few LED-lit projectors on the market, and share the rare mid-to-high price range with the Viewsonic. There are a few things I'm curious/worried about. LEDs can create some incredibly realistic color, even while matching the standard Rec.709 color space. Since Panasonic mentions Rec.709 compatibility, this is promising for the accuracy of the projector. However, because it's DLP, the native contrast ratio isn't going to be as good as any of the projectors we featured in our recent roundup.
So the question becomes, can these projectors offer enough extra brightness, while supplying accurate colors, to justify their price over the already-very-bright Epson, superior contrast-ratioed JVC, or the color-accurate Sony. We shall see.
Here's a video with a bunch of info: