Panasonic DMR-E10 Recordable/Progressive-Scan DVD Player
Recordable DVD . . . Need We Say More? Probably.
Here it is. The moment you've been waiting for. Recordable DVD! That's right. That last remaining excuse for you not to buy a DVD player has finally been expunged, at least to some extent. While they made announcements at last January's Consumer Electronics Show in Las Vegas, Nevada, manufacturers are just now following through on their release plans for recordable DVD players. As usual, the excuse was copyright issues, that never-ending thorn in home theater's side. Panasonic finally sent us a sample of the DMR-E10 DVD-RAM player, which should be available for the holiday season and, if nothing else, is just one of the coolest products to come along since DVD first came out.

But the DVD-RAM player isn't without a few glitches. If you missed features editor Chris Lewis' take on recordable DVD options (see the News section in our November 2000 issue), here's an overview. There are three competing formats: DVD-RAM, DVD-RW, and DVD+RW (this does not include PC versions). DVD-RAM is a rewritable format whose discs only play in players designated as such. DVD-RW is a rewritable format with similar backwards compatibility. DVD+RW barely exists but claims that, when it does, it will be more compatible with regular DVD players if and/or when it reaches the market, but it won't have the capacity of DVD-RAM.
At $4,000, this recorder may not be flying off the shelves just for its recording capabilities, especially since the 4.7-gigabyte-capacity DVD-RAM technology is only compatible with itself and other 4.7-GB DVD-RAM-compatible players, of which there are very few, if any, currently available. The re-recordable discs themselves run about $35. The DMR-E10 accepts a single-sided, 4.7-GB DVD-RAM that's contained in a flimsy cartridge, similar to early computer CD-ROM drives, but the player will also accept noncartridge and dual-sided discs.
The player does have other tremendous attributes, however. For starters, it offers a progressive-scan output, so you can make the most of your DVD collection. There's also built-in Dolby Digital decoding, a built-in TV tuner, and VCR Plus. The internal clock uses an auto-sensing function to set the time so that you don't have a blinking "12:00." Cool. If nothing else, the heft and attractive champagne finish make the player appear to be worth the 4K clams this will set you back.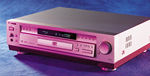 You'll find the common complement of audio and video connectors on the back. Dual audio with composite or S-video outputs, both coaxial and optical digital audio outputs, one interlaced/progressive component output, and a 5.1 analog output provide all the options you need to connect this player to your home theater system. Three audio with composite and S-video inputs (two on back, one on front) and an RF input and output let you connect various sources for recording. For obvious copyright reasons, there's no component or digital video input. Unfortunately, there's no digital audio input either. Otherwise, the DMR-E10 has everything you'd expect from a combination VCR/DVD player.
In terms of appearance only, the weakest link in the chain is probably the remote control. The remote looks and feels fine, mind you. It just doesn't have the same elegant appearance as the rest of the product. Similar to other Panasonic remotes, this interface uses a central joystick/button not too dissimilar from my old ColecoVision video-game paddles. With function buttons (aka menu, title, etc.) above it and transport controls (aka play, stop, pause, etc.) below, you can reach most everything with but a couple of digits (aka those fat, pudgy things you call fingers). The layout and lack of backlighting mean you'll likely need to look closely to see what you're doing.