Panasonic 4K Tablet Event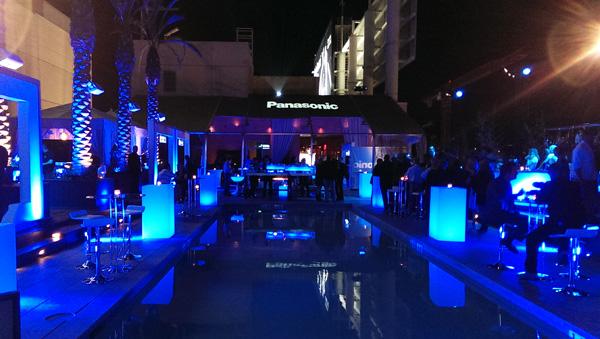 Above the streets of Hollywood, at the top of the swanky W Hotel, Panasonic held a party to show off their upcoming 4K tablet.
That's right, a tablet with 4K resolution.
What I wasn't expecting is that it's huge. I guess it's still technically a tablet with a 20-inch 15:10 screen, but wow.
They also had their new 4K LCD. Fellow S&Ver Lauren Dragan and I headed to Hollywood and Vine to check it out (that's where the hotel is, not just some random location we wandered by).
The UT-MB5 is part of Panasonic's Toughpad line, which are designed to be a little less fragile than their competition (or so the marketing goes). Honestly, I think anyone who drops a $6,000 tablet is going to have a heart attack long before the thing hits the ground.
When it's sitting on a table, it looks more like a computer monitor than a tablet, and seeing people walk around with it (especially petite peoples), it looks almost comically large.
Inside the thin case is a bunch of beefy hardware, as you'd expect with something running such resolutions. Processing comes in the form of an Intel Core i5-3437U vPro, with graphics handled by an NVIDIA GeForce 745M with its own 2 GB of RAM. There's a 256 GB solid state hard drive and 8 GB of RAM. It runs on Windows 8.
You get 802.11 a/b/g/n WiFi, Bluetooth, USB 3.0, and an SD card slot. There's a separate dock/charging station (and "docking connector"), but I wasn't able to get more information about it.
As big as it is, it's not particularly heavy (5.3 lbs). The touch and swipe feels quick. Looking at photos is pretty spectacular, being able to see far more detail than you would be able to with another tablet or even most computer monitors.
Also on display was Panasonic's WT600 4K LCD. It's a sleek, almost-entirely-screen design, with 120 Hz refresh and most importantly, HDMI 2.0 compatibility. While we videophiles morn the loss of Panasonic's plasma TVs, standing right up close to this 65-inch makes me want to play some 4K Battlefield 4 on it.
The UT-MB5 will be available in January for $5,999. It's aimed at the professional market, but if you want to be the "envy" of everyone in coach, pull out one of these to watch movies on a flight. That will show those smug iPad owners...
LATEST VIDEO