Out and About Audio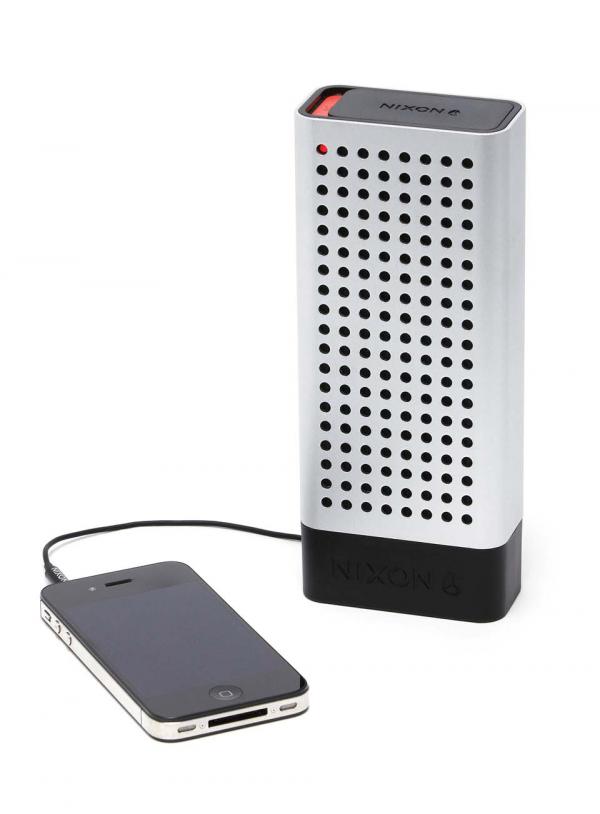 Aah, summertime. Lather on sunscreen, pump up the bike tires, and you're almost set. What's missing? Music! And we're not talking about those antisocial earbuds that cocooned you through the dark winter. We're talking about actual speakers that you can take along with you on outings.
We have three candidates for your consideration. Nothing big and stuffy — rather, a few summery, portable models. Any one of them can liberate you from earbuds, but they differ widely in price and features. Which one will best fit your midsummer milieu? Read on.
Nixon TPS
Aside from our 37th president, you've probably never heard the name Nixon. But that's also the name of a niche company known for high-end watches, handbags, and jackets that has ventured into the world of portable audio with its TPS. In terms of dimensions, the TPS approximates a brick — one that contains a stereo power amplifier, stereo speakers, and a rechargeable battery. The aluminum chassis is available in silver, black, or gray. You plug in your source using the hardwired minijack cable and voilá, you have a portable playback system. To charge the TPS, plug it into your computer's USB port using the hardwired USB cable. In a tricky bit of design, both cables can be wrapped around a spindle and hidden from view under a plastic cap. Concealed inside the spindle is a minijack connection that can be used to daisy-chain two units together for enhanced stereo playback. The concealable cables give the TPS a slick appearance, but we wish it could operate wirelessly. That would be cool. Alas, it cannot.
Operation is extremely simple: slide down the big button at the end, check for the red-glowing power LED, and enjoy your tunes. Besides the power switch, there are no controls, not even for volume. Nixon says the battery will provide up to 6 hours of playback on a complete charge, but we got a long-lived 20 hours.
Sonically, we weren't sure what to expect from a fancy watch company, but it soon became apparent that the TPS was more a Timex than a Rolex. Specifically, we energized its stereo speakers with Sheryl Crow's "Soak Up the Sun." Her lead vocals sounded clean and bright, but there was a bit of fuzz when we cranked up our source device's volume control, and there wasn't much stereo separation. We could soak up the sun, but there wasn't much bass to bask in or impact from the catchy drum track.
The Nixon TPS is a low-cost portable boombox, and it sounds like one. It gets the job done and we liked its no-brainer simplicity, but it's hardly presidential material.
$80; nixon.com