Onkyo ES-HF300 Headphone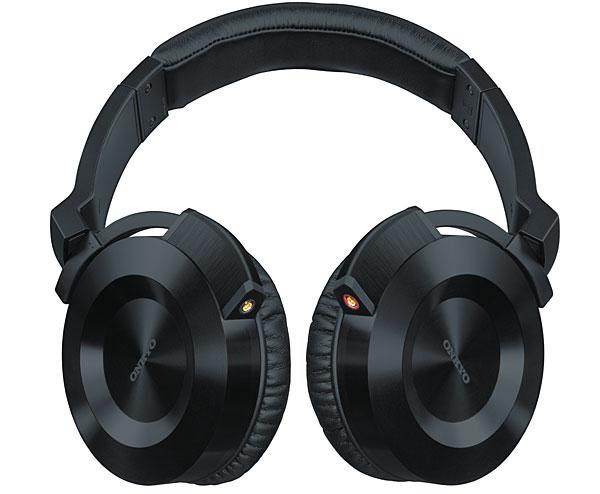 PRICE
$179
AT A GLANCE
Plus
Clean styling
Neutral and highly accurate sound
Looks more expensive than it is
Minus
Could have more headband padding
THE VERDICT
Onkyo's debut outing in the headphone market is near perfect.
We are living in a golden age for headphones. New models and even types of headphones are announced, and a month or two later, there's another deluge. The waves of entry-level, midrange, and high-end models never let up. But even in the midst of headphone mania, Onkyo's ES-HF300 distinguishes itself on a number of counts. I'm happy to see that rather than take the shiny plastic design route, the ES-HF300 sports brushed, black anodized aluminum construction, and it looks thoroughly modern and yet classic. Build quality is on par with Bowers & Wilkins' P5 headphone, at almost twice the price. The ES-HF300 feels light on my head, the cushions' head-clamping pressure is moderate, and the round faux-leather-covered cushions rest on, rather than around, my ears. Headband padding is a wee bit leaner than I'd like, but all in all, the ES-HF300 is easy to wear for hours at a time, and that's not always the case with full-size headphones. It's a closed-back design but only does a fair-to-middling job hushing external noise. The L and R markings on the inside of the headband are well placed, so you probably won't accidently reverse the stereo channels too often.
The ES-HF300 features 40-mm titanium drivers and a 32-ohm impedance rating. The 48-inch-long detachable oxygen-free copper cable is like no other I've seen. It has a transparent skin, is remarkably immune to tangles, has a beautifully finished 3.5-mm plug for your phone, and at the other end, a pair of MMCX micro-miniature coaxial plugs that click onto the connectors on the left and right ear cups. I've never seen these connectors before, though they aren't proprietary. Still, you're not going to have an easy time finding replacement cables from outside suppliers; good to know Onkyo offers MMCX cables in a range of colors. I did manage to accidently yank out the MMCX connectors with a tug more than once, but the same thing happens with standard 3.5-mm plugs. Other nitpicks: The cable lacks mike or phone controls, and Onkyo doesn't throw in a 6.3-mm plug adaptor for home use. But you do get a soft carry pouch to store your ES-HF300.
The ES-HF300 proved to be a remarkably transparent-sounding device; no other headphone near its price can touch it for clarity or resolution of fine detail. Stereo imaging and depth are, again, exceptional for a $179 headphone. Brian Eno's ambient masterpiece, Music for Films, produced a dizzying swirl of sound and textures from well outside the ES-HF300's ear cups. It's a big-sounding headphone, quite capable of satisfying demanding listeners.
The open quality I heard with CDs was even more impressive when I watched a few movies. Dialogue was spot-on accurate, and the dense and sprawling jungle soundscape on the Avatar soundtrack put me in the scenes. Switching over to the V-Moda Crossfade M-80 headphone scaled everything back—it sounded canned by comparison. The difference was just as evident with Amy Winehouse's At the BBC CD. Some of the live quality of the concert recordings was diminished over the M-80s, and the ES-HF300's bigger and more deftly controlled low end pummeled the M-80's. I like that headphone, but the ES-HF300 is more fleshed out, and the treble range sounds clearer and better balanced.
With the ES-HF300, Onkyo pulled off a near perfect debut. The sound is refined and still fully capable of shocking you with freewheeling dynamics and gutsy low-end oomph. All in all, the ES-HF300 is a winner!
Specs
Type: Closed-back, supra-aural (on-ear)
Driver Size: 40 mm
Impedance: 32 ohms
Weight: 8.5 oz
Price: $179