NuVision ProVu P2 LED DLP Projector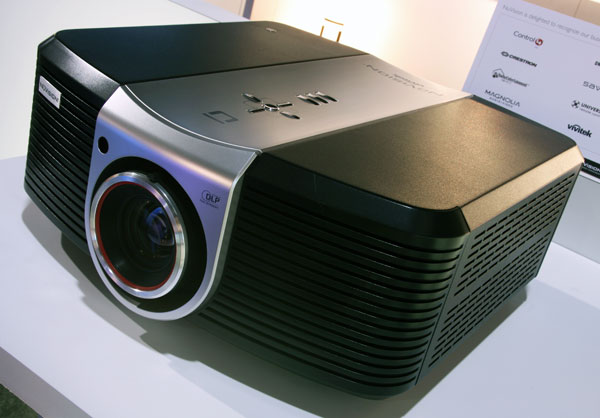 I was surprised to see a front projector in the NuVision booth, and even more surprised to learn that it's been available for several months already. The ProVu P2 is a tweaked Vivitek H9080FD LED-illuminated DLP projector, and the result is simply stunning. The demo was in a separate building of the convention center, but it was definitely worth the walk—using a Stewart Studiotek 130 screen (100 inches diagonal) in a blacked-out space, we saw clips from Avatar, Cars, The Dark Knight, and Baraka, and the colors were gorgeous with no hint of inaccuracy. Likewise, the detail was exquisite.
Granted, the screen was pretty small, which is appropriate for a projector that outputs 800 lumens uncalibrated and 650 lumens calibrated. The LEDs can be modulated to produce a dynamic contrast ratio of 35,000:1 at the high setting, but if you turn it off, you still get 20,000:1, which is plenty as far as I'm concerned.
Even better, the price isn't that much more than the Vivitek—$17,000 compared with $15,000.What do you get for the extra $2000? An upgraded power supply, better gamma tracking, a complete factory calibration, and a 3-year warranty that includes an annual "fluff 'n' buff" touchup. Sweet!
WHERE TECHNOLOGY BECOMES ENTERTAINMENT