News & Gear for the Waning Days of Spring 2021 Page 2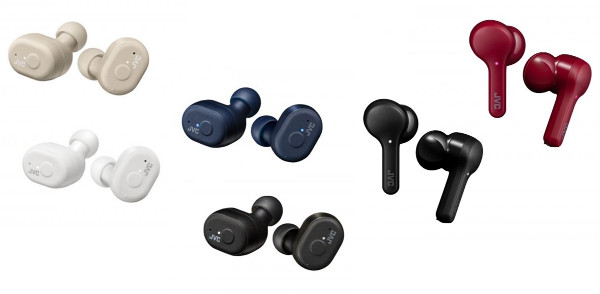 JVC's New Wireless Earbuds Boast Low Prices, Extended Battery Life
JVC is expanding its line of wireless earbuds with two inexpensive models offering extended battery life and several color options.
The latest addition to the brand's popular Marshmallow series, the water-resistant HA-A11T, will sell for $50 when it ships in July. The buds are IPX5-rated for water resistance, feature memory-foam earpieces for a secure, comfortable fit, and automatically power up and connect when removed from their charging case. They include a microphone for hands-free calling and are compatible with voice assistants in addition to supporting Qualcomm's TrueWireless Stereo Plus (TWS Plus) technology, which connects the left and right earbuds to the source device simultaneously to reduce latency, improve connectivity, and reduce power consumption.
A Touch & Talk feature reduces music volume in an instant and battery life is rated for up to 8 hours on a single charge, with another 20 hours possible with the charging case. A 10-minute quick-charge mode provides an hour of playback. Color options include black, white, blue, and taupe and the earbuds come with small, medium, and large silicone earpieces plus small and medium memory-foam earpieces.
Slated to ship this month, the $40 HA-A8T earbuds are designed to minimize pressure on the ear while providing a secure, stable fit and, like the A11Ts, power up and connect when removed from their charging case. Battery life is rated for up to 6 hours on a single charge, with another 9 hours possible with the charging case. A 10-minute quick-charge mode provides an hour of playback. The buds are available in black, red, or white.
Visit us.jvc.com for more information.
Three of LG's Five New Soundbars Boast Dolby Atmos
LG has expanded its already extensive lineup of soundbars with five new models ranging from a basic $180 model to a $1,000 bar featuring onboard Dolby Atmos and DTS:X surround processing.
In addition to onboard Atmos and DTS:X surround-sound processing, the 520-watt SP9YA ($1,000), 440-watt SP8YA ($800), and 380-watt SPD7Y ($400) are tuned by the audio experts at England's Meridian Audio and configured with up-firing height speakers for 5.1.2- (SP9YA) or 3.1.2-channel operation. All are equipped with an HDMI 2.1 connection with enhanced Audio Return Channel (eARC) and support 4K passthrough with Dolby Vision or HDR10 high dynamic range (HDR) as well as hi-res 24/96 audio playback (24/192 for the SP9YA).
The SP9YA and SP8YA soundbars, both of which are currently available with a $100 discount on lg.com, are compatible with Google Assistant, Amazon Alexa and Apple Siri voice assistants, support streaming via Apple's AirPlay 2 platform, and boast several additional features: the ability to take advantage of the AI Sound Pro feature found on LG TVs, which uses deep learning algorithms to automatically adjust sound levels for different content; automated room calibration, which uses artificial intelligence (AI) to analyze room characteristics and adjust audio settings accordingly; and Meridian Horizon upmixing technology, which creates an immersive multichannel-audio experience from two-channel content when the soundbar is in music mode.
Moving down the line, the 440-watt SP7Y ($450 but currently offered at $400 on lg.com) and 100-watt SP2 ($180) are configured for 5.1- and 2.1-channel operation and feature DTS Virtual:X surround processing plus a HDMI 1.4 connection (with ARC on the SP2). The SP7Y also supports hi-res 24/96 audio playback.
All of LG's new soundbars feature a standalone wireless subwoofer and are now able to access sound modes available on LG TVs. They also support USB playback and Bluetooth streaming and are equipped with an optical audio input. LG says it plans to introduce additional soundbars later this year. With the new soundbars, LG says it has moved to eco-friendly certified packaging made with recycled materials and is now using recycled pulp and less EPS foam and plastic to reduce waste across its entire 26-model lineup.
Visit lg.com for more information.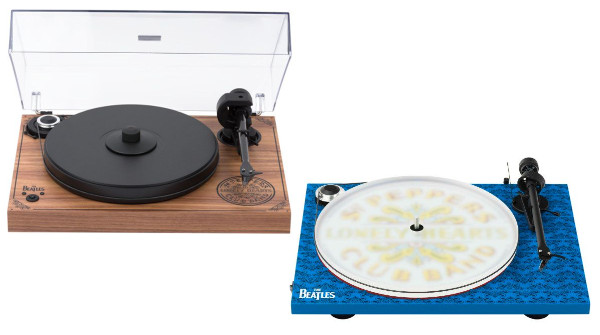 Pro-Ject Celebrates Sgt. Pepper Anniversary with Special-Edition Turntables
The turntable specialists at Pro-Ject are commemorating the 54th anniversary of the album that redefined popular music — Sgt. Pepper's Lonely Hearts Club Band — with two special-edition turntables guaranteed to delight Beatles fans.
Representing a collaboration between Pro-Ject and the Universal Music Group/The Beatles, the 2Xperience SB - Sgt. Pepper ($1,600) features a non-resonant MDF base with a satin walnut finish and 9-inch EVO carbon-fiber tonearm fitted with an Ortofon 2M Silver phono cartridge. The table also boasts inverted tonearm bearings, a clamp that secures the record to the platter, and a record mat made from recycled LPs.
The Essential III ($500) features a non-resonant MDF base and 8.6-inch aluminum tonearm with sapphire bearings, an Ortofon OM 10 cartridge, and a striking acrylic platter bearing the Sgt. Pepper insignia.
Both belt-drive models are handmade in Europe and come with an acrylic dust cover. Click here for more information on the 2Xperience SB, and here for more on the Essential III. Both can be purchased through amazon.com at a discount.
McIntosh Makes it Easy to Add Bluetooth to Legacy Audio Gear
McIntosh's new MB20 Bluetooth Transceiver makes it easy to add high-quality Bluetooth streaming capability to any audio component.
The compact unit is a Class 1 device with an operating a range of up to 150 feet that can used as a transmitter or receiver (selectable via a rear-panel switch). It supports aptX HD-enabled Bluetooth 5.0 for hi-res audio playback and employs aptX Low Latency technology to improve transmission speed and make sure audio and video remain in sync.
To ensure compatibility with almost any audio component, the MB20 and boasts a variety of connections, including balanced and unbalanced analog inputs and outputs and coaxial and optical digital inputs and outputs. The transceiver employs an external antenna and an "extremely sensitive" receiver to improve signal reception, even from Class 2 devices.
When used as a receiver, the MB20 employs a 32-bit digital-to-analog converter (DAC) with 192-kHz internal processing for "optimum sound quality" and a digital output fixed at 96 kHz to ensure compatibility with most third-party DACs. When used as a transmitter, it has a range said to be 10 times greater than that of a typical Class 2 Bluetooth device and uses a high-performance analog-to-digital Convertor (ADC) with 110 dB signal-to-noise ratio to maintain signal integrity.
Echoing McIntosh's signature design, the MB20 features an aluminum chassis with a black glass top panel. Visit mcintoshlabs.com for more information.
MORE NEWS & GEAR
Denon and Marantz Announce 8K Upgrades for Flagship AVR and Processor
Yamaha Revamps Flagship Aventage AV Receiver Line
Apple Music Adds Atmos, Lossless Audio in Sound Quality Makeover
Bluesound Announces Updates for Streaming Portfolio
News and New Gear for Spring 2021
Hisense Announces Availability of 2021 TV Lineup
B&W's First Wireless Earbuds Packed with Features
New Sony 4K Projectors Boast BRAVIA's X1 Processing
Epson Discounts EpiqVision Ultra LS500 Projector
JBL Announces Studio Monitor Bookshelf Speaker
BluOS Adds Streaming Options, Access to MQA Music
New Gear for Spring 2021, Part 2