New Gear: Olive 06HD Audiophile Music Server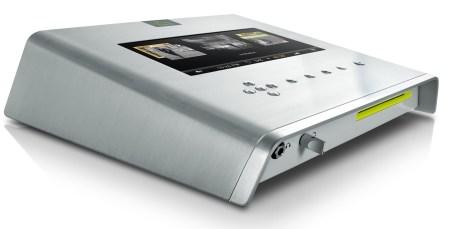 Music servers are everywhere these days. Simple or complex, inexpensive or expensive, technically you're using one right now to read this webpage. But not all music servers are alike. The audio quality can vary greatly. For example, things like well designed digital to analog converters (DACs) are a huge part in getting good sound from your digital music.

Enter Olive. The San Francisco based company has been making gorgeous high-end music servers for several years now. With the 06HD, they're aiming right at the audiophile market.

The hardware is impressive. A matched pair of Texas Instruments' Burr-Brown PCM1792's handles the digital to analog conversion. These 24-bit/192 kHz modules run in mono mode, one for each stereo channel. These sport a claimed signal-to-noise ratio of 124 dB.

A separate crystal oscillator, after re-clocking, has less than 10 picoseconds of jitter. Olive claims this is the best in the music server class. A "high-precision linear power supply" with a low-noise toroidal transformer and large capacity capacitors keep everything supplied with juice.



Bit rates supported are 16, 20, and 24-bit with sampling frequencies from 10 kHz to 200 kHz. File formats are AAC (128 kbps), MP3 (128 and 320 kbps), FLAC and WAV. As if your own high bit rate music wasn't good enough, the 06HD uses an asynchronous sample rate converter, the TI SRC4194, to upsample all audio to 24-bit/384 kHz.

The output frequency response is a claimed +0/-0.5db from 20Hz to 20kHz and a THD+N of less than 0.0007% between 20Hz-22kHz.

High-end headphones are exceedingly popular right now, and you can't just expect great sound with them by plugging into the front of your receiver. Knowing this, Olive equipped the 06HD with a separate PCM1792 DAC and TPA6120A2 audio amp specifically for the headphone output.

The anodized aluminum cabinet holds an 800x480 10.1-inch glass-on-glass touch-screen that lets you navigate your music by album art. The 2 terabyte hard drive has 8 layers of noise-cancelling padding. On the bottom of the 17.125" x 4.5" x 14" unit are anti-vibration feet to keep the entire server isolated. Unlike many music servers, there are no fans, keeping the 06HD ultra-quiet.

If you want to import CDs directly into the Olive, the internal CD drive is a from TEAC. This drive will also burn CD-Rs if you want to make a mix CD, or a CD of MP3s to play in your car. Wired and wireless (802.11n) networking are available.


Outputs are 24k gold-plated RCAs, or balanced Neutrik XLRs. If you feel the DACs in your preamp or receiver are better than those in the Olive, there's also optical, coax, and AES/EBU digital outputs.

The 06HD is custom built by Olive in San Francisco and is available now from Olive directly or from one of their dealers worldwide for $4,999.