New Blu-rays for September 4, 2012: Loners, Avengers, Teenagers, and Supernatural Beings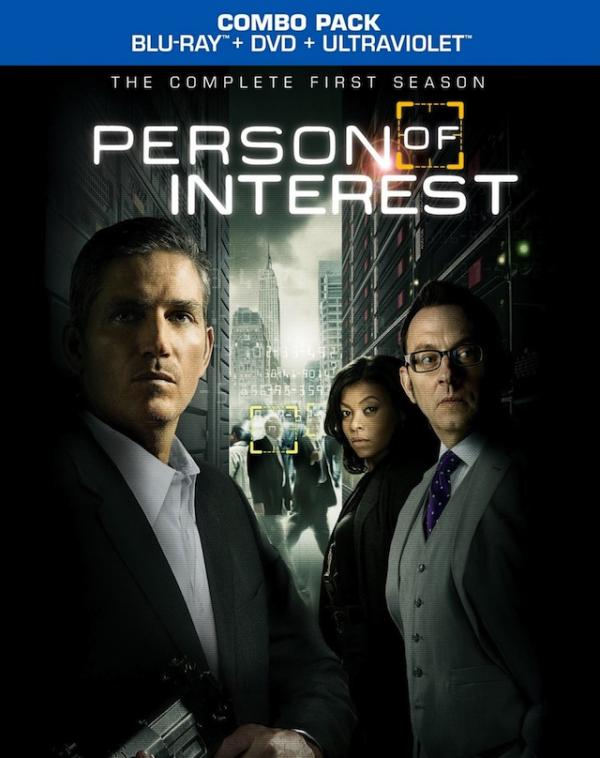 Person of Interest: The Complete First Season
Reclusive billionaire scientist Harold Finch (Michael Emerson) has built a machine. It processes information from an omnipresent surveillance network he's created for the government - and is able, based on that info, to predict terrorist events. But, since that ability is all the government's interested in, Finch secretly uses his system to predict future crimes so that he - with the help of highly skilled former Special Forces and CIA agent John Reese (Jim Caviezel) - can set about solving them before they happen. Despite working off the radar, their vigilante task is made more difficult by the fact that they're being hunted by the authorities and by "HR," a group of corrupt cops working in league with the mob.
This hugely popular breakout network hit - with its Hollywood-style action sequences filled with thrilling chases, gunfights, and explosions - was co-created by J.J. Abrams (director and executive producer of Star Trek, Alias, and Lost) and Jonathan Nolan (co-writer, with his older brother Christopher Nolan, of The Prestige, The Dark Knight, and The Dark Knight Rises). All 23 Season 1 episodes appear on four Blu-rays and also on six DVDs in this set.
Video: 1.78:1. Audio: DTS-HD Master Audio 5.1. Extras: commentary on original broadcast version of the pilot, unaired extended pilot episode with optional producer commentary, "Living in an Age of Surveillance" behind-the-scenes featurette, gag reel; DVD and UltraViolet digital copy for streaming/downloading. Studio: Warner.
Safe
After he fails to throw a bout that's been rigged by the Russian Mafia, life for mixed martial arts cage-fight second-rater Luke Wright (Jason Statham) virtually comes to an end: his wife is murdered and he's forced to flee from the gang, who threaten to destroy anyone else he gets close to. The devastated fighter drifts, destitute, along the streets of New York, haunted by his past and perilous present predicament until he meets an orphaned 12-year-old Chinese girl, Mei (Catherine Chan), a prodigy with incredible math and memory abilities who used to work for the Triads. Learning that the same mobsters who killed his family (and some corrupt NYPD cops) are pursuing her because of the numerical safe combination she holds in her memory, Wright decides to protect the girl and get some payback. Safe was scripted and directed by Boaz Yakin (Remember the Titans, Fresh). It comes with a 7.1-channel soundtrack.
Video: 2.40:1. Audio: DTS-HD Master Audio 7.1. Extras: commentary by Yakin, "Cracking Safe," "Criminal Battleground," and "The Art of the Gunfight" behind-the-scenes featurettes; digital copy. Studio: Lionsgate.
Airport
Being both critically praised and turning its $10 million cost into a nearly $100,500,000 box office bonanza, this 1970 film adaptation of Arthur Hailey's 1968 best-seller novel, for better or worse, launched what was to become The Disaster Movie!
Screenwritten and directed by George Seaton (assisted by Henry Hathaway), Airport tells the story of Mel Bakersfeld (Burt Lancaster), manager of an international airport outside of Chicago, as he struggles to keep it open during a blinding blizzard while dealing with an suicidal passenger, demolition expert Guerrero (Van Heflin), who intends to blow up an Boeing 707 airliner in flight so that his wife can collect on his life insurance. Only Bakersfeld on the ground and captain Vernon Demerest (Dean Martin) in the air can hope to foil Guerrero's plot and return the plane to safety. But suddenly the bomber blows himself - and the lavatory - up, leading to rapid decompression and injuring chief stewardess Gwen Meighen (Jacqueline Bisset) who is carrying the married captain's love child, and making Helen Hayes, Jean Seberg, George Kennedy, Van Heflin, Maureen Stapleton, Barry Nelson, and Lloyd Nolan all very, very nervous (and in need of another bathroom). Airport was shot by cinematographer Ernest Laszlo in 70 mm Todd-AO and was the last film scored by Alfred Newman, who died shortly before the film's release. It was nominated for 10 Oscars, supporting actress Hayes winning for her performance as an aging stowaway.
Video: 2.35:1. Audio: DTS-HD Master Audio 5.1. Extras: "100 Years of Universal: The 1970s" and "100 Years of Universal: The Lot" featurettes; DVD and digital copy. Studio: Universal.
Sixteen Candles
John Hughes 1984 directorial debut presented an accurate, empathetic - and highly entertaining - portrayal of teenage and high school life and the problems and suffering that were part of growing up in '80s America. In the process it launched the teen-comedy subgenre as well as the John-Hughes-film sub-subgenre that would eventually include Pretty in Pink (1986) and Some Kind of Wonderful (1987), which he wrote, and The Breakfast Club (1985), Weird Science (1985), and Ferris Bueller's Day Off (1986), which he wrote and directed. InSixteen Candles, Samantha (Molly Ringwald) is a charmingly effervescent, full-of-life girl who has to cope with all the usual mishaps and frustrations of school and home life, but also the fact that her family has forgotten her sixteenth birthday, distracted by the impending wedding of her older sister (Blanche Baker). Costars include Joan Cusack, Justin Henry, Anthony Michael Hall, and Gedde Wantanabe.
Video: 1.85:1. Audio: DTS-HD Master Audio 5.1. Extras: "Celebrating Sixteen Candles," "100 Years of Universal: The '80s," and "100 Years of Universal: Unforgettable Characters" featurettes; DVD and digital copy for streaming/downloading. Studio: Universal.
Haven: The Complete Second Season
This four-disc set follows the shrewd and confident FBI agent Audrey Parker when she arrives at the small town of Haven, Maine on a routine case. Before long, her natural curiosity lands her in the epicenter of activity in this curious enclave, which turns out to be a longtime refuge for people affected by a range of supernatural afflictions. As the townspeople's dormant abilities begin to express themselves, Audrey helps keep these forces at bay while discovering the many secrets of Haven - including the one surrounding her own surprising connections to this extraordinary place.
Video: 1.78:1. Audio: DTS-HD Master Audio 5.1. Extras: directors' commentary Studio: Entertainment One.
Umberto D.
Vittorio De Sica's 1952 neorealist masterpiece focuses on Umberto (Carlo Battisti), a retired bureaucrat in Rome as he struggles to survive while the rest of Italy is busily self-involved in its postwar economic recovery. Only his small dog, Flike, and the housemaid he occasionally talks to (Maria-Pia Casilio) give him any kind of companionship or shows any warmth as he fights to fulfill his basic needs. Things only go from bad to worse when his landlady (Lina Gennari) announces that she is going to evict him because of nonpayment of rent. When, even after selling his last possessions, he doesn't raise what he owes, in desperation, he decides to take heartbreakingly desperate action. Most of the actors - including Battisti - were nonprofessionals but the pathos of the piece is enormous.
Video: 1.37:1. Audio: Italian Mono. Extras: "That's Life: Vittorio De Sica" fifty-five-minute documentary made for Italian television in 2001, video interview with actress Maria Pia Casilio from 2003, booklet featuring an essay by critic Stuart Klawans and reprinted recollections by De Sica and Battisti. Studio: The Criterion Collection.
LATEST VIDEO