The Neal Morse Band Progresses Into a Fine Sonic Dream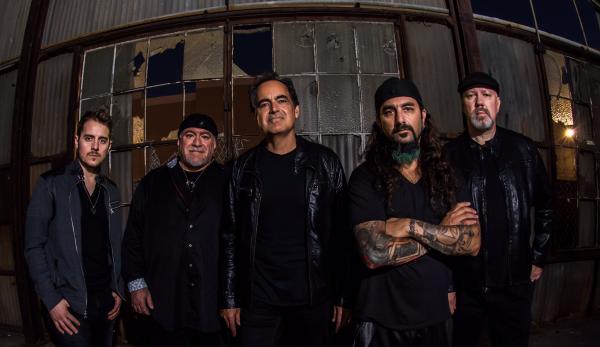 Neal Morse is a busy man. The former Spock's Beard vocalist/keyboardist found much great success after embarking on a long and fruitful solo career 15 years ago. Morse also runs his own label, Radiant Records, and he somehow finds the time to front two other sonically adventurous progressive-leaning bands, Transatlantic and Flying Colors. All of this begs the question: Neal, do you ever sleep?
"Oh, I get enough rest! The Lord helps me get enough rest. But sometimes, you know, I have to schedule it in," Morse says with a chuckle. (Can I get an Amen?)
The Neal Morse Band's latest effort, the double-disc The Similitude of a Dream (available in a special edition that also includes a bonus "making of" DVD and/or on triple vinyl, directly from www.radiantrecords.com), is ostensibly based on the first 80 or so pages of John Bunyan's classic 1678 tome Pilgrim's Progress, but it's been Morse-ified to the hilt. Witness the literal harmonic convergence of "Draw the Line," the ELO- "Diary of Horace Wimp"-meets-elegiac-Brian May-riffage hybrid of "The Ways of a Fool," the sweet sax break that cuts into the rhythm of "Shortcut to Salvation," and the outright growl, bite, and bile of "The Man in the Iron Cage."
Morse (at the center of the above photo) feels Dream needs to be digested as a singular entity. "In my mind, this is not a bunch of 5-minute songs — this is one, 100-minutes-plus piece," he explains. "You can't just pull something out of the middle of it. You've got to go through the whole journey, man."
Before venturing across the Pond for an upcoming European tour in March and April, Morse, 56, called me from his home studio in Nashville to discuss how the journey of Dream came together, where you can find the album's special "yacht rock" moment, and why he just can't get behind the concept of streaming. For fans of truly progressive sounds, this album is simply a Dream come true.
Mike Mettler: Did you and your longtime mixer, Rich Mouser, have a sonic game plan for how you wanted Dream's final mixes to sound?
Neal Morse: Not really, because Rich and I have been working together for so long. But I may have talked a little bit about it on the phone with him. I usually had random notes, mainly about the levels of things. I'd say I wanted more of this part and a little less of that part; that kind of stuff. When he sent me his first draft [i.e., the first mixes], that's when I said, "Hey, I'm looking for more of a Queen vibe on the vocals here," or, "This sounds a bit cluttered to me here — can we clean this out and mute some of the other stuff?"
Mettler: And you're pleased with the final result?
Morse: Oh yeah. There are always some little tweaks, and certain parts that I wish were a little louder. I didn't have very many performance things that bothered me. Overall, I think it came out great. Most of the main songs really exceeded my expectation.
Mettler: Your partner in at least four bands, drummer Mike Portnoy, has said he feels like this album is the pinnacle of his career. What did you think when you saw he had said that?
Morse: That was crazy, absolutely crazy! The craziest part, if you had been here, is you would have seen it was one of the first times Mike and I really butted heads. He was pretty opposed to it being a double album. He wasn't opposed to it being a concept album, but he was opposed to it be a double — and he talks about that quite a bit in the documentary on the DVD that comes with the special edition.
Since Mike was really opposed to it being a double, I had to battle with him about it. (chuckles) At first I wasn't sure, because I didn't want to push for something that maybe shouldn't happen, but when we were 45 minutes into it, we'd only really scratched the surface of the story. There's so much going on — the guy meets so many characters and does so many things. And I had already mapped out "The Man in the Iron Cage," "Sloth," and some of the cooler stuff that happens on the second disc, but Mike just wasn't into it.
That's why, when we finished on a Thursday, it was so amazing that he gathered us all around and said, "Guys, I think we've just made the album of our careers." Mike must have listened all the way through it on that Wednesday night or something, and then had a moment, or some kind of experience, because it was such a drastic change.
Mettler: We've spoken about 5.1 in the past. Have you thought about doing a surround sound mix for this album at all?
Morse: We haven't discussed it yet. It was enough just to get a vinyl version together and the special edition with the making-of DVD finished. But I do think surround sound mixes are very cool, so we'll have to see about that.
The funny thing is, Rich Mouser is so painstaking, and he was always revising and making it better. We were supposed to have delivered the finals to the manufacturers when we were shooting the videos at his house back in September, and it was like I had "caught" him, because he was still doing revisions to the audio!
He was talking about taking out a guitar solo, and I was like, "Whaaat?" "Well, Bill [Hubauer, keyboardist] kind of likes it better without it. . ." And I had to be like, "You guys — no. We've delivered it already. We have to say goodbye to this thing."
Mettler: On the technical side, was this album cut at 96kHz/24-bit?
Morse: We did it at 48/24. We didn't do it in 96.
Mettler: Well, 24-bit is really the crux of the matter anyway. On a different note, you've said you barely got 80 pages into the book [i.e., Pilgrim's Progress] as the story unfolds here on the album.
Morse: And we didn't even cover all the stuff that's in those 80 pages! On every page, practically, he meets another character. There's just tons of material there, but I feel like this album came out just as it should. There were some challenges along the way. Writing it was a challenge, for example.
But once we passed over that hump and we made the decision that we're going to explore this thing on two discs, it kind of just wrote itself. That was on a Tuesday morning, and I think Mike was done tracking his drums on Thursday night. It just kind of flowed out. It was amazing.
Mettler: What's interesting to me is, I don't think it's an overly long album. While the CD age maybe caused some artists to not edit themselves as well as they used to, 100 minutes or so of music on two discs seems exactly right for the story you're telling here. And, I might add, you made just the right disc break after "Breath of Angels" at the end of Disc 1.
Morse: That's so great to hear, man. We were on an adventure of discovery when we were writing this album, and it's great to hear other people like yourself say, "That sounds really natural." Like any kind of album or a movie, if you notice that it's long, then it hasn't done its job.
Mettler: It's also an album of many layers, and one where the sequencing is absolutely critical to the story.
Morse: Yeah, yeah. When you're writing a concept album, it isn't just having all of the material; it's how the material all fits together. You need to have enough space and enough quiet parts in there, but it also needs to be a good musical listen. It's quite challenging, but I feel like God really orchestrated it.
Mettler: I love it where, on Disc 2, after you roll out of "Slave to Your Mind," we get that nice piano figure of yours at the outset of "Shortcut to Salvation," and then there's a cool sax solo in the middle of it, which I feel is a nice touch.
Morse: Oh, nice; yeah! That's sort of our little "yacht rock" moment. (both laugh) We have a number of interesting moments like that on the album — there's some heavy stuff, some Crosby, Stills & Nash, a little bit of The Who, and a little bit of Genesis. There's all kinds of stuff.
Mettler: It's nice to see how you've embraced multiple formats in the ways you're presenting this material with the triple-vinyl and special-edition options. On the other side of that coin, how do you, as an artist, feel about the segment of the audience that may look for ways to stream this record instead?
Morse: I haven't been involved in it. Maybe I'm too old-school. (chuckles) All the business people I talk to about streaming say there's no money in it. No money comes back from it, and that doesn't seem really right to me. It's not like I'm money-hungry or anything like that — it just seems like it's devaluing music and art.
We put a lot of work, time, money, and all of our resources into these albums, and I don't know why the music business has chosen to give away their stuff. I just don't know.
Mettler: It's that classic case of convenience. A lot of people are more mobile nowadays and don't sit down in front of a fixed stereo or surround system like we do when we want to listen to albums like this one.
Morse: It is a strange concept for these modern times. My take on streaming is that it's an unfair thing, and I don't know why anybody would do it, actually.
My impression is the music industry has said, "Well, they won the war, and we can either choose to be where the people are listening, or not." They feel like it's better for them to be where the people are, and hope for the best.
For me, it's the principle of the whole thing. I'm not really that angry about it, or have some "cause" against it. I'd just rather not be involved in it.
[Note: The Similitude of a Dream is currently unavailable on Spotify or Soundcloud, nor is it on HDtracks, but downloads are available if you buy the album directly from Radiant Records.]
I'm still really grateful that the people who listen to my music want the whole package. They want the highest quality, they want the artwork — they want the whole thing. And I consider that to be quite a blessing.